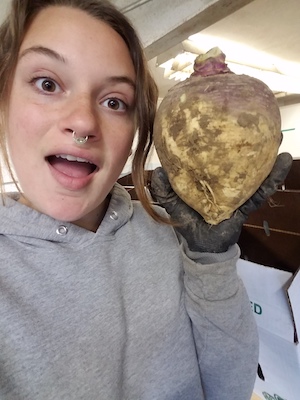 "The leaves fall, the wind blows, and the farm country slowly changes from the summer cottons to its winter wools."
-Henry Beston
Fall Share Box 3 Crop List
Winter Squash
Potatoes
Carrots
Kohlrabi
Honey
Leeks
Broccoli or Radishes
Onions
Kale
Popcorn
Bag of greens (Red Kale & Braising Mix)
Rutabaga
Brussels Sprouts
Napa Cabbage
Sage
Farmer Notes
*Awfully cold fall here on the farm
*some potatoes may have a soft spot on them
*red kale and sage have a redder hue
*kale, Brussels, kohlrabi and broccoli all may need an ice water bath to rehydrate
*Popcorn is well-dried and ready to pop – see our Face book video here.
*Onions are a long storage yellow variety that should hold for months
*Rutabaga and potatoes mash well together for a unique flavor
*Leeks pair with potatoes for a tasty cold-weather soup
*Roast beets, potatoes, onions, squash, broccoli, Brussels, and rutabaga all together in the oven in salt, pepper, and olive oil
*Use napa, carrots and beets in a cold, colorful salad
* Thank you so much for joining us for our Fall Share produce season
****We will offer 2 December deliveries on Monday Dec. 3rd and on Monday December 17th for $45/box. We would love to have you join us!!
*Happy Thanksgiving everyone!