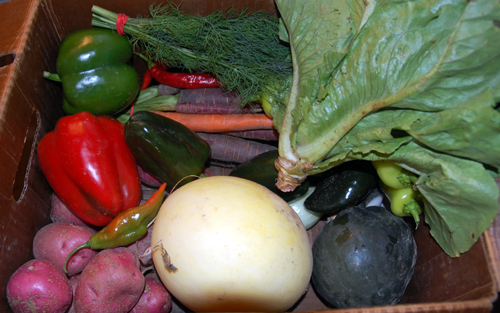 "Sometimes, it's hard to pick right from wrong. The best thing we can do is go with our heart and hope it all goes well."
– Mac Miller
Summer Share Box 13 Crop List

Sweet onions– all shares
Purple carrots – all shares
Red potatoes – all shares
Romaine lettuce – all shares
Acorn squash – all shares
Dill – all shares
Bell peppers – all shares
Melons – all shares
Hot peppers – single & half shares
Zucchini/summer squash – single shares
Cucumbers – full shares
Eggplant – single & full shares
Collard greens – full shares
Tomatoes – single shares
Farmer Notes
Welcome to the first ever interns-only edition of the newsletter.
We've had beautiful weather this week to follow the much needed rain last week. Our rain dance intern finally gets a break after two months of well below average precipitation.
End of the line for the summer squash, zucchini, and cucumbers. Just in time for the winter squash!
Speaking of winter squash, today's box has some lightly cured acorn squash. They have been curing for a week and are ready to eat right out of the box but will get even sweeter if you let them sit at home for another couple weeks.
Last Tuesday's flash flood left the carrots in the mud for a few days so keep an eye out for any soft spots on them we might have missed.
Melons are either cantaloupe or orange honeydew. More honeydew and watermelons to come.
Just did our last plantings for the season on Monday: some hearty greens that will be ready come early October.
Potatoes are great roasted with carrots and onions in some olive oil, salt, and pepper. Toss the roasted veggies in some dill for an extra touch of flavor.
Like many of our other herbs, dill can be easily dried for use over the winter.
As always, please return all ice packs and boxes.
And be sure to wash all our produce before you use it.
Thanks and enjoy this gorgeous late summer weather!

Connections
The beauty of a CSA is that it's all about connecting farmers more personally with eaters. It's a way for people to better involve themselves in the production of their food and a way for farmers to feel a little bit more confident that their hard work is being directed in the right place. As the intern tasked with making deliveries in the Rochester and Austin areas this summer, I have been fortunate enough to experience this first hand. Though I've only met a few of you in person, months of peeling off and reapplying name tags, noticing box returning habits (you know who you are), and keeping you waiting in your cars as I fall behind my schedule for some reason or another has given me a much better idea of what it really means to have members that count on us week in and week out. It gives closure to the sometimes mindless task of cutting a leaf or fruit off its stem.

When Norm took me along on his trip to deliver in the Twin Cities last week I got to see this on a whole new scale. At our very first delivery I met a family whose elementary school -aged children have been eating produce from Earth Dance for as long as they've been alive. And I met members who have been getting boxes since I was in elementary school. In little corners of Minneapolis and St. Paul that I have known my whole life, Earth Dance has been steadily connecting my neighbors to a hidden patch of land all the way down in Spring Valley. On the way back to the farm that evening I asked Norm why he started a CSA in the first place, and his answer came right away: it's about establishing a closer bond with members rather than simply customers; an opportunity to tailor the farm to the personal needs of the people it serves.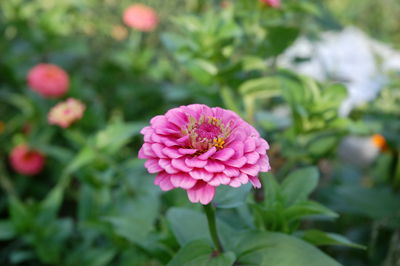 What makes Earth Dance even more special for me is the way Norm has built the internship around building close bonds on the farm as well. We all work together, live together, and bring in fresh produce from the fields to make dinner for each other almost every day, all while sharing the same rewarding goal of growing this produce the best we can. Enjoying the fruits of my labor with the people who have helped me labor over it has shown me that farming in this way is itself an act of community, less a job to clock in and out of than a shared pursuit of sustenance. To me, this is a core foundation of the idea of a "family farm," and though we're together for only one short season I have come to really appreciate the connection I have with my fellow farmers at Earth Dance.
So, from our family to yours, enjoy the box! And thanks for joining us this season!
~Kiernan
Crop of the week: Purple carrots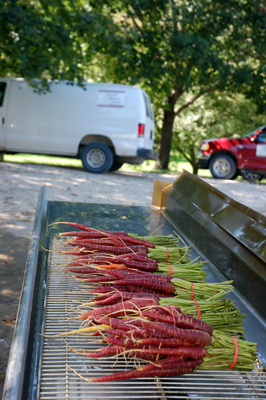 If someone were to ask you what color a carrot was, what would you say? Most people would say "orange" without thinking twice; in fact many people have no clue that that there is such a thing as purple carrots or that purple was the carrot's original color. This tasty root vegetable dates back to 2000 BC, as evidenced by drawings of them made in Egyptian temples. In the tenth century AD they were grown in Pakistan, Afghanistan, and Northern Iran. By the fourteenth century they were being grown in Southern Europe in different varieties like red, white, and yellow. Dutch growers have been said to believe the purple carrot provides the body with additional protection against cancer and heart disease and is rich in antioxidants. Not only are they healthy for you but they are also delicious. Whether you eat them raw or cooked you can't go wrong!
Here are a few recipes you might enjoy that also feature other items in your box:

Preheat oven to 400 degrees, with rack in lower third. On a rimmed baking sheet, toss carrots and potatoes with oil; season with salt and pepper. Arrange in a single layer and cook until vegetables are browned in spots and tender when pierced with a knife, 40 minutes, tossing halfway through. Toss with lemon juice and dill. Serve warm or at room temperature.
Prepare and cut potatoes, celery, onions and dill.

In a large pot, put cut potatoes into water. Add 1 tablespoon of salt and stir. Bring water to a boil and reduce heat to medium, cook for 20 minutes (check at 15) or until desired firmness is reached.

Drain potatoes completely. Refrigerate until completely chilled throughout.

Boil the eggs: bring water to a rolling boil, spoon each egg in, turn heat off and let them sit in the water for 10-12 mins. When time is up, spoon eggs out of the water, rinse in cold water, and put into a bowl and refrigerate until chilled. When they are completely chilled, remove shells and chop.

Combine chilled potatoes, chopped celery, chopped onions, fresh chopped dill, chopped hard-boiled eggs, mayonnaise, and Dijon mustard. Add any additional salt and pepper to taste now or before serving. Garnish with extra dill sprigs. You can serve right away or chill in the refrigerator.