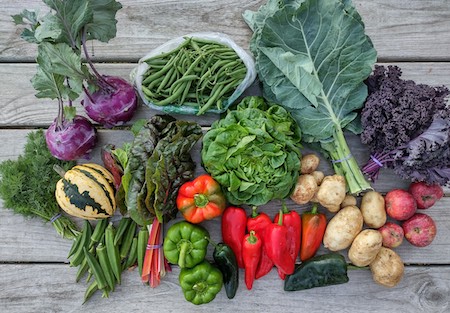 "When you are content to be simply yourself and don't compare or compete, everybody will respect you."
~Lao Tzu~
Summer Share Box 17 Crop List
Potatoes – All Shares
Purple Kohlrabi – All Shares
Delicata Squash – All Shares
Green Beans – All Shares
Peppers (Bells, Italian Frying, Poblano) – All Shares
Lettuce – All Shares
Chard – All Shares
Dill – All Shares
Apples – Half Shares
Purple Kale – Full Shares
Collard Greens – Full Shares
Okra – Full Shares
Farmer Notes
*Today is week 17 of the Summer Share season – next Thursday is the final box.  Our Fall Share begins the following
Thursday Oct. 21st.
*It has been incredibly dry this fall.  September yielded less than 1 inch of rainfall, and nothing yet this month.  We have been irrigating nonstop for the last 2 weeks
*The dill pairs well with the potatoes
*The green beans surprised us with another picking for this week
*The purple kohlrabi are lovely to look at and to eat – fresh, crisp and sweet.  Enjoy the crunch
*The Swiss Chard is very good for you – the easiest way to prepare it is to saute it with oil, some vinegar and something sweet like coconut liquid aminos or sugar – s + p
*Lots of wonderful peppers, and they continue to produce with the above-normal temperatures
*Delicata squash have been curing for a week and are creamy and sweet
*The Collard Greens are fresh from our new fall planting
*We hope that you can join us for our Fall Share season!
We are experiencing a very strange fall so far this year.  Actually it feels like we are still having our summer season.  Usually we are dealing with, and worrying about, the low temperatures bringing on a frost or a possible freeze by this date.  Freezing temps kill many summer crops and force us to cover various other fall crops that enjoy cooler weather but not the freeze.  So we have just been enjoying the milder weather and remain poised for the inevitable cold.  Many fall crops however, (like broccoli, cabbage, Brussels, winter squash, etc.) sweeten up appreciably as they go through a frost or two in the field.  I felt like the Acorn we delivered in week 16 lacked that sweetness, and we plan to deliver broccoli for week 18.  But that's the deal with farming – every year is unique and you attempt to do the best with the weather that mother nature gives you.  With present ongoing irrigation, the fall crops are looking fantastic in our fields.
~Farmer Norm
Crop of the week – Kohlrabi
You may be wondering, "What is that purple alien-looking thing in my box? And what the heck do I do with it?" Good question. It's Kohlrabi – a lesser-known member of the brassica plant family, which includes cabbage, kale, collards, turnips, broccoli, brussels sprouts, and cauliflower. Kohlrabi is a German word meaning "cabbage (Kohl) turnip (Rabi)", as it resembles a cross between the two. Kohlrabi's origin is unknown, though the first written reference to the plant comes from Italy in the late 1500s. It is assumed that Kohlrabi came to America with other cabbage species brought over by European colonizers.
With a similar texture to a cabbage heart but a sweeter taste, kohlrabi can be enjoyed cooked or raw. After the purple outer layer is peeled, you can eat it like an apple or cut it up and put it in a salad or slaw. It is also tasty when roasted, steamed, fried and grilled. And don't "leaf" behind the kohlrabi greens – they can be cooked or steamed like any other vegetable green!
~Grace
Peel the kohlrabi. Peel it vigorously and completely—the peel is quite tough and fibrous so don't err towards keeping any of it around.

Grate the kohlrabi on the large holes of a grater into a bowl (or use the grater attachment in a food processor).

Lift the grated kohlrabi out of the bowl and onto a double layer of clean kitchen towels or multiple layers of paper towels. Lift the corners of the towel(s), twist them together, and squeeze out as much liquid as you can. Seriously, squeeze hard—properly "drained" and pretty much dry-to-the-touch kohlrabi is the absolute key to ending up with tender fritters rather than leaden pancake-like flops.

Crack the egg into a large bowl and beat it thoroughly with a fork—you want no strands of white clinging to the fork when you lift it from the bowl. Combine the kohlrabi and the egg.

Sprinkle the mixture with the flour and salt and stir to combine thoroughly.

Heat a generous layer of oil (about 1/4-inch deep) in a large frying pan or pot over medium-high heat until the oil shimmers when you swirl the pan. A bit of batter dropped into the pan should sizzle immediately.

Put generous spoonfuls of batter into the pan and flatten the resulting mounds a bit with the back of the spoon. You should be able to fit about four fritters in a large pan at a time. Partially cover and cook until the fritters are browned on one side, 2 to 3 minutes, flip, partially cover again, and cook until they are tender and browned on both sides. Transfer the fritters to a paper towel-lined plate to drain. Repeat with remaining batter. Serve immediately.
Preheat your oven to 450 degrees. Remove the root end, leaves, and peel/slice off the thick outer

layer to expose the inner flesh. Dice the kohlrabi into approximately 1/2" inch pieces.

Toss the diced kohlrabi with olive oil, garlic, and salt. Add some coarsely chopped onion pieces if you like, half way thru roasting. Roast in a roasting pan (not a cookie sheet, needs sides) so that you may toss them over every now and then. You want to cook them until the bottom starts to stick then toss and repeat. It will take about 45 minutes to cook.