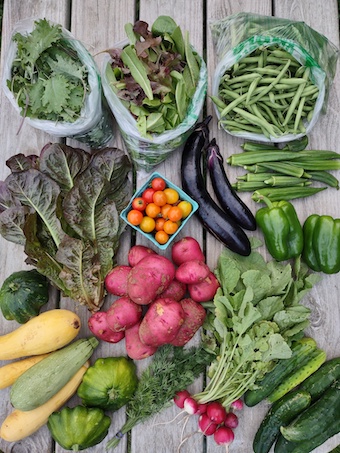 "When you get, give.  When you learn, teach."
~Dr. Maya Angelou
Summer Share Box 8 Crop List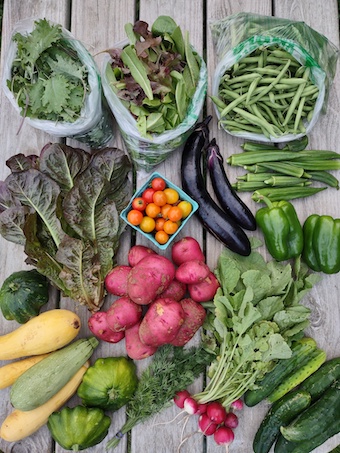 Red Potatoes – All Shares
Green Beans – All Shares
Summer Squash – All Shares
Cucumbers – All Shares
Red Romaine – All Shares
Radishes – All Shares
Dill – All Shares
Green Bell Peppers – Half Shares
Okra – Flex Shares
Eggplant – Flex Shares
Mini Tomatoes – Full Shares
Leaf Lettuce – Full Shares
Red Kale – Full Shares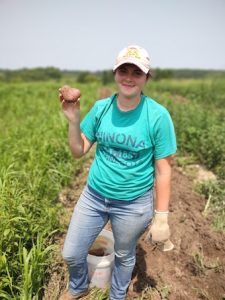 Farmer's Notes
*We haven't had many farm visits lately and summer is flying by – let us know if you plan to come down
*Go ahead and pickle some beans or cucumbers
*We will take a break from the potatoes and lettuce for the next couple of weeks
*Eggplant, melons, peppers, sweet corn and tomatoes are ripening as I type
*We have several types of mini tomatoes and we offer them mixed together:  yellow minis, sungold, red cherry, black cherry.  Tomatoes ripen off of the vine, so let some sit on your counter for a few days if they need it
*Dill with the potatoes sounds yummy
*Jessica roasted mini tomatoes atop some green beans which were delicious – minis are also great with squash
*Still plenty of summer squash/zucchini – find new ways to enjoy this favorite
*Please wash the produce before you eat it
Welcome to August.  I always consider August 1st a segue into what I call the High Summer Season!  Every year is definitely unique, but come August the hot weather crops begin to ripen with all of their color and flavor.  This week you get a bag of beans, and some of you are able to taste the first of the peppers and mini tomatoes.  We also had enough eggplant to give to the Flex shares this week.  Next week everyone should receive sweet corn, mini tomatoes, peppers, and eggplant!  And the melons are just around the corner.  It is important to be able to enjoy what is in season, and to be able to patiently wait for what is not yet in season.  We all have our favorites, but CSA is also about learning, experimenting, and being creative with new or 'not so special' crops.  All rounded out we experience the changing seasons and the bounty that graces each one – we eat, we taste, we connect.
~Farmer Norm
Crop of the Week: Green Beans
The term 'green bean' refers to the unripe (and thus still green) fruit and protective pods of any of over 130 varieties of common bean. These beans come in two main forms: climbing, or 'pole,' varieties that produce a twisted vine commonly supported by poles; and bush, or 'dwarf,' varieties that grow to be only about two feet tall and don't need any supports. Here at Earth Dance we have the bush variety, which will all reach maturity and then stop producing within only a couple weeks.
Green beans are very popular in the U.S., especially around holiday season, and are a great source of vitamin A and a number of antioxidants. They are great when sautéed or roasted fresh and can be easily canned or frozen to store and eat during the long Minnesota winters. Blanching the beans for a couple minutes before either canning or freezing will help them retain their popular 'snap' quality and a pinch of salt will help them retain their flavor.
Some Recipes to Try:
Place green beans into a large skillet and cover with water; bring to a boil. Reduce heat to medium-low and simmer until beans start to soften, about 5 minutes. Drain water. Add butter to green beans; cook and stir until butter is melted, 2 to 3 minutes.

Cook and stir garlic with green beans until garlic is tender and fragrant, 3 to 4 minutes. Season with lemon pepper and salt.
Put the potatoes in a big pot with enough water to cover by 1-inch. Season with salt and bring the water to a boil. Cook just until the potatoes are tender when pierced with a fork, about 25 minutes.

Drain the potatoes and return them to the uncovered pot off the heat. Let them sit until almost room temperature. (Cooling them in the warm pot will get rid of any excess water in the potatoes, and that's good.)

Meanwhile, cut the white parts off the ends of the celery stalks. Cut the stalks in half lengthwise, then across into 1/4-inch slices. Stir the celery, 3/4 teaspoon salt, and the remaining ingredients together in a serving bowl large enough to hold all the potatoes.

When they're cool, cut the potatoes into 1-inch pieces, add them to the bowl as you go. Stir gently until all the potatoes are coated with dressing. You can make the salad up to a couple of hours in advance. Keep covered at room temperature. Don't refrigerate or the potatoes will lose their rich, smooth texture.
Slice your cucumbers very thin — I used 1/8-inch slices here but usually go even thinner on a mandoline. Place them in a 1-liter or equivalent lidded jar. Add 3 teaspoons salt and dill, then pour in white vinegar. Close the jar and give it a few shakes to begin distributing the ingredients.

You're going to find the liquid level in the jar worrisomely low as it is well below the pickle pile line, but don't fret. Within an hour or two, the salt will draw the moisture from the cucumbers and wilt them, while the liquid becomes a perfectly balanced pickle brine.

Place jar in the refrigerator near the front, which should remind you to shake it once or twice more over the new few hours. (Or whenever you're back at the fridge.) You can eat them as little as 1 to 2 hours later, but they become ideal at 6 to 8 hours. They'll keep in the fridge, submerged in their brine, for 3 weeks, though never around here.