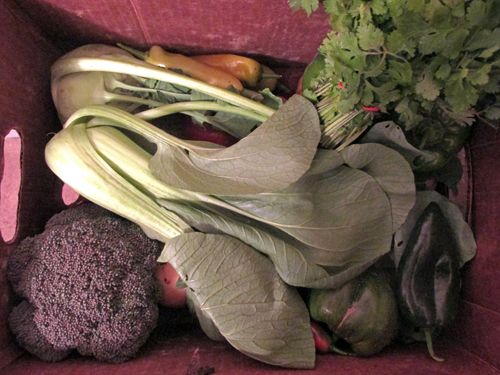 "Patience is a virtue without which a gardener is instead a mechanic."
– Scott Chaskey
Summer Share Box 16 Crop List

Butternut squash – all shares
Delicata squash – all shares
Kohlrabi – all shares
Broccoli – all shares
Cilantro – all shares
Bok Choy – all shares
Peppers – all shares
Cascade white potatoes – all shares
Apples – all shares
Collard greens – full & single shares
Watermelons – full shares
Farmer Notes
Last Friday's frost killed the outside peppers, eggplant, and tomatoes.
Our brassicas always do much better in the fall compared to the spring plantings. More cabbage, kohlrabi and broccoli next week.
Always look for green worms inside of the cabbage and broccoli. Place the crop in some salt water for a couple of minutes to remove them.
This is the final delivery for our 2018 melons.
Cascade is a white, multipurpose potato – great for fries, baked, mashed, or boiled.
Squashes can be baked and eaten straight away with some butter and a tad of brown sugar if you need it, or stored on your counter or in your garage for weeks.
Kohlrabi can be sliced and eaten like a radish or baked like a French fry.
After a very dry late July and August, September was 4 inches wetter than normal.
We are beginning to think about/plan for our annual Fall Harvest Gathering … mark your calendars for Saturday, October 27th anytime between 2 and 8 o'clock!
Wash all of our produce before you eat it.

Wow, this season has really snuck on by us. It seems like yesterday that I was sweating out that first delivery. This is week 16 now and then we have only 2 more summer boxes to go. I hope that you have all enjoyed our produce. It has been a pretty good year with no major hiccups, mostly decent crops, good weather, hardworking and committed interns, and a great bunch of members.

Presently on the farm we are concentrating on harvesting all sorts of crops for the ongoing boxes and also for storage. I built a drying unit 6'x2'x6' with 5 racks for curing winter squash and drying popcorn and dry beans. Right now the garlic is in there in its final stages of drying. We are also rolling up all of the black plastic mulch from our peppers, tomatoes, eggplant, and melons. Since we have been receiving plenty of rain all of our hoses and drip line are being rolled up for reuse next season. We are waiting for dry enough weather to plant next year's garlic, next spring's scallions and several areas of winter rye cover crop. We are also thinking about, and getting excited about, hosting our upcoming Fall Harvest celebration! I will post an itinerary in the week 18 newsletter – you can come anytime between 2-8 on Saturday October 27th and stay as long as you want to.
Happy to be your farmer!
~Norm
Crop of the week: Kohlrabi

That funky looking green vegetable in your box that's shaped like an orange with leaves sprouting out of it is called a kohlrabi. A close relative of cabbage, broccoli, and cauliflower, kohlrabi is sometimes known as the 'German turnip,' though it is not the same species as a turnip. It is popular in German-speaking countries and regions of the U.S. with a strong German heritage, but is also found in many Vietnamese dishes. As with many of the Brassicas we grow at Earth Dance kohlrabi loves cooler weather and short days, making it a prime candidate for late spring and fall plantings. The leaves and bulb are both edible, and can be eaten cooked or raw. Be sure to peel off the skin, as it is very tough. We suggest using a sharp knife instead of a vegetable peeler due to the skin's thickness.
Some recipes to try:

Place kohlrabi in a large bowl with chopped cilantro, scallions, hot pepper, lime zest, and orange zest

Prepare dressing: whisk olive oil, lime juice, orange juice, honey, salt, and vinegar in a small bowl.

Toss the dressing with the salad. Refrigerate until serving. Garnish with zest and cilantro.
Apple or cabbage can be substituted for/added in with the kohlrabi to give the slaw some different flavors.
Peel the kohlrabi and grate it on the large holes of a grater.

Lift the grated kohlrabi out of the bowl and onto a double layer of clean kitchen towels or multiple layers of paper towels. Lift the corners of the towels, twist them together, and squeeze out as much liquid as you can.

Crack the egg into a large bowl and beat it thoroughly with a fork. Combine the kohlrabi and the egg. Sprinkle the mixture with the flour and salt and stir to combine thoroughly.

Heat a generous layer of oil (about 1/4-inch deep) in a large frying pan or pot over medium-high heat until the oil shimmers when you swirl the pan. A bit of batter dropped into the pan should sizzle immediately.

Put generous spoonfuls of batter into the pan and flatten the resulting mounds a bit with the back of the spoon. You should be able to fit about four fritters in a large pan at a time. Partially cover and cook until the fritters are browned on one side, 2 to 3 minutes, flip, partially cover again, and cook until they are tender and browned on both sides. Transfer the fritters to a paper towel-lined plate to drain. Repeat with remaining batter. Serve immediately.