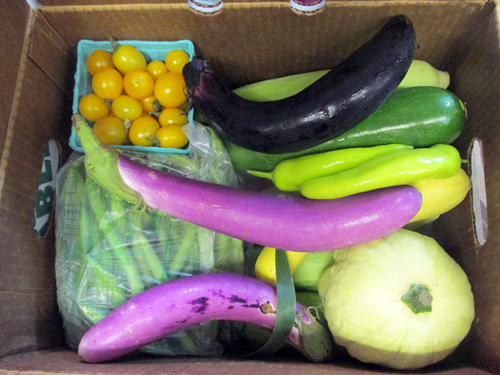 "Many a man curses the rain that falls upon his head, and knows not that it brings abundance to drive away the hunger."
– Basil of Caesarea
Summer Share Box 8 Crop List

Sweet corn – all shares
Green beans – all shares
Tomatoes – all shares
Basil – all shares
Cucumbers – all shares
Summer squash – all shares
Zucchini – all shares
Eggplant – full & half shares
Hot peppers – single & half shares
Bell peppers – full shares
Thyme – full & single shares
Lettuce – full shares
Brassicas – full shares
Farmer Notes
Tomatoes are slicers or Yellow Minis.
Tomatoes with basil, fresh mozzarella, and balsamic make a delicious summer snack.
Make a cold corn salad with tomatoes, onions, peppers, and some salt and pepper.
Sweet corn coming again next week.
We let up on the quantity of cukes and squash this week to make room for the corn.
Hot peppers are cayenne and wax – both similar, medium heat.
Thyme goes wonderfully with summer squash/zucchini or in a tomato sauce.
Finally got some rain here on Tuesday afternoon.
Sugar snap pea pods should be filled out by next week.
We are enjoying some new red potatoes – coming to you in box 10.
If on vacation, please have someone pick up your produce for you.
Wash all of our produce before you enjoy it.

Managing Wildlife
Last week I wrote about the watering of our crops, when needed, with drip irrigation. On Tuesday we received a half inch of rain which was much appreciated, but will dry out again in a few days. So with no rain in the 7-day forecast irrigation will continue.

Another task we manage here on the farm is keeping critters from our crops. I can divide these into several categories: those that damage the soil (moles, gophers, badgers), those that pose a threat to our chickens/eggs (possum, skunk, raccoon), and those that damage our crops (deer, raccoon, voles, mice, birds, and rabbits). We use live traps, various types of fencing, trap crops, row cover, and more. I own a gun.
It appears that word has gotten out in the neighborhood that Earth Dance Farm has tasty produce. We seem to have more deer and rabbits than ever before. Some farms have a 10-foot barrier fence around their fields to keep deer out. So far we have used a movable electric fence that is baited with peanut butter and we try to keep the crops they love under row cover (sometimes three layers) and in the bottom gardens closer to the house and dogs. We are having mixed results so far this year.
Swiss Chard and beets are deer favorites and you have not seen these crops in your boxes much this season. We have more of each planted near the house for fall deliveries. Our 3 wire low, 2 wire high electric fence to keep deer and coon out of the sweet corn is working well. We have caught seven possum and one skunk in our live trap over the past 6 months. Last season a raccoon killed 19 out of our 20 baby meat chickens. Never a dull moment around here. When are some of you going to visit us? Our door is always open.
~Norm
Crop of the week: Sweet corn
Sweet corn and field corn are closely related, but they aren't exactly the same. Field corn is used to make food products like cornmeal, corn chips, and corn syrup, but it's primarily grown for animal feed. No matter how much butter you slather on it, the high-starch and low-sugar content means it'll never taste good. Popcorn is a whole different kind of corn too, and it makes up less than one percent of the corn grown in the country. Sweet corn is an annual plant that requires a long, frost-free growing season. It is wind-pollinated and if you miss the optimal harvest time the corn's flavor will go downhill fast as its sugars convert to starch.
Besides being delicious, corn is also good for you. It's loaded with lutein and zeaxanthin, two phytochemicals that promote healthy vision. The silk is a great diuretic, commonly used for kidney, bladder, and urinary tract infections. Just dry it in the shade and keep it to make tea when you need it.
Some recipes to enjoy:
Thyme
Thyme is a wonderful aromatic herb that goes well with a wide range of foods such as legumes, meats, tomato and cream based sauces, grilled/roasted vegetables and even sweets (think honey, baked fruit, etc.). Use it as you would rosemary or savory, chopped and added at the beginning of the cooking process so it can release all its goodness. Thyme is also one of the most useful medicinal herbs to have around the house during the winter as it has antiseptic, antimicrobial and expectorant properties. A gargle of thyme tea is one of the best things to soothe a sore throat. So, if you have any leftover from this week's box, don't waste it – hang it in the shade to dry!
Shell beans if using shelling beans. Remove the kernels from the ears of corn and put in a bowl.

In a small saucepan of boiling salted water cook beans over moderate heat, stirring occasionally, until just tender, about 5 minutes. In a sieve drain beans and rinse under cold running water to stop cooking. Set aside.

In a skillet cook bacon over moderate heat until crisp. Drain bacon on paper towels and crumble. Pour off all but 1 tablespoon of the bacon fat from skillet. Add oil to bacon fat in skillet and cook onion over moderate heat, stirring, until just softened. Add garlic and cook for 1 minute more. Add tomatoes, corn kernels, and vinegar and cook, stirring, until tomatoes just begin to lose their shape. Remove skillet from heat and gently stir in cooked beans and half the bacon. Cool succotash to room temperature and gently stir in basil and arugula, and salt, pepper, and additional sherry vinegar to taste. Toss with croutons and sprinkle with remaining bacon before serving.
Mix all ingredients and let sit for at least 15 min for the flavors to blend.
Serve room temperature over pasta, veggies, chicken, or toasted bread, like a bruschetta.
Slice eggplant lengthwise into 1/2-inch-thick planks. Grill or broil them until moderately charred.

Meanwhile, place olive oil, onions, and garlic in large soup pot; cook on high heat, stirring frequently, until translucent.

Dice the charred eggplant, add it to the pot, reduce heat to medium, and cook 10 minutes, stirring frequently. Add tomatoes and cook 5 minutes. Add stock, lemon juice, and spices; simmer 30 minutes.

Let it cool a little, then puree in small batches. The color will be a rich brick hue. You may add salt and additional spices to taste.

Reheat the soup when you're ready to serve it, garnishing each bowl with a lemon slice topped with a dollop of sour cream. The soup may also be served chilled in the summer.
This is a great soup to improvise with, adding other vegetables or fresh herbs if you have them.