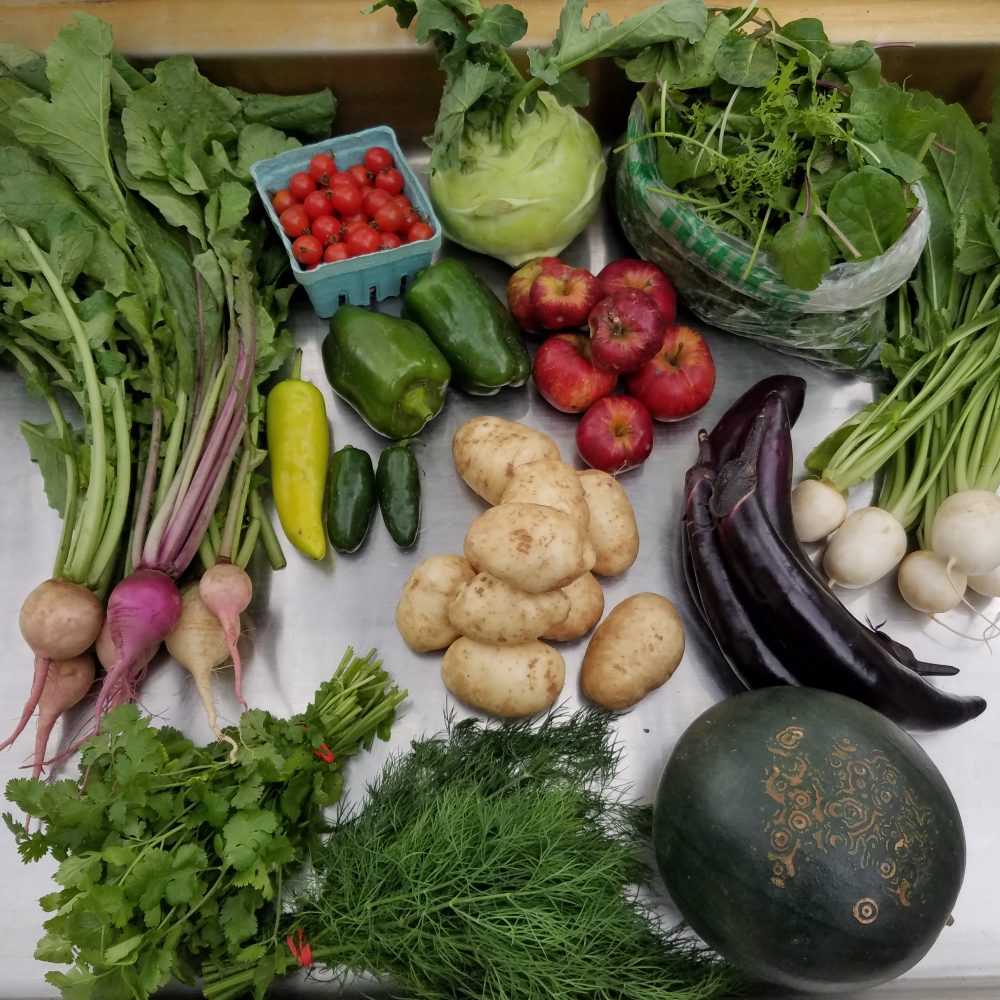 "Fall is here, hear the yell
Back to school, ring the bell
Brand new shoes, walking blues
Climb the fence, books and pens
I can tell that we are going to be friends."
~The White Stripes, We're Going to be Friends
Summer Share Box 15 Crop List
Watermelon – All Shares
Potatoes – All Shares
Eggplant – All Shares
Turnips – All Shares
Peppers – All Shares (Bells, Hot Wax, & Jalapeno)
Braising Mix – All Shares
Tomatoes – All Shares (Slicers or Minis)
Cilantro – All Shares
Dill – All Shares
Apples – Full & Single Shares
Radishes – Full & Single Shares
Kohlrabi – Full Shares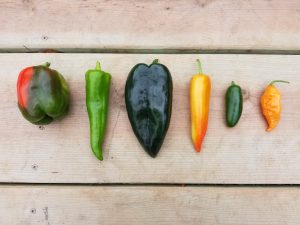 Farmer Notes
~Fall Share sign-up is open.  Delivery dates are bi-weekly on Thursdays: Oct.24,  Nov. 7, Nov. 21. Our farm article has more details
~Tomatoes do not have much of a shelf life this late in the season
~Make some potatoes with the dill
~Cilantro is great with tomatoes and peppers
~Turnips are perfect size with a crisp tangy sweetness – they can be braised, sautéed, roasted or eaten raw on a salad
~Peppers are now in their prime – we have bells and all types of heat.  Let us know if you want extra habanero, which has the most heat
~Sweet 16 apples are good for eating, on salads or for baking
~Long year for eggplant is coming to an end – enjoy them while you can
~We are having a very wet September.  We are trying to sneak in our cover crops and garlic
~Winter squash, red cabbage and spinach up for next week
~Please wash all of our produce before you eat it
Fall Share
We invite you to join us for our Fall Share season 2019. The delivery dates continue
bi-weekly on Thursdays: October 24 th , November 7 th and November 21 st . These are
full bushel boxes with 10-15 crops in each box. Most of the crops store well and can
be used for the full 2-week period. Price is $150 for the 3 deliveries.
Here is what you may see in your boxes:
Herbs:
Dill
Sage
Savory
Thyme
Rosemary
Oregano
Root Vegetables:
Carrots
Beets
Turnips
Radishes
Potatoes
Rutabaga
Parsnips
Daikon Radishes
Storage Crops:
Onions
Garlic
Popcorn
Apples
Honey
Winter Squashes
Pumpkin
Greens:
Kale
Romaine
Scallions
Leeks
Spinach
Asian Greens
Collards
Boc Choy
Arugula
Brassicas:
Kohlrabi
Cabbage
Broccoli
Cauliflower
Napa Cabbage
We would love to have you extend your season of fresh produce with us!! Sign-up is
online on our website: https://earthdancefarm.net/csa-registration/
Crop of the week – Dill
Dill is an aromatic herb in the Apiaceae family related to parsley and fennel. Often times referred to a dill weed, this herb has been found wild and grown throughout Eurasia since the Middle Ages. Both the seeds and the spruces have been used in European cuisine for centuries. Because this herb has such a unique and strong taste(when fresh), a small amount can go a long way and besides use in pickling and potato salad, is used mainly as a garnish. Dill also accompanies fish and other sea food dishes well.
Once you get your dill, it is best to wrap in a paper towel and store in the refrigerator for a few days. For longer storage, you can also store them in a jar filled partially with water(like flowers), cover that with plastic and place in the fridge. Dill will also freeze well. First, you will want to blend the spruces in a blender or food processor. Then you add just enough water to turn the chopped leaves into a paste. Lastly, spoon your mixture into an ice cube tray, freeze, transfer the resulting cubes into a sealable plastic bag.
Some recipes to try:
Put the potatoes in a big pot with enough water to cover by 1-inch. Season with salt and bring the water to a boil. Cook just until the potatoes are tender when pierced with a fork, about 25 minutes.

Drain the potatoes and return them to the uncovered pot off the heat. Let them sit until almost room temperature. (Cooling them in the warm pot will get rid of any excess water in the potatoes, and that's good.)

Meanwhile, cut the white parts off the ends of the celery stalks. Cut the stalks in half lengthwise, then across into 1/4-inch slices. Stir the celery, 3/4 teaspoon salt, and the remaining ingredients together in a serving bowl large enough to hold all the potatoes.

When they're cool, cut the potatoes into 1-inch pieces, add them to the bowl as you go. Stir gently until all the potatoes are coated with dressing. You can make the salad up to a couple of hours in advance. Keep covered at room temperature. Don't refrigerate or the potatoes will lose their rich, smooth texture.
Heat the oil in a large skillet or Dutch over. Add the onion and cook over medium high heat, stirring occasionally. Once the onion starts to soften a bit, after 3 or 4 minutes, add the slivered garlic. Cook for a minute more, then add the greens and any herbs. Season with ½ teaspoon salt.

As the greens cook down, turn them in the pan to bring the ones on top closer to the heat. Once they've all collapsed, add ½ cup water or bean broth, lower the heat and cook. Partially covered, until tender. Depending on the greens as long as 20. Just make sure there is some liquid in the pan for sauce. When the greens are done, add the beans, heat them through, then taste for salt and season with pepper.

Toast the bread and rub it with the halved garlic. Arrange on plates and spoon on the greens and beans. Drizzle with olive oil. Garnish with the cheese, if using, and serve.
Slice potatoes and turnips 1/4-inch thick. Cook in boiling water for 15 minutes or until fork-tender. Drain. Whip unpeeled cooked potatoes and turnips with electric mixer, mixing until moderately smooth (don't overbeat them; a few lumps are nice). Add hot cream, butter, and sour cream. Season with salt and pepper, to taste. Whip again until blended. Adjust thickness by adding more cream, if desired. If you do not have an electric hand mixer, you can use a potato masher.