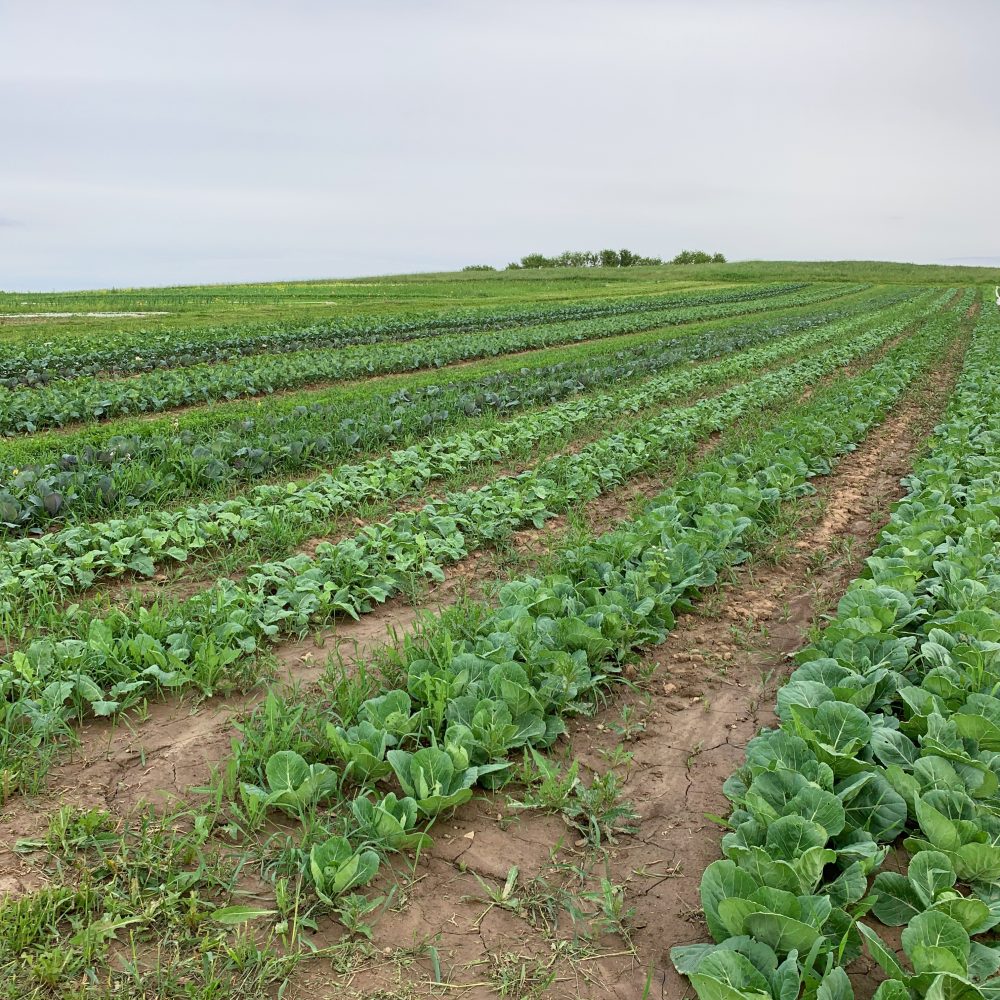 "The universe is shot through in all parts by a single sort of love."
~Kabir
Summer Share Box 2 Crop List
Broccoli – All shares
Bok Choy – All shares
Green Kale – All shares
Romaine Lettuce – All shares
Napa Cabbage – All shares
Savory bunch- All shares
Apple Mint bunch – All shares
Asparagus/Rhubarb – Half shares
Kohlrabi – Full/Single shares
Spinach – Full shares
Strawberries – Full/Single Twin Cities shares
Farmer Notes
WEEK #3 DELIVERY WILL BE ON WEDNESDAY, JULY 3RD

Jon, Maddie, Emma and Josh cooling off in the creek after a hot day.

Strawberries are a very perishable crop, especially with the frequency of rain we have been experiencing – please eat them as soon as you can.
Some of the spotted lettuce and purple Choy is from Josh and Vanessa's garden.
Apple mint infuses beautifully in your home water pitcher.
If greens are ever beginning to wilt in your box, rehydrate to freshen them in a very cold ice bath
Savory pairs well with meats, potatoes, eggs, pasta, or rice dishes – or dry it to use later on.
Our 'vegetable of the week' is actually the family group Cruciferous or Brassica since we are giving 5 crops of this family this week.
Kohlrabi can be sliced and eaten cold like a radish, made like French fries, or used in a salad or a soup.
We have had plenty of rain so far this year – we look forward to some hot, humid weather this weekend for our heat loving crops to take off.
Please return the ice packs and boxes each week.
Always wash all of the produce before you eat it.
We are having a busy but fun year so far at Earth Dance Farm.  I truly anticipate that it will continue as such for the duration!  We have 6 interns who live, eat and work here together with us.  Most folks I talk to about this set-up think that I am half nuts, and maybe I am, but it suits Diane and I just fine.  I love to share our place with others, hear their laughter resonate, share the evening meal together, and provide a safe and meaningful space for them for a short time in their young lives. They can regularly be seen playing guitar, roaming the fields at dusk, or walking to the creek for an after work swim. They take turns gathering, preparing and serving our main evening meal that is, almost without exception, well thought out and executed, and delicious.  Some interns are here only for the 3 summer months while a few are here for the full 9-month season.  These are the folks whose vibrancy and hard work brings you these beautiful boxes each week:  Vanessa, Josh, Emma, Madeline, Jonathon, and Kari.  You will hear their voice throughout our newsletters, possible see them on a utube 'family meal video', and they will each take a turn to write this farm article.  You can sense their care, their spirit, as you open the box each week – as you prepare and eat the produce!
We also invite you to visit us here at the farm at your convenience, join us for our Fall Harvest Gathering, or come down for our camping weekend July 26-28. 
I hope you enjoy box #2!
~Norm
Crop of the week – Brassicas 
The crop (family) of the week this time here at Earth Dance Farm are the Brassicas. Also known as "cole crops," these plants have been cultivated for centuries by people all over Europe, Asia, and the Middle East. Now commonly found all over the world as a
crop or as an invasive weed. The plants usually have lobed or entire leaves, in an alternating pattern, and are often waxy and bluish green in color. The color of these crops can dramatically change depending on temperature and light exposure, crossing between light green to dark purple.  There are over 30 species that are commercially cultivated today. A few of these that we grow on the farm include broccoli, cabbage, kohlrabi, cauliflower, rutabaga and turnips. These veggies tend to do better in cooler, northern climates and tend to get sweeter the cooler the weather. Mustard and rapeseed are also apart of the Brassica family and can be used for oil production and as seasoning.
Brassicas are rich in vitamin C, vitamin K, manganese and easily absorbed fiber. Epidemiological studies – which deal with  the incidence, distribution, and control of disease in a population – hint that these vegetables are also protective against cancers that target the lungs and alimentary tract. Boiling crops like broccoli, will substantially reduce the amount of nutrients. They will hold well in the crisper drawer of or fridge and are delicious both raw and cooked.
Heat the olive oil in a large frying pan over medium-high heat. Add garlic and cook until fragrant, about 30 seconds.

Add peanuts and cook, stirring constantly for 20 minutes. Transfer mixture to a small bowl and set aside.

In a small bowl, combine dressing ingredients and stir until smooth. Add 1 tbsp water, if necessary, to thin out the dressing.

In a large bowl, combine the salad ingredients.

When ready to serve, add dressing and toss to combine.

When ready to serve, add dressing and toss to combine. Season with salt and pepper and top with peanut mixture.
In a food processor, combine all of the ingredients and blend until smooth.

Taste, and add more salt and/or pepper if necessary.
This dressing will keep in the refrigerator, for up to 1 week.
Preheat oven to 350 F and butter an 8x8 (or similar size) baking dish.

Add fruit directly to the dish and toss with sugar.

Add crisp ingredients to a mixing bowl and, using your hands, mix until all of the butter is evenly distributed. Add to the top of the fruit in an even layer.

Bake for 45-55 minutes or until the top is is crisp and golden brown.

Let cool for 10 minutes and then enjoy!