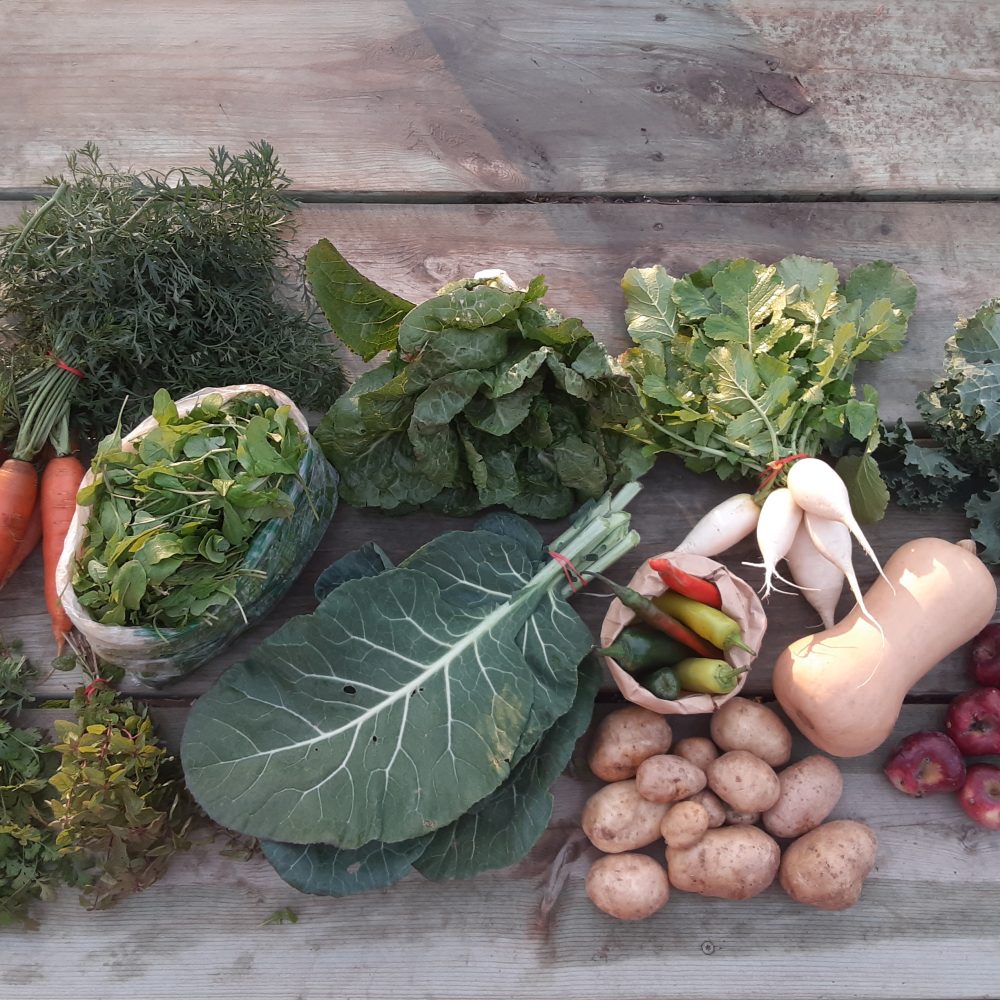 "Another world it's not only possible, she is on her way. On a quiet day, I can hear her breathing."

Arundhati  Roy
Fall Share Box 1 Crop List
Butternut

or

Spaghetti Squash
Potatoes
Hot Peppers
Turnips 

or

Daikon Radishes
Apples
Carrots
Collard Greens
Kale
Mixed Greens
Romaine Lettuce
Cilantro
Oregano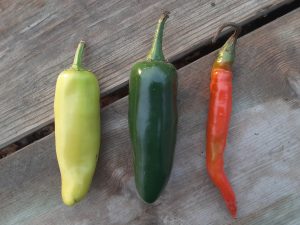 Farmer's Notes
*Welcome to our 2020 Fall Share – thanks so much for joining us!
*There are 5 bi-weekly deliveries on Thursdays – you will receive an email the morning of each delivery as a reminder for pickup and to give you some farm news and recipes.
*We reuse our boxes so please return them to us each week and be careful not to tear any of the tabs as you collapse them
*Our 'greens mix' is arugula, mustard, mizuna, tatsoi and kale – this is great with the romaine with some apples
*Hot peppers are a mix of hot wax, jalapeno, and cayenne – you may have to freeze or dry some of these for some instant heat during the winter – or pickle them! (recipe down below)
*Squash is butternut or spaghetti and is great roasted with some butter
*Oregano is wonderful with roasted carrots and squash or you can hang it to dry for later use
*The weather right now stinks – cold and wet with little sun.  It is far below normal for this time of year and it looks like it may continue. We are putting row cover on crops and trying to protect what we can in the field
*We hope that you enjoy your first box and it translates into some fantastic smells and flavors in your kitchen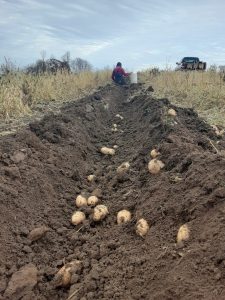 Farm Article
We are excited that so many of you have 'jumped on board" with us for our Fall Share produce season.  This should carry you into the holidays with fresh, local vegetables from our farm to your table.  We know it has been a tough year for all of us and we hope that some good, hearty and healthy home meals helps bring some calm and familiarity to your household.  Every 2 weeks we will deliver a box full of a variety of fresh greens, root crops, storage vegetables and herbs to your drop location.  Thus far, the fields and hoop house are looking good, but we have early, winter-like temperatures already on the horizon (15 degrees next week 🙁 ).
We have been busy harvesting and storing many crops like potatoes, squash, dry beans and carrots, and have tons of crops covered (some double covered) with floating row cover in the field.  I think that you will enjoy the variety and the quality of what you get in your boxes.
Cheers!
~Farmer Norm
Thoroughly wash and scrub all the peppers under cool running water. Take time to get your quart sized jar and the lid super clean and sterilized. We like to scrub ours with hot soapy water, then send them through the sanitizing cycle in the dishwasher.

Using a sharp knife, remove and compost the pepper hulls, then slice all the peppers into rings. There's no need to de-seed and de-vein the peppers, but if you prefer to, you certainly can. You may want to wear gloves for this step if you have sensitive skin, the oils from the peppers can cause burning and rashes.

Set 1/2 cup of filtered water to boil, either in a tea kettle or a saucepan. Measure out three tablespoons of kosher or pickling salt and pour it into your quart sized jar. Measure out and add the flavorings listed above to the jar as well.

Once the water is boiling, pour it into the jar and stir vigorously with a spoon until the salt dissolves and everything is mixed.

Pack the sliced peppers carefully into the jar, pushing them down gently after each addition. Keep filling the jar until you reach the neck of the jar. If you want to add some vinegar, leave a little room to top it off. Pour clean, filtered water slowly into the jar until all the peppers are covered. Cover the jar tightly with the lid and keep in the refrigerator for at least a day before enjoying. Do be aware, this is not a canning recipe, so you must keep the peppers in the fridge in order to keep them safe for consumption.

Your pickled peppers will keep in the refrigerator for around 6 months, and can be enjoyed on any number of dishes. We like to use ours to add a little spice and flavor to stir fries, toss them into omelettes, and even put them on homemade pizza!
Combine almond butter with tamarind paste in a medium bowl and mix with a spoon until smooth. Add maple syrup and mix to incorporate. Then add lime juice and soy sauce, whisk until smooth and set aside.

Warm coconut or olive oil in a large pan over medium-high heat. Add onion, garlic, ginger and lemongrass and sauté for 2 minutes.

Add kale and salt and continue to sauté for another 5 minutes, stirring. Cover and set aside.

Prepare pad Thai noodles according to the package instructions.

Peel and cut daikon radish into noodles with julienne, vegetable peeler, spiral slicer or by hand with a sharp knife.

In a large mixing bowl, combine rice and daikon radish noodles, mung bean sprouts, sautéed kale mixture, cashews, herbs and the dressing. Toss gently to coat. Serve immediately with more lime, garnished with toasted cashews and herbs.
Slice potatoes and turnips 1/4-inch thick. Cook in boiling water for 15 minutes or until fork-tender. Drain. Whip unpeeled cooked potatoes and turnips with electric mixer, mixing until moderately smooth (don't overbeat them; a few lumps are nice). Add hot cream, butter, and sour cream. Season with salt and pepper, to taste. Whip again until blended. Adjust thickness by adding more cream, if desired. If you do not have an electric hand mixer, you can use a potato masher.