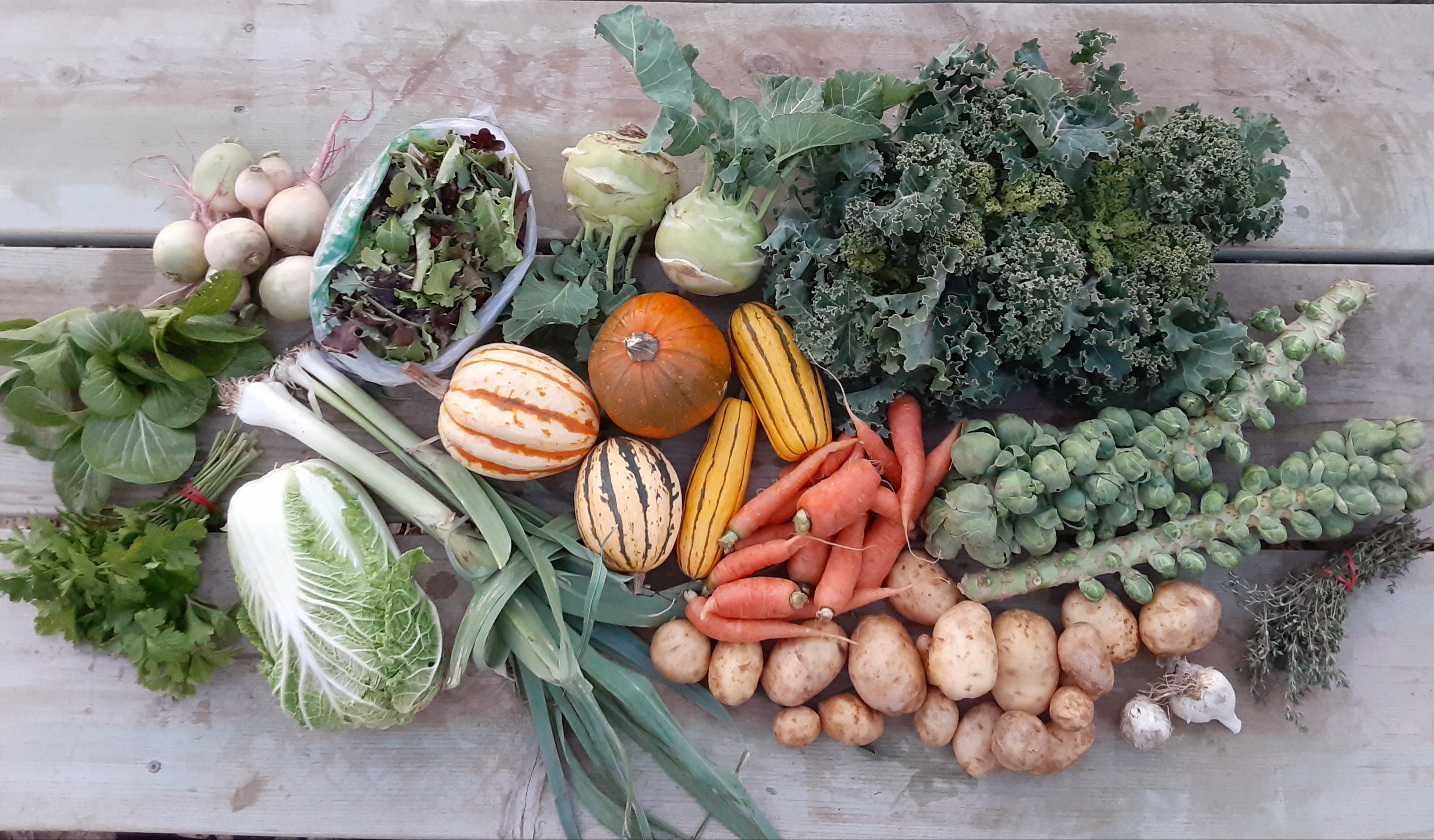 "And joy will be
the forever key
to our acceptance
and knowing the self fully.
So if joy leaves,
we know we have
to dig in again
to discover
the next phase of truth."
~Jacqueline Suskin
Fall Share Box 4 Crop List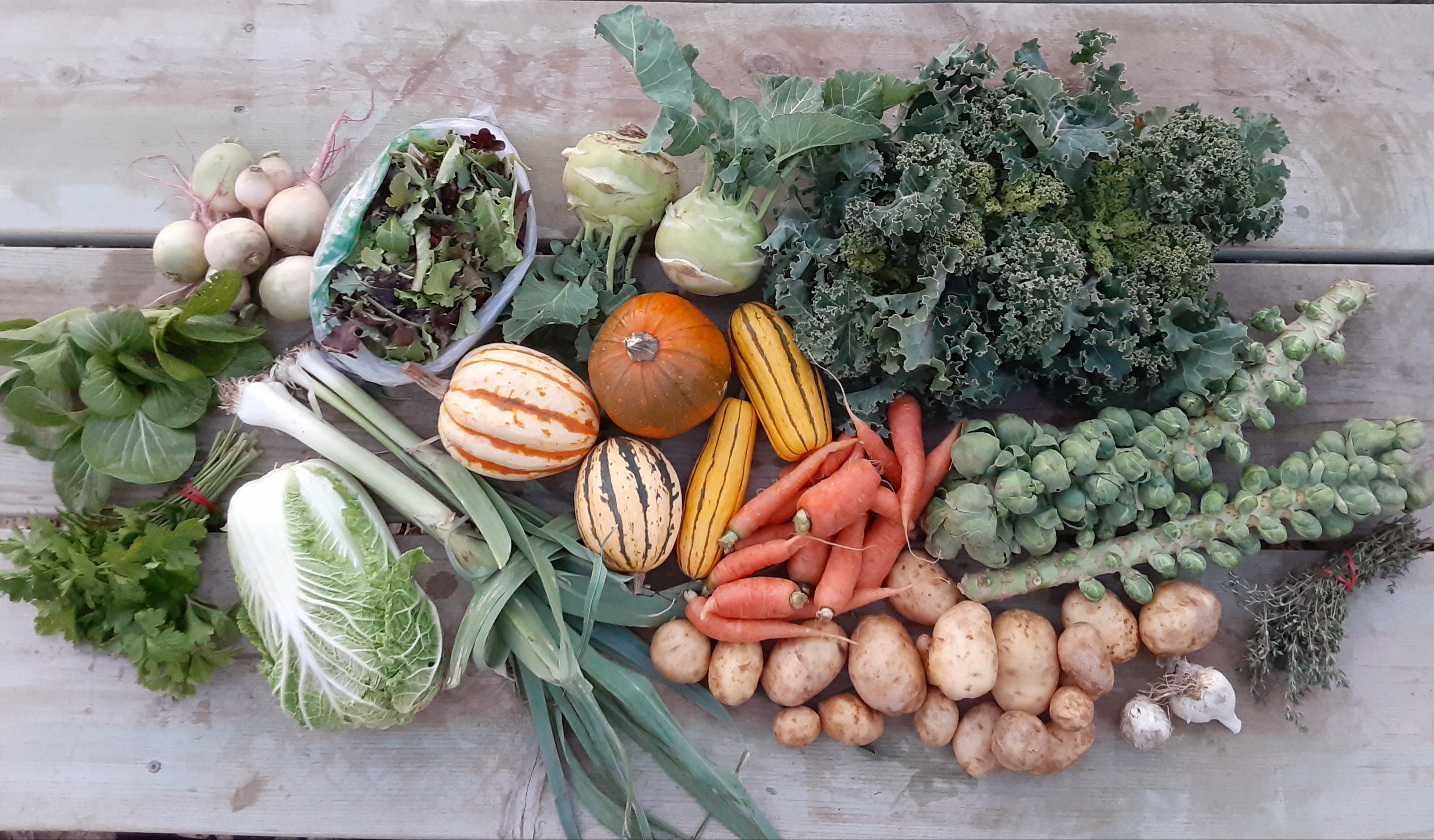 Winter Squash
Watermelon Radish
Carrots
Kohlrabi
Garlic
Leeks
Potatoes
Kale
Mixed Greens
Parsley
Thyme
Brussels Sprouts
Napa Cabbage
Bok Choy
Farmer's Notes
*We hope all of you had a safe and happy Thanksgiving holiday!
*Thyme and leeks both go well with the potatoes
*In cold weather the greens lose some of their moisture.  You may need to soak the Choy and Kale in cold water for a few minutes to liven them up.  Likewise, the greens mix(a leaf lettuce blend and a baby kales mix)will come to life as you soak/wash it in cold water.
*Roasted carrots with thyme is delicious
*Salad it up with the lettuce mix, the radishes, Napa, kale and shaved carrots
*The watermelon radishes are a pretty red on the inside and have a bold, peppery flavor – we have noticed that they vary in flavor from radish to radish. Some are more on the sweet side of the spectrum
*Many of our late fall vegetables will store for a week or more in a perforated bag in your refrigerator crisper drawer
*Some folks have a pie pumpkin as part of their winter squash mix
*Please continue to return our boxes and ice packs
*Our final Fall Share box will be delivered in 2 weeks on December 17th
Here at Earth Dance farm we have been keeping very busy.  The interns were able to relax for a few days over Thanksgiving, but our days are jammed packed with farm chores.  These include:
*Harvesting or covering crops still in the field … at the present time these include kale, collard greens, leeks, turnips, spinach, some storage cabbage, and then spring scallions and 2021 garlic.
*Storing of crops that are already harvested, but won't be given until December 17th, or during the winter share.  These crops include potatoes, carrots, rutabaga, beets, kohlrabi, and daikon radishes that are all in sand, and napa and brussels, garlic and onions in a cold cooler and winter squashes in a cool cooler.  The popcorn is still drying in the dehydrator and the honey still needs to be spun.  Our dry beans are mostly stripped from the vine.
*Cleaning up the fields, as we are able to, of used row cover and irrigation drip tape
*Harvesting wood from the back 35 and splitting it for winter use
*Tending our hoop structure and caterpillar tunnel that house hardy greens for winter use
We have been enjoying the pleasant working weather this past week and look forward to more of it for the next 10 days.   I hope you can get out and take in the sun and these mild temps here before winter sets in.
~Norm
| | |
| --- | --- |
| Cook Time | 1 hour 15 minutes |
| | |
| --- | --- |
| Cook Time | 1 hour 15 minutes |
Step 1: Halve the leeks lengthwise and rinse away any grit. Thinly slice the leeks crosswise. In a small square of cheesecloth or hot tea sachet, tie together bay leaves, thyme, sage, parsley, and celery leaves if using.

Step 2: Melt the butter or heat the oil in the bottom of a large pot over medium-high heat. Stir in the leeks and cook, stirring frequently, until leeks are soft and dark golden brown, 10-15 minutes. Stir in the garlic for the last 3 minutes of cooking.

Step 3: Stir in stock or water, the sachet of herbs, the salt and pepper. Bring to a boil over high heat, then reduce down to medium-low; simmer for 5 minutes.

Step 4: Add the potatoes and simmer soup until potatoes are very tender and falling apart, about 45 minutes. Taste and adjust seasoning. If desired, drizzle small amount of cream into each bowl when serving, and top with parsley for garnish.
1. Soak kale leaves in hot water for 30 seconds to 1 minute to soften them. 2. Pulse all ingredients—kale, parsley, olive oil, salt, pepper, garlic, parmesan cheese, walnuts, plus 4 tablespoons water—in a food processor until smooth or desired consistency. You may need to scrape down the sides of the bowl of the food processor. Transfer to a sealable container (a mason jar is perfect). 3. Serve over pizza, pasta, grilled meat, crackers, eggs, soup, sandwiches, salads… the sky is the limit! Note: If you want to make it vegan. Just remove Parmesan from the mix.
Cut squash in half, remove seeds and place squash face down on an oiled baking sheet. Bake about 30-45 minutes (depending upon size) in a preheated 350 degree F oven until soft.

While squash is baking, heat the butter in a heavy soup pot over medium low heat. Add onions, leeks, and carrots. Sweat until soft. Do not brown. Add vegetable stock to soup pot and bring to a gentle simmer.

When squash is done, scoop cooked squash from the skin. Add squash to the soup pot. Continue to simmer about 30 minutes, or until vegetables are thoroughly cooked and softened.

Puree soup mixture with an immersion blender. If you do not have one you can also do this in a blender or food processor. This may require several batches. Strain soup through a medium mesh strainer and discard the solids.

Season with allspice, ginger, salt and pepper. Portion soup into individual bowls.