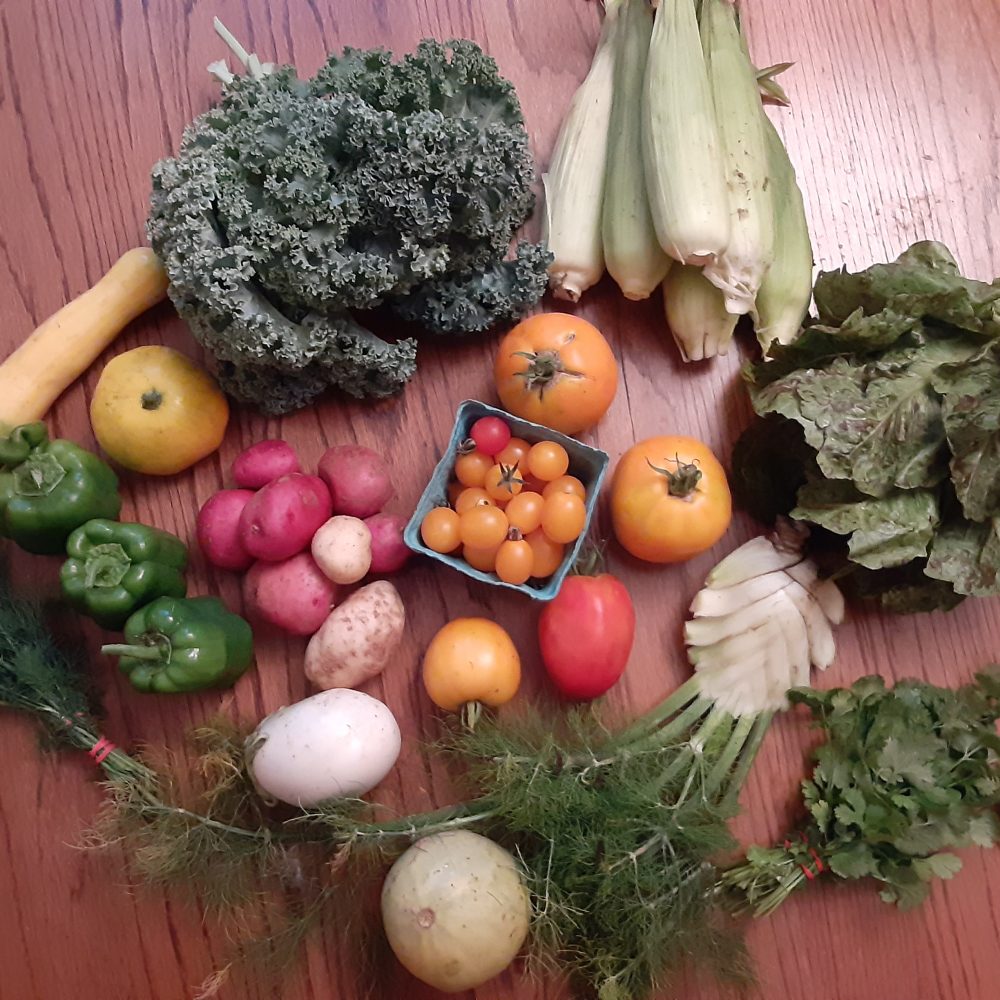 "Those who deny freedom to others, deserve it not for themselves."
~Abraham Lincoln
Summer Share Box 13 Crop List
Sweet Corn – All Shares
Potatoes – All Shares
Slicing Tomatoes – All Shares
Mini Tomatoes – All Shares
Fennel – All Shares
Lettuce – All Shares
Dill – All Shares
Kale – All Shares
Melons – Full & Single Shares
Eggplant – Single & Half Shares only
Bell Peppers – Half Shares Only
Cilantro – Full Shares Only
Summer Squash/Zucchini – Full Shares Only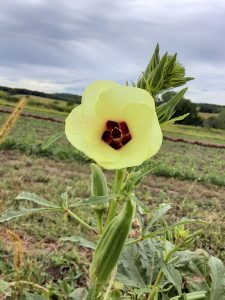 Farmer's Notes
*Last sweet corn of the year!  This final delivery is always smaller ears, in general, and plenty of worms at the tip.  Feel where the corn cob begins, cut an inch off and enjoy the sweetness of the summer sun!
*Final delivery for the melons of 2020
*We are plenty wet now, and cool.  We need sun and warmer weather to dry things out to do our final fall plantings
*We are having a poor showing of bell peppers this year for some reason.  This week they only go to the half shares
*Lettuce is back for the foreseeable future – speckled and then back to romaine
*Potatoes with dill or with the fennel again for another week
*Tomatoes and eggplant should hang in there for a couple more weeks
*You will notice some of our crops from the spring will again show up going forward in the boxes
*Wash all of the produce and keep returning our stuff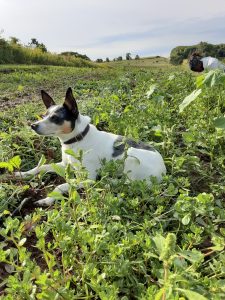 Farm Article 
We set a new record in our area recently by having 2 consecutive days with the high temperature staying below 50 degrees.  For early September that is indeed noteworthy.  Like I told the interns, "I am happy to get that system now and have the lows stay in the upper 30's then to have it come in 2 weeks and get an early freeze."  Many of our summer crops like the peppers, tomatoes, eggplant, melons, beans and such are done for once a hard frost hits.  We always hope for that to happen later in September or even in October.  Most of the fall crops like carrots, kale, beets, broccoli, cabbages, leeks, kohlrabi, rutabaga, and even the winter squashes sweeten up once the cooler temperatures arrive and they can consolidate their sugars.  This is normally an especially fun time on the farm as the weather is usually(not this week) great for outdoor working and the harvest is plentiful.  We hope that you are enjoying the last of the hot summer crops and are looking forward to the fall harvests coming down the pike.
~Norm the Farmer
Crop of the Week: Dill
Dill is perhaps best known for its iconic role in "dill pickles", but there are many uses for this little herb. It belongs to the Apiaceae family of plants, which includes other familiar veggies, like celery, fennel, carrots, and parsley. 
Dill is marked by its feathery blue-green leaves and bold fragrance. If left to grow, dill plants can reach heights of 3 to 5 feet tall! Here at the farm, we harvest dill at any height. As long as the leaves are bright green, they are fresh and full of flavor. If the fronds are left unpicked, the plants will produce large yellow flower heads. These attract pollinators and beneficial insects, like black swallowtail butterflies. If flower heads are left to die, flat brown seeds will emerge. These seeds can be harvested and used as an aromatic spice in cooking. 
Uses of dill: Originating in Asia, early uses of dill date back to 1400BC. Centuries later in Eastern Europe, a dill-featuring stew called Borscht was created. Today, dill weed and seed can be found as a light addition to salads, fish dishes, sauerkraut, vegetable recipes, vinegars, breads, and soups. Do not try using the leaves and seeds interchangeably, as the leaves have a much milder flavor. Likewise, dried dill is milder than fresh dill. A helpful metric to remember is: 
1 dried teaspoon dill weed = 1 fresh tablespoon dill weed 
When used in cooking, dill weed will lose flavor the longer it is cooked. Thus, it should be added at the last minute only. The opposite is true for dill seed, which develops more aroma and flavor when heated. Recipes often call for dill seed to be toasted in a hot frying pan before being added. 
A common question about fresh herbs is, "How should I store it?" 
If you plan on using dill within a day or two, wrap it loosely in plastic, and store it in the refrigerator. If stored for much longer than this, it will get wilted and slimy. 
If you intend to use the dill within a week, place the bundle in a jar of water — as you would a bouquet of flowers — then cover the top with plastic and refrigerate. 
As was noted previously, dill doesn't keep much of its flavor if you dry it. However, it does freeze well. To freeze it, put the leaves in a blender or food processor. Pulse to finely chop the leaves, then add just enough water to just turn the chopped leaves into a paste. Spoon the paste into an ice cube tray, freeze, transfer the resulting cubes to a sealable plastic bag, and store in the freezer. Add a dill ice cube anytime you want a burst of fresh dill flavor to soups or stews! 
We encourage you to explore a new recipe this week using dill and other vegetables from the share! 
~Farmer Chloe
Some recipes to try:
Put the potatoes in a big pot with enough water to cover by 1-inch. Season with salt and bring the water to a boil. Cook just until the potatoes are tender when pierced with a fork, about 25 minutes.

Drain the potatoes and return them to the uncovered pot off the heat. Let them sit until almost room temperature. (Cooling them in the warm pot will get rid of any excess water in the potatoes, and that's good.)

Meanwhile, cut the white parts off the ends of the celery stalks. Cut the stalks in half lengthwise, then across into 1/4-inch slices. Stir the celery, 3/4 teaspoon salt, and the remaining ingredients together in a serving bowl large enough to hold all the potatoes.

When they're cool, cut the potatoes into 1-inch pieces, add them to the bowl as you go. Stir gently until all the potatoes are coated with dressing. You can make the salad up to a couple of hours in advance. Keep covered at room temperature. Don't refrigerate or the potatoes will lose their rich, smooth texture.
In a medium bowl combine sour cream, mayonnaise, green onions, dill and lemon juice. Mix well and chill for at least 1 hour.

Serve over potatoes or as a dip for veggies. Would also be good topped on fried fish or burgers!
| | |
| --- | --- |
| Servings | cups (4 - 1.5 cup servings |
| | |
| --- | --- |
| Servings | cups (4 - 1.5 cup servings |
Heat oil in a medium, heavy bottom pot. Once the oil is hot, add onion, garlic and fennel along with a pinch of salt. Saute for 8-10 minutes or until the onion and fennel is beginning to look translucent.

Add tomatoes, broth, beans and season with salt and pepper, then bring to a boil. Once you've got your boil, reduce the heat and simmer for 20-30 minutes. This will allow the soup to thicken and become nice and hearty.

Once your soup has reached the desired consistency, stir in spinach. The spinach will wilt down in a matter of minutes and your soup will de done. Enjoy!