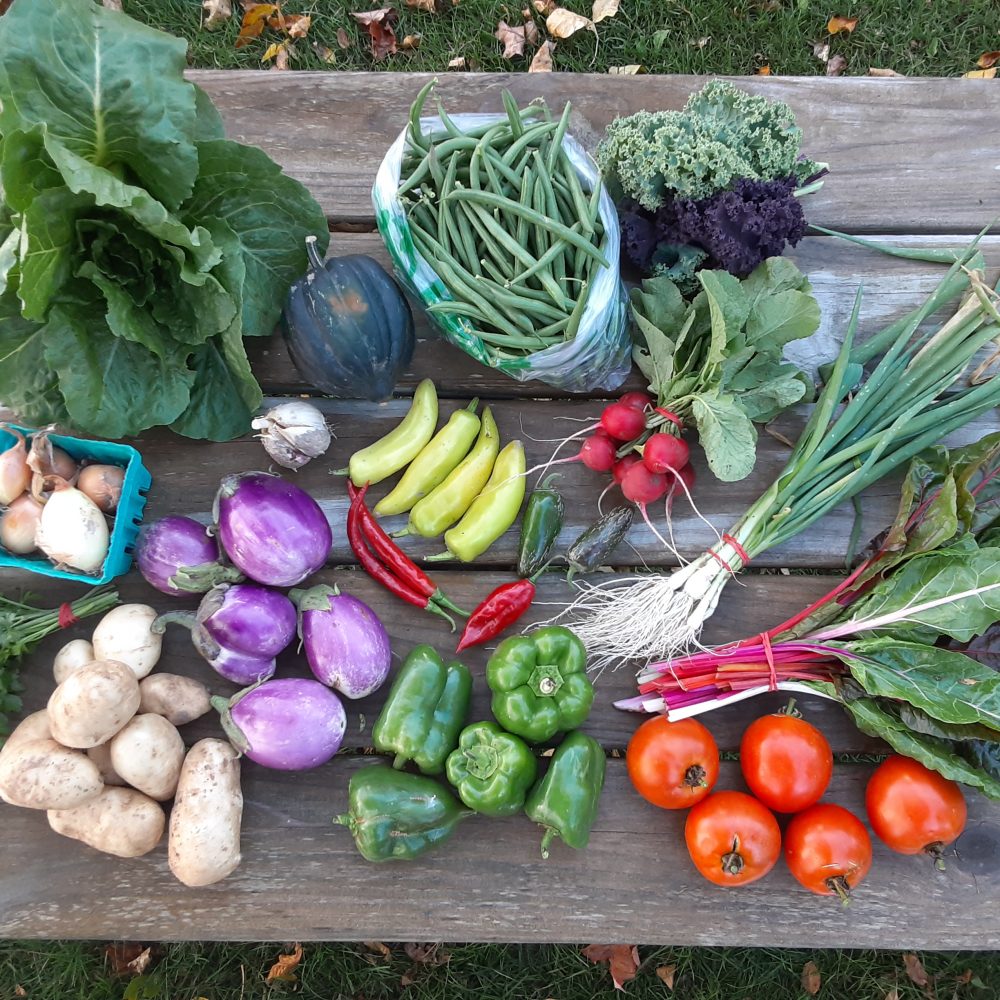 "What you do speaks so loudly that I cannot hear what you say."
Ralph Waldo Emerson
Summer Share Box 16 Crop List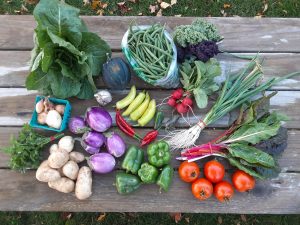 Acorn Squash – All Shares
Potatoes – All Shares
Garlic – All Shares
Green Beans – All Shares
Hot Peppers – All Shares
Parsley – All Shares
Sweet Onion – Full & Single Shares Only
Lettuce – Full & Single Shares Only
Radishes – Full & Single Shares Only
Kale – Single & Half Shares Only
Bell Peppers – Full Shares Only
Chard – Full Shares Only
Tomatoes – Full Shares Only
Green Onions – Half Shares Only
Eggplant – Half Shares Only
Farmer's Notes
*Some big changes will hit our fields the next few night with our first heavy frost/freeze expected – I will talk more about this in the farm article
*The last of the eggplant and tomatoes for 2020 as they will freeze Thursday night
*Lots of beautiful green beans, we will cover them with a heavy row cover so that we have them again for week 17
*Back with Romaine for the fall, everyone will get a head next week
*Parsley will go well with some garlic potatoes
*Acorn squash this week has a nice nutty flavor, next week will be Delicata/Sweet Dumpling
*Peppers, radishes, tomatoes and onions can all go on a lettuce salad
*After this box we have 2 more coming your way to end out the 2020 summer CSA season
*Please continue to return our boxes and ice packs
Farm Article
The first freeze of the year is always a sure sign that the summer crops are over.  We usually get some kind of light or moderate frost in September(this year on the 24th).  Normally this event lasts one to three nights and can be overcome with some light row cover on a few more sensitive crops that we want to save.  Then we are usually frost free for a week or two or three until the next frost comes that is more heavy, or goes lower than 32 degrees.  By this point many of the hot summer crops are done for and we concentrate on produce that do well in the colder weather.  This is where we presently find ourselves.  Tomorrow the crew will be bringing in the remainder of the winter squash and putting row cover over green beans, hot peppers, small chard and some newly planted fall greens.  Most of our cover crop has been planted, except for some strips of winter rye, and our garlic field is under cultivation in preparation for a mid-October planting.  We also have a 50′ caterpillar tunnel coming next week that will protect some of our late fall share crops.
I hope you enjoy your box of fresh produce this week!
~Farmer Norm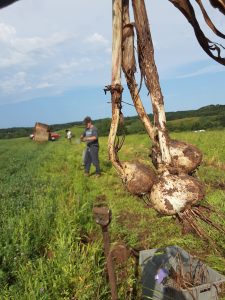 Crop of the Week: Garlic
I am very excited to bring Garlic to the table as our 'crop of the week', and also to your table!
Garlic is a part of the Allium Genus and is closely related to the onion, shallot, leek, chive, and Chinese Onion. This pungent crop is native to Central Asia and northeastern Iran and its use dates back thousands of years. Garlic is a common product worldwide and is grown in many places however, China actually produces 80% of the world's supply.  Here at Earth Dance Farm we grew 6 – 400 ft rows of garlic this year and came out with a pretty nice yield. We will be using a large amount for giving in boxes the rest of this year and the rest for planting in the field. In addition to our own, farmer Norm has been hunting down some organic garlic growers in the area to obtain some poundage of other types as well to incorporate into our stock. We plant individual cloves into the ground in mid-Fall (in about a week or 2)before the ground is too cold and then mulch the rows to keep them insulated for the Winter. The idea is to get them into the ground at the perfect time where they will produce roots but not any shoots. They will then overwinter and start putting out shoots in late Spring the following year and will then turn to garlic scapes, which you had received in your boxes earlier this year. Once the scapes are harvested, the plant can start putting all its energy into the garlic bulb below ground which will then get bigger and after a while be harvested in late Summer/early Fall. We then bundle them and hang them to dry for a few weeks to 'cure' them. Something I have noticed about EDF garlic in particular is that the cloves that make up the bulb tend to be larger than average, sometimes seeming that one clove could actually equal 2 or 3.
There are many ways to use garlic, mostly in the kitchen BUT it can also be used as medicine and has been for a very long time. It is said that garlic can help relieve or treat a wide variety of ailments including arthritis, snake and insect bites, parasites, chronic cough, and as an antibiotic to treat infectious diseases. It was even used as an antiseptic to help prevent gangrene during WW1 and WW2. In the kitchen, it is used for its flavor which is quite versatile and can be used in many different dishes across the board. I add garlic to pretty much everything I cook that isn't a dessert, and I am totally that person who adds more than the recipe calls for!
We hope you enjoy!
~Farmer Vanessa
Some recipes to try:
Place green beans into a large skillet and cover with water; bring to a boil. Reduce heat to medium-low and simmer until beans start to soften, about 5 minutes. Drain water. Add butter to green beans; cook and stir until butter is melted, 2 to 3 minutes.

Cook and stir garlic with green beans until garlic is tender and fragrant, 3 to 4 minutes. Season with lemon pepper and salt.
Preheat oven to 400 degrees. Line two rimmed baking sheets with aluminum foil, and brush with oil.

Lay squash pieces on baking sheets. Season with salt and pepper; sprinkle squashes evenly with half the sugar. Roast until sugar has melted, about 5 minutes.

Remove baking sheets from oven. Using tongs, turn over pieces. Season with salt and pepper; sprinkle evenly with remaining sugar. Roast until tender, about 20 minutes.
Scrub the potatoes well, removing any bad spots or eyes that you see. If any are larger than the others, cut in half to make sure they cook evenly.

Add potatoes to a large pot and cover with water and a pinch of salt. Place on the stove over high heat and bring to a boil. Reduce heat to a strong simmer and cook until fork tender, about 10-12 minutes.

Drain, then mash well in the same pot. Or, puree mixture in the pot with an immersion blender to make it even smoother.

Stir in butter and milk, and continue to stir until mixture is smooth.

Stir in garlic, parsley, salt, and pepper until combined. Season with additional salt and pepper to taste.