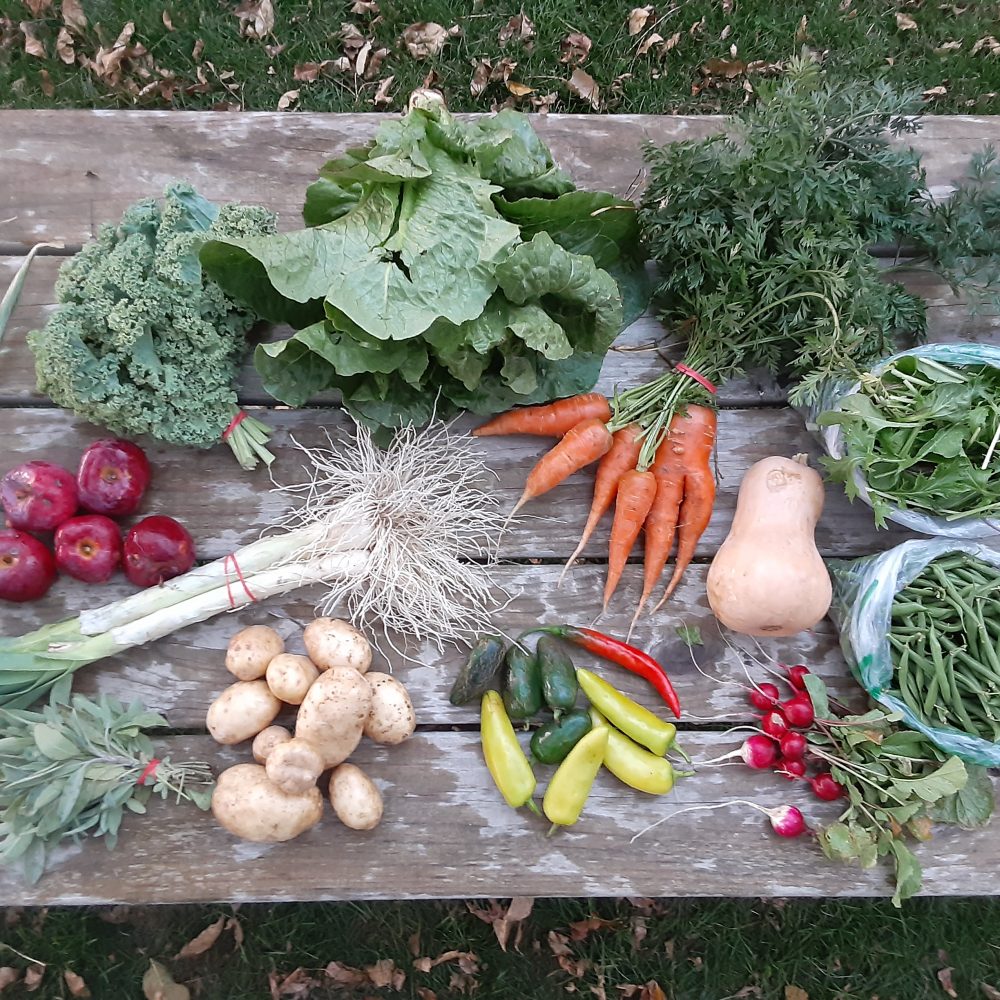 "Great minds think differently."
Summer Share Box 18 Crop List
Butternut Squash – All Shares
Potatoes – All Shares
Leeks – All Shares
Kale – All Shares
Sage – All Shares
Romaine – All Shares
Hot Peppers – All Shares
Mixed Greens – Full & Single Shares Only
Carrots – Full & Half Shares Only
Apples – Single & Half Shares Only
Green Beans – Full Shares Only
Radishes – Half Shares Only
Farmer's Notes
*Thank you so much for joining us for our 2020 summer CSA season. Our 2021 sign-up begins on January 1st
*The weather is turning colder, make some potato/leek soup
*Sage butter over some roasted butternut squash sounds delicious
*The greens mix works well with the romaine for a nice salad – add some apples, carrots or radishes if you received some
* The sage over some caramelized carrots would be tasty
*We will run our usual route next week to make sure we collect all of our ice packs and boxes
*If you have purchased a Fall Share, the first delivery is next Thursday
*We wish you a wonderful fall and winter season – stay safe and healthy!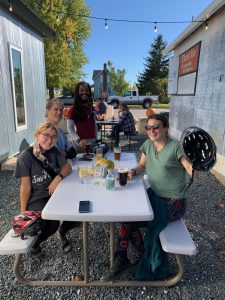 It is always amazing to have the summer season come to an end.  It goes by like a flash and it is great to be
at this point in the year.  It is a satisfying time to recall all of the boxes that have been filled from our fields and have gone out to your homes.  We feel that it has been a pretty wonderful year all in all.  There are
always some crops that are not great for different reasons, and a vast majority that do well.  We hope that you have enjoyed the variety and that we didn't inundate you with way too much of one crop.  Every growing season is different and this really adds to the interest of farming.  We are super happy that you have been on this ride with us and hope that you can join us again next summer.  In the meantime, be happy, eat well, and be kind to one another.
Warmth from all of us,
~Norm
Crop of the Week: Leeks
As the season grows colder, it becomes time to harvest one of our favorite crops: leeks. These hardy vegetables are characterized by their long, thick white stems and upright fan of green leaves. Along with kale, leeks are the most cold-tolerant of vegetables. If established in late summer they can overwinter through the frozen ground and snow pack. In fact, the colder the temperature, the sweeter the taste. 
Leeks are part of the Allium family, which includes onions, garlic, and scallions. Like its relatives, leeks are used as the foundational flavor for many dishes. The unique spice provided by alliums is the result of organic sulfur compounds, meaning that the pungency of the flavor is directly correlated with their nutritiousness. The sulfur compounds have antioxidant, antiviral, and anti-inflammatory properties. An umbrella review of 16 meta-analyses on the health benefits of alliums found that regular consumption of garlic, onions, or leeks can reduce cholesterol, lower risk of cancer, and improve cardiovascular health. Lucky for us, they taste delicious too! 
Although less popular in American cuisine, leeks are a staple winter vegetable throughout Eurasia. The tender white to pale-green is separated from the dark greens, then cooked as a supporting aromatic in all kinds of recipes, such as pan sauces, braises, roasted vegetable dishes, and salads. Leeks can be sautéed, roasted, steamed, and fried. The dark, leafy greens are usually discarded because of the tough texture, but they make for a delightful addition to stock for flavor. Potato leek soup is a creamy fall classic, originating in Wales. We recommend you warm up with a bowl of this healthy comfort food!
~Farmer Chloe
Some recipes to try:
| | |
| --- | --- |
| Cook Time | 1 hour 15 minutes |
| | |
| --- | --- |
| Cook Time | 1 hour 15 minutes |
Step 1: Halve the leeks lengthwise and rinse away any grit. Thinly slice the leeks crosswise. In a small square of cheesecloth or hot tea sachet, tie together bay leaves, thyme, sage, parsley, and celery leaves if using.

Step 2: Melt the butter or heat the oil in the bottom of a large pot over medium-high heat. Stir in the leeks and cook, stirring frequently, until leeks are soft and dark golden brown, 10-15 minutes. Stir in the garlic for the last 3 minutes of cooking.

Step 3: Stir in stock or water, the sachet of herbs, the salt and pepper. Bring to a boil over high heat, then reduce down to medium-low; simmer for 5 minutes.

Step 4: Add the potatoes and simmer soup until potatoes are very tender and falling apart, about 45 minutes. Taste and adjust seasoning. If desired, drizzle small amount of cream into each bowl when serving, and top with parsley for garnish.
To blanch the carrot tops: remove thick stem pieces. Bring a pot of water to a boil. Prepare a large bowl with ice cubes and cold water in it. Once boiling, add the carrot tops to the pot. Stir occasionally, cooking for about 3 minutes or until bright green and tender. Immediately remove from the pot, drain the hot water, and add the carrot tops to the ice cube bowl to stop the cooking process.

Drain the carrot tops, wring out excess liquid, and spread them on a plate to dry while you do the remaining recipe prep.

Add all of the ingredients from garlic through walnuts (if using) to the food processor. Blend until a chunky paste forms with small bits of carrot tops. Depending on the size of your food processor, you may need to stop frequently to scrape down the sides. Add the olive oil a tablespoon at a time until combined. Season to taste with salt, pepper, and more lemon juice if desired.

To use as a pasta sauce, cook your pasta in salted water according to package directions. Reserve 1/2 cup of pasta cooking water, drain the pasta, and return it to the pot. Add the reserved cooking water and carrot top pesto, stir to combine, and cook over low heat until warmed. Serve right away.

Otherwise, once cooled to room temperature, store the pesto in the fridge in an airtight container for several days. The bright green color may fade to a slightly darker green, and this is totally normal