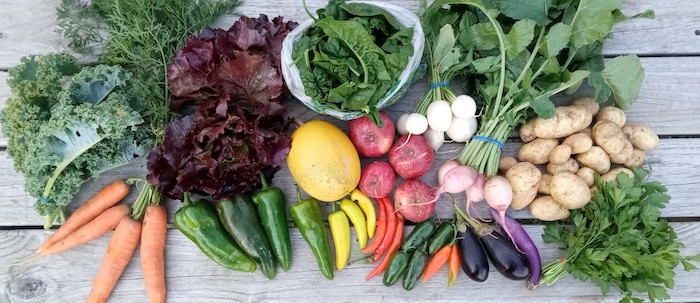 "In the fall, I believe again in poetry, if nothing else it is a movement of the mind."
~Jaakko A, Ahokas~
Summer Share Box 18 Crop List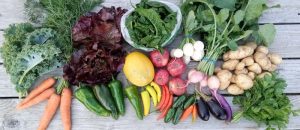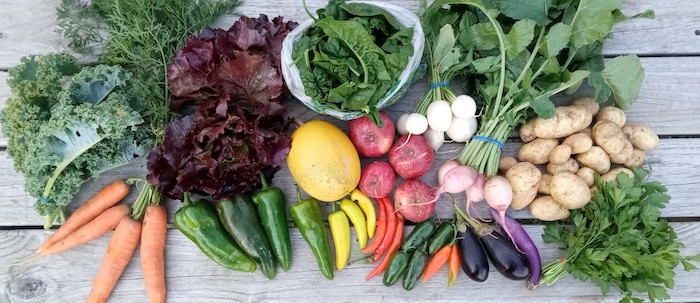 Watermelon Radish – All Shares
Spaghetti Squash – All Shares
Potatoes – All Shares
Italian Frying Peppers – All Shares
Hot Peppers – All Shares
Carrots – All Shares
Parsley – All Shares
Apples – All Shares
Kale – All Shares
Eggplant – Flex Shares Only
Turnips – Full Shares Only
Spinach – Full and Flex Shares Only
Lettuce – Full and Flex Shares Only
Farmer Notes
*Many thanks to each of you for your participation in our CSA Summer Share season – we hope that you can join us again next year!
*Our Fall Share begins next Thursday October 20th – last chance to jump in
*Watermelon radishes are super pretty and with a peppery crisp bite – they are fun as a side or in a salad
*Apples are big and juicy – some may have a small cavity from a bird or a bug
*Carrots are large, sweet and fresh out of the ground
*The spinach is very sweet after the 2 freezing nights we have had already
*Many of our summer crops will die off this coming weekend as we are supposed to have 5 consecutive nights below freezing
*Make sure that all of our boxes and ice packs are returned to your pick up location by October 20th
*Have a safe and enjoyable fall and winter season everyone!
Man, I can hardly believe that the summer CSA season is already complete.  We began in early January accepting member sign-ups, and by early March we were headlong into seed planting in the greenhouse.  After that we hardly looked back until now as the colder temperatures arrive and many of those early seeds, now plants, are dying off for the winter.  It has been a very good season for us – I would like to highlight a few things:
Our crew:  these fine young people have worked long and hard to grow, harvest and pack these boxes for you all summer.  They have built a close team that respects and enjoys one another.  We have eaten like royalty as all are more than decent cooks.  I hope that you have been able to taste the love that we have for this kind of work.
*The rainfall:  we have had consistent rain throughout the summer.  We are very dry now, but most of the growing season has been ideal in the moisture department.  This is great for the crops for sure, but it is also less stressful for me and less work with irrigation.
*Our members:  we had a great number of members this season and have had very few headaches or complaints.  You guys have been great at picking up your boxes, returning your boxes, and communicating as necessary.  Please let us know if there is anything that we could do differently/better to improve for next year.
I wish you a wonderful 'off-season' filled with plenty of laughter and good eating!
~Farmer Norm

Crop of the week – Watermelon Radish
Daikon, also known as white radish, Japanese radish, Chinese radish, winter radish, and luobo, is popular in Japanese, Chinese, and other Asian cuisines. Watermelon Radish, which made its way into the boxes this week, is actually an heirloom Daikon variety. Their dark pink center is reminiscent  of its namesake, with a green, reddish pink,  or whitish green exterior. Daikons store extremely well, and will be a staple throughout the fall and winter shares. Daikons have been noted for their anti-inflammatory properties, as well as being extremely high in potassium.
Daikons have a sweet peppery taste that is a bit milder than the more popular red varieties. You can roast a daikon as you would any other root vegetable and the results are glorious. It is great sliced thinly and garnished on a salad, or thrown into a mason jar and pickled. I eat them whole after sprinkling some salt on them for a light and quick snack during the workday. You can cut a daikon into matchsticks and make daikon "fries". Also you can make a simple but tasty radish cucumber salad, dressed minimally with sesame oil, rice wine vinegar, and basic spices. By this point in the season, I"m sure y'all are seasoned chefs and could outcook me with a blindfold on. It's been a pleasure writing these articles the last few months, and I hope you've enjoyed reading them. Cheers to many great harvests in the future!
-Farmer Dylan
Some Recipes To Try:
daikon radishes

peeled, and julienned or cut into sticks. The length should be slightly shorter than the first ring on the neck of a wide mouth pint jar.
daikon radishes

peeled, and julienned or cut into sticks. The length should be slightly shorter than the first ring on the neck of a wide mouth pint jar.
Lay jar on its side and pack radishes tightly into the jar. Make sure the jar is well cleaned.

Cover with brine, leaving at least 1 inch of headspace.

Put an airtight lid on the jar.

Place the jar on the counter at room temperature. You'll need to burp the jar once, or twice a day to release pressure. To do this, slightly loosen the lid to let off gas and re-tighten.

Ferment for 5 days - 2 weeks, or until they are the flavor and texture you desire. Radishes will ferment a bit faster in the summer than in the winter. A thinner size slice will also ferment faster. I generally julienne them and ferment for around 5-7 days.

Store in the refrigerator for a month, or two.

Recipe notes: The amount of salt is personal preference within a given range. Start with 1 1/2 tsp. and increase to taste, if desired. If too little salt is used, the vegetables will not be crisp, it will also not discourage the growth of mold. However, if too much salt is used, it can slow and even prevent fermentation from occurring. Salt within the given range of 1 - 2 1/4 tsp. per cup of non-chlorinated water will keep your brine in a healthy range. You may reduce the amount of salt further, by using 1 Tbsp. whey, or juice from another ferment, per 1 cup of non-chlorinated water. Whey tends to be a little more predictable. I would not recommend reducing salt below 3/4 tsp. per cup of non-chlorinated water.
In a small bowl, beat cream cheese and butter until smooth; stir in the radishes, onion, parsley and salt. Chill for at least 1 hour.
Put the walnuts, parsley, cheese, garlic, lemon juice, and salt in a food processor and pulse for a few seconds to combine. Scrape down the sides of the bowl, then pulse again.

Drizzle in the olive oil while the machine is running just long enough to incorporate the oil, about 20-30 seconds.

Use immediately or cover with plastic wrap and refrigerate to store. Will last several days chilled.

Use with pasta or as a spread on bread or toast, or try using as a base sauce for pizza. Enjoy!