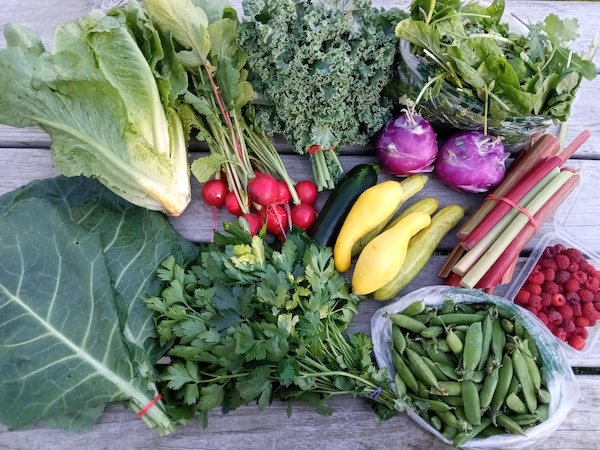 "Do the work and then step back.  The only path to serenity."
~Lao Tzu~
Summer Share Box 5 Crop List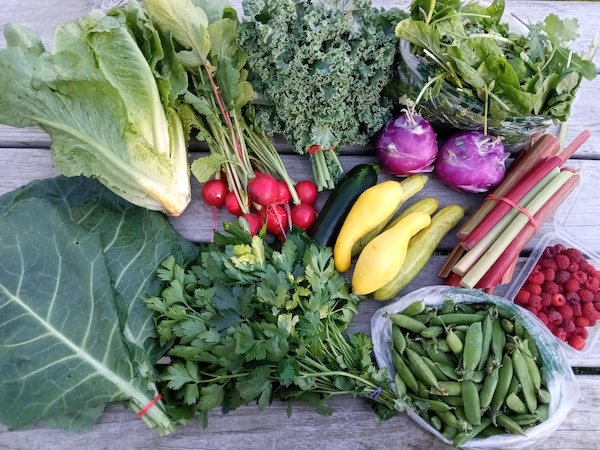 Kohlrabi – All Shares
Romaine – All Shares
Kale – All Shares
Radishes – All Shares
Summer Squash/Zucchini – All Shares
Collard Greens – All Shares
Parsley – All Shares
Basil – All Shares (Not Pictured)
Mixed Greens – Full Shares Only
Rhubarb 

OR

Raspberries – Full Shares Only
Snow Peas or Shelling Peas – Full Shares Only
Farmer Notes
*Collard greens are a new crop this week and loaded with vitamins and minerals – sauteed with bacon or stir fried with other veggies
*Parsley also makes its first appearance of the season.  It is so much more than a garnish:  great in a chimichurri, in a salad or pesto.  For a bright tangy dip finely chop the parsley and stir into sour cream and add some lime, salt and pepper to taste
*We have been having summer squash on the grill all week.  Diane made a tasty casserole with cheese and Panko and seasonings – she dehydrated the squash slices to get the excess water out
* This is the last of the salad greens until the Fall, and the lettuce will shift to some summer varieties by August
*It looks like broccoli, scallions and cucumbers will be ready for box #6
*Snow peas are great to saute/stir fry or eat fresh in a salad.  You can eat the whole pod after pulling off the string.  Shelling peas are finished, this is the only harvest of the snow peas, and the sugar snap should be ready in 2 weeks
*Basil is fresh from the hoop house, harvested Thursday at 5 a.m.  Next week you will get a 'pesto bunch' from the field
*We hope that you all are enjoying Summer and eating fresh from our fields
***We have decided to have a Fall Farm Gathering on Saturday September 24th after cancelling for the past 2 seasons.  More details to follow, but get it on your calendars if you wish to attend!
I thought that I would offer you a farm update as we near the middle of July.  As I have mentioned, the rainfall has been near perfect – it is very rare not to have irrigated much of anything up to this point.  We are now watering crops beneath the black plastic mulch:  tomatoes, peppers, eggplant and melons.  We have no real rain chances in the 10-day, so we will also be watering newly planted carrots, beets, fennel. lettuce, basil etc.  This week we have also been enjoying ideal weather with plenty of sun, a cool northerly breeze and low humidity.  Next week will bring higher temperatures and dew points.  We are seeding many of our fall crops in trays on outside flatbeds: cabbage, broccoli, cauliflower, kohlrabi, scallions.  These will all go into an acre field that is presently growing a buckwheat and sudangrass cover crop.  Besides irrigating, harvesting and planting crops, around 2 day per week is dedicated to weeding the fields.  This week we will be concentrating on the cucumbers, a kale bed, and always the never ending onions.   It is looking like it should be a great year!
~Farmer Norm~
Crop of the week – Peas
Peas are plentiful around the farm this week, and as a result all three we will offer this season will be the crops of the week. Snow peas, shelling peas, and sugar snap peas. Snow peas are the tasty, crunchy and sweet peas you have certainly seen in stir-fries or Chinese food served in western countries. Also known as the Chinese pea, this versatile crop is great whole in a salad, sauteed with some oil and your favorite spices, or the shelled peas can be pureed and become an excellent dipping sauce.
Shelling peas must be removed from their husk in order to be enjoyed. A perfect, low stakes kitchen task for eager youngsters wanting to help out. Peas can be traced back to the Mediterranean, but really gained ground as a dependable crop in Europe in the mid to late eighteenth century. You can be as simple or complex as you want with this ingredient. Boil them and toss with butter and salt for an easy yet delicious side dish. You can add them to a pasta for a neat texture, color and subtle flavor. You can make a split pea soup if you feel so inclined! These peas are also easy to freeze and store for the winter when greens on your plate can be sparse.
Sugar snap peas are quite similar to snow peas, and the ones we eat today are actually a genetic hybrid of the two peas previously mentioned in this article. Like the snow pea, the sugar snap can be eaten whole, pods and all. Hearing that crunch as you bite down on these tasty goodies is so satisfying. Like its two predecessors, the way to use these peas can only be limited by your imagination. Steam them for a light crispy snack, sautee them with soy sauce and eat them over rice, or line a baking sheet with peas, parmesan, bread crumbs and garlic for a crunchy savory bite.
-Farmer Dylan
Some Recipes To Try:
Melt butter or heat oil in a large skillet.

Add the snow peas, radishes, and garlic. Season with salt & pepper.

Cook over medium-high heat stirring frequently until the vegetables are beginning to get tender but still crisp (about 5-8 minutes). Serve warm.
In large serving bowl, add the kale, half of lemon juice, a drizzle of oil and a little kosher salt. Massage until the kale starts to soften and wilt, 2 to 3 minutes. Set aside while you make the dressing.

In a small bowl, whisk remaining lemon juice with the honey and freshly ground black pepper. Stream in the 1/4 cup of oil while whisking until a dressing forms, and you like how it tastes. Pour the dressing over the kale, and add the strawberries and nuts and/or seeds. Toss and serve.
In a small bowl, beat cream cheese and butter until smooth; stir in the radishes, onion, parsley and salt. Chill for at least 1 hour.