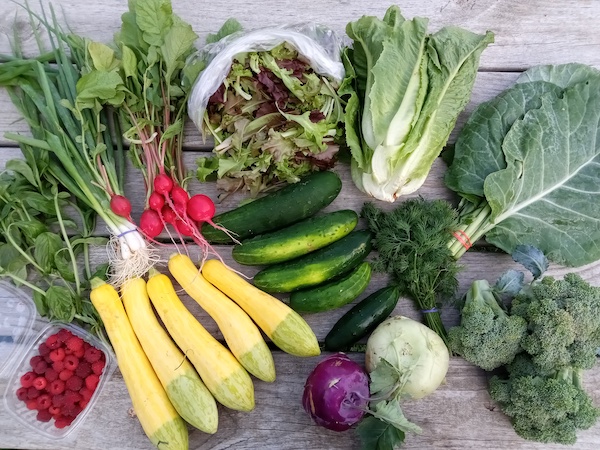 "The way to get started is to stop talking and begin doing."
~Walt Disney~
Summer Share Box 6 Crop List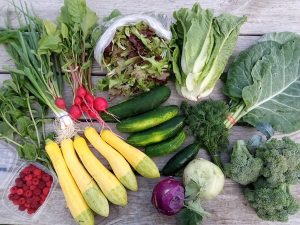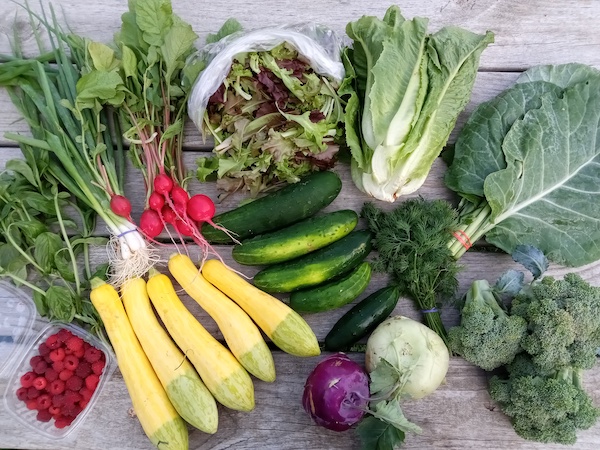 Summer Squash/Zucchini – All Shares
Cucumbers – All Shares
Scallions – All Shares
Romaine – All Shares
Broccoli and/or Cauliflower – All Shares
Dill – All Shares
Basil – All Shares
Kohlrabi – Full Shares Only
Collard Greens – Full Shares Only
Radishes – Full/Flex Shares Only
Raspberries – Flex Shares Only
Leaf Lettuce – Full/Half Shares Only
Farmer Notes
*We are 1/3 of the way through our 18 week summer produce season now.  Many of your favorites may be just around the corner – I will write a bit about how our Nightshades are doing in my farm article
*Cucumbers and summer squash both can be sliced thinly and put in a quart mason jar with a chunk of dill, add salt and some white vinegar, pour back and forth in the jar, and then let sit in your fridge to enjoy with any meal
*Scallions are new and fresh and can be used cold (dip in salt and eat with meat??), cut into salads of all kinds, or sauteed in practically any cooked dish
*Dill is a delight – it is wonderful in many dressings and sauces
*Summer squash/zucchini and cucumbers will be plentiful for the next month or so
*For the Cruciferous family, we are about finished with the kohlrabi, collards and kale will come every other week or so for a spell, and broccoli, cabbage and cauliflower will be in boxes over the next few weeks
*Make some basil pesto, or add it to pasta, salads or to flavor many dishes
*The leaf lettuce is a mix of 4 different varieties.  We will give folks a break from lettuce (and radishes) for the next few boxes
*It was not a great season for our berry crops this year, but the apples are looking good
*Please continue to return our boxes and ice packs each week
The Nightshade family includes some popular, heavy hitters:  tomatoes, sweet and hot peppers, eggplant and potatoes … also tobacco, but thank goodness that this one is waning in popularity.  Our nightshades in the field are abuzz with bees as all of the aforementioned crops are blooming in full.  The bees are also busy on the squashes, cucumbers, melons, and our acre of buckwheat.  We are beginning to harvest a few peppers as they begin to mature on certain varieties, namely, Beaver Dam, but also some bells.  The eggplant is still 2 – 3  weeks out yet and the tomatoes, hot peppers, and red potatoes will begin by mid-August or so.  Even though we all have our favorite crops, it is fun to experience the full season as it unfolds here in MN. and on Earth Dance Farm.  We hope that you are enjoying the variety of seasonal crops that you receive each week, and embracing the challenge to cook with 'what's in the box'.
Happy summer!
Norm
Crop of the week – Summer Squash
This is a week of abundance, with things growing faster than we can manage them here on the farm. We have plenty of squash and zucchini right now, and those will be our crops of this week. The varieties we have currently are Yellow and Green Zucchini, Magda Zucchini, yellow and green Patty Pan Squash, and Zephyr squash. Some might look familiar and some you might have never heard of, but they all taste and cook quite similarly.
Squashes have been eaten in Central America and Mexico for thousands of years. One of the oldest crops still in use today. European settlers brought back seeds to their respective countries, and there have been bountiful harvests ever since. High in vitamins A, B & C, this nutrient dense family of veggies is a family favorite.
My favorite way to eat some of the bigger zucchini is to cut them lengthwise, season them minimally, oil them up and throw them on the grill. You can make zucchini noodles to make a less carb heavy pasta dish. Also a simple yet tasty squash roast is always mouth-watering. Or just chop up some squash and zucchini and throw it into your pasta sauce. Zucchini bread has been baking in the farm kitchen a lot this week; a perfect midday snack or dessert that goes amazingly with some vanilla ice cream. Bon Appetit!
-Farmer Dylan
Some Recipes To Try:
(If planning to serve as soon as they're done), preheat oven to 250 degrees. Have a baking sheet lined with paper towels ready. Trim ends off zucchini and grate them either on the large holes of a box grater or, if you have one, using the shredding blade of a food processor.

In a large bowl, toss zucchini with 1 teaspoon coarse salt and set aside for 10 minutes. Wring out the zucchini in one of the following ways: pressing it against the holes of a colander with a wooden spoon to extract the water, squeezing out small handfuls at a time, or wrapping it up in a clean dishtowel or piece of cheese cloth and wringing away.

Return deflated mass of zucchini shreds to bowl. Taste and if you think it could benefit from more salt add a little bit more. Stir in onion, egg, flour and some freshly ground black pepper.

In a large heavy skillet, heat 2-3 tablespoons of oil over medium-high heat until shimmering. Drop small bunches of the zucchini mixture onto the skillet only a few at a time so they don't become crowded and lightly nudge them flatter with the back of your spatula.

Cook the fritters over moderately high heat until the edges underneath are golden, about 3 to 4 minutes. Flip the fritters and fry them on the other side until browned underneath again, about 2 to 3 minutes more. Drain briefly on paper towels then transfer to baking sheet and then into the warm oven until needed. Repeat process, keeping the pan well-oiled, with remaining batter.

Cook's Note: I like to make sure that the fritters have at least 10 minutes in the oven to finish setting and getting extra crisp.

Do ahead: (This is the best part!)These fritters keep well, either chilled in the fridge for the better part of a week and or frozen in a well-sealed package for months. When you're ready to use them, simply spread them out on a tray in a 325 degree oven until they're hot and crisp again.
Preheat oven to 325 degrees F. Place oven rack in the center of the oven. Generously spray two 8.5-inch loaf pans with cooking spray and coat evenly with flour to prevent sticking.

In a large mixing bowl, add melted butter, white sugar, lemon zest, lemon juice, almond and vanilla extract and cream together until fluffy and light in color.

Add the eggs, one at a time, and mix until fully incorporated before adding another.

Evenly sprinkle the salt, baking soda, and baking powder over the top of the mixture and mix well.

Add the flour ½ cup at a time and mix entirely between additions.

With a rubber spatula, gently fold in the summer squash and poppy seeds.

Divide the batter evenly between the two prepared loaf pans.

Bake at 325 degrees F for 60-65 minutes or until a skewer inserted into the middle of the loaf comes out clean. Be careful not to check the loaves early or you may cause them to sink slightly in the middle.

Place loaves on cooling rack to cool 5-10 minutes before carefully removing from the loaf pans to cool completely (about an hour). One of our interns made this for dessert and it was sooo delicious, I just had to put it in the newsletter!

Store covered well for about three days or loaves can be frozen. To freeze loaves, cool completely and then pack into gallon freezer bags and seal. Best if frozen the same day as baked.
Heat a heavy-bottomed pot over medium-low heat. Add the olive oil followed by the onions. Cook until the onions are fragrant and translucent, 4 to 5 minutes. Stir in the squash, potato, and carrot. Continue to cook for until the squash begins to soften, 5 minutes or so. Stir in the garlic, cook for a minute then add in all the spices, cooking for another minute more.

Add the wine, scrapping up any pieces stuck to the bottom. Allow some of the wine to cook out then measure in the vegetable broth. Bring to a boil, reduce to a simmer, and let cook until the potatoes are tender, 10 to 15 minutes.

While the soup simmers, heat 2 tablespoons of the oil in a frying pan on medium high. Add the collards and cook, stirring, until the collards become bright green and tender. Remove them from the heat and set aside.

Puree the soup using a blender or an immersion blender. Add in the coconut milk and continue to heat the soup until hot. Taste and add salt as needed (usually depends on how salty the broth is). Divide into two bowls and top with a drizzle of coconut milk, sprinkle of paprika.