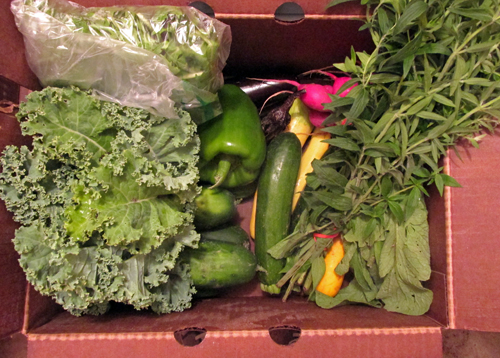 "No matter how much one may love the world as a whole, one can live fully in it only by living responsibly in some small part of it."
– Wendell Berry
Summer Share Box 5 Crop List

Zucchini – all shares
Summer Squash – all shares
Cucumbers – all shares
Mint – all shares
Radishes – all shares
Eggplant – all shares
Peppers – all shares
Greens mix – all shares
Kale – all shares
Beets – full shares
Collard greens – full shares
Napa cabbage – full shares
Raspberries – some shares
Farmer Notes
Farm work/visit opportunity on Friday July 27th – check out our Farm Connections web page.
The deer love chard and beets. We used a deer fence and row cover to deter them and still struggled to get a decent crop. We have our fall beets planted as close to our house as possible so hopefully the dogs can help us out.
Many of you will receive raspberries – they do not ship well and some may be broken down or watery. Please accept our apologies in advance.
Zucchini, summer squash, and eggplant are excellent sliced thinly, oiled and seasoned, and grilled.
Lots of cucumbers coming down the pipe: put them in your pitcher of water, slice and drizzle with balsamic, or make refrigerator pickles (take 3-4 cucumbers and slice thinly. Mix in a bowl with 3 teaspoons of salt. Put in a quart jar with garlic and dill and shake. After 2 hours top off the liquid with white vinegar and cap. Enjoy in an hour or in a year).
Make some zucchini bread this weekend.
We are starting to eat mini orange tomatoes – you should see some soon.
No irrigation to speak of needed here on the farm with more rain today.
Make sure to wash your produce before you eat it.
A visit to the farm

One of the opportunities/advantages of belonging to a CSA farm as a member is that you are a member and that you belong to that farm for the season. You pay for your membership and supply the financial backing to keep the business afloat. Among many benefits to CSA subscription (earthdancefarm.net/csa-movement) is the open invitation to visit the farm at any time. You can see the fields that produce the vegetables in your weekly box, chase the chickens that lay your eggs, and meet the folks who work these fields to bring food to your table.
On Friday, July 27th, we will host one of several on-farm events that are open to all of our members. It is a day or half day to tour the farm, do a stint of fieldwork with the crew, and enjoy a light lunch of farm fresh produce. We will offer this again in September. We also will have a camping weekend in August that requires a 2-week reservation, and a large 'harvest gathering' on Oct. 27th. Of course, with a phone call or email, you can stop down at any time that fits into your schedule for a farm tour and a short visit. Unfortunately we are about a 2-hour drive from the Cities and I know summer is busy, but just know that a warm welcome is extended to each of you.
We hope that your summer is off to a wonderful start and that you are enjoying your produce boxes so far. Enjoy and be well!!
~Norm
Crop of the week: Cucumber
Did you know? The cucumber originates from southern Asia! While we love our pickles and cucumber here in America, the Chinese are the world's largest producer of the crop. They produce more than 25 times as as many as the next closest producer, Turkey! They are a delicious snack and a great addition to water for summer refreshment.

Some cucumber recipes to enjoy:
Peel the cucumbers. Cut in half lengthwise and scoop out the seeds with a spoon. Cut into lengthwise strips about 3/8 inch wide. Cut the strips into 2 inch pieces.

Toss the cucumbers in a 2 1/2 -quart porcelain or stainless steel bowl with the vinegar, salt, and sugar. Let stand for at least 30 minutes or for up to several hours. Drain. Pat dry in a towel.

Preheat oven to 375 degrees.

In a baking dish 12 inches in diameter and 1 1/2 inches deep, toss the cucumbers with the butter, herbs, scallions, and pepper. Set uncovered in middle level of the preheated oven for about 1 hour, tossing 2 or 3 times, until cucumbers are tender but still have a suggestion of crispness and texture. They will barely color during the cooking.
If the natural moisture content is not withdrawn beforehand, cucumbers exude so much water as they are heated that you usually end up with a tasteless mush. Blanching for 5 minutes before cooking will remove unwanted water, but also most of the cucumber flavor. A preliminary sojourn in salt draws out the water yet leaves the flavor, which a little vinegar and a pinch of sugar accentuates. Baked cucumbers go well with roast, broiled, or sauteed chicken and sweetbreads.
Use a spoon and scrape out the seeds from the cucumber, and discard them.

Dice the cucumber into small pieces or shred with the large holes of a box grater. Mix the cucumber pieces in a strainer with the salt, and let them stand for about 30 minutes, shaking and turning them a few times to encourage them to expel their water.

After they've drained, squeeze the cucumber pieces in a dishtowel to get out most of the excess liquid, and transfer them to a large bowl.

Mix the cucumbers with the garlic, yogurt, herbs, and olive oil, and taste, adding more salt if desired. Depending on the brand of yogurt, you might want to add a squirt of fresh lemon juice if you want it more tangy.
You can use any herbs that you like. I prefer heavy on the mint, with a good dose of dill in there. Some folks like flat leaf parsley as well (coming later this season!).
Tzatziki is actually better served the day after it's made, so plan accordingly. It can be made up to three days in advance.