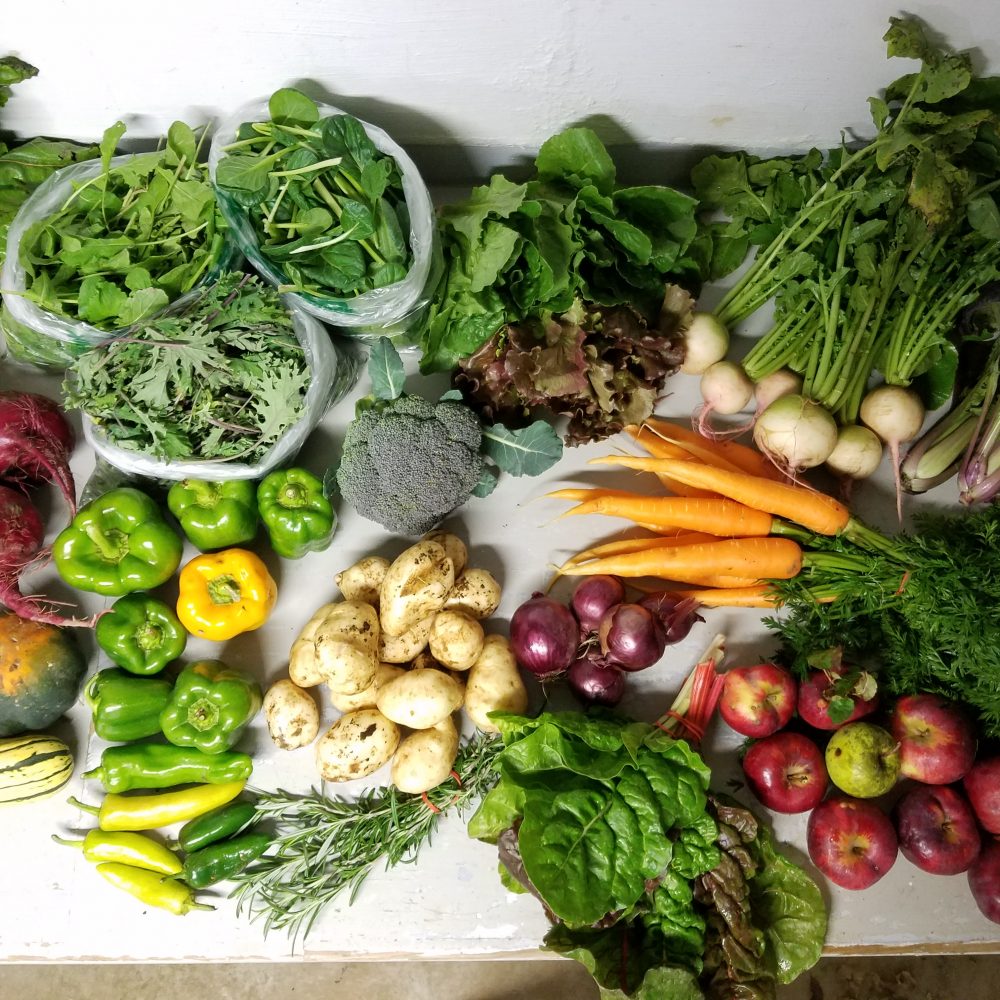 "May you live everyday of your life."
~Jonathan Swift
Fall Share Box 1 Crop List
Apples
Potatoes
Beets
Winter Squash (Buttercup and/or Acorn, as well as Delicata)
Red Onions
Carrots
Broccoli
Chard
Boc Choy
Peppers (Bells and mix of Hot peppers)
Watermelon Radishes
Lettuce (Summer Crisp and Romaine)
Arugula
Red Kale
Tatsoi
Rosemary
Farmer Notes
*Last of the Bell and hot peppers
*Lots of salad fixings with 2 lettuce varieties, arugula, tatsoi greens, red kale, and apples, radishes, beets and carrots to shave on top
*Winter squashes are Acorn, Hubbard, and Delicata (eat these sooner than later as our wet season has had its ill effects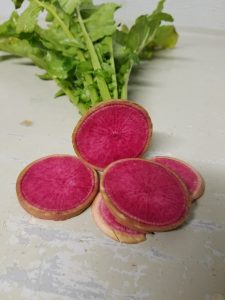 *Radishes are a new variety for us – an heirloom globe daikon.  They are very pretty inside and can be eaten raw or cooked
*Last of the bok choy and swiss chard as these cannot handle a hard freeze
*Apples are Enterprise and have a softer white flesh, best if eaten fresh or in salads
*Red kale and boc choy can be sautéed, used in a soup or eaten raw in a salad
*Rosemary is great with roasted potatoes, carrots, beets and onions
*The next delivery is in 2 weeks on Th. Nov. 7th
*Please make sure to return our boxes untorn
We are busy harvesting and cleaning up the fields.  Some crops can stay in the ground later if they can tolerate the colder nights (scallions, leeks, kale etc.)  Some crops we cover with one or two layers of row cover to keep them in the field (spinach, romaine, radishes etc). Other crops come in to dry in our dehydrator (popcorn, dry beans, garlic), in the green house with fans blowing (squashes, pumpkin), into the cooler to sit at 36 degrees(cabbages, turnips, kohlrabi, beets) or into our garage to lie under sand for a few months (potatoes and carrots). We should be able to keep you all in decent vegetables through the holidays and on into the new year.
Thank you for joining us for our Fall produce share – enjoy eating well!! 
Some recipes to try:
1. Make the dressing by peeling and grating the ginger and chopping the garlic finely. Combine the two in a mixing bowl or mash into a paste with a pestle and mortar. Add the honey, lemon, apple cider vinegar and olive oil and whisk to combine. 2. Toss tatsoi, mustard greens and cilantro leaves together in a large bowl. Using a mandoline or sharp knife, slice the watermelon radish thinly and distribute evenly amongst the greens 3. Add some of the dressing, but only lightly, so as not to overwhelm the flavors and buoyancy of the greens. 4. To serve, sprinkle the salad with the sesame seeds as a garnish and add salt and pepper to taste. Top with shavings of good pecorino, as much as is desired.
1. Place potatoes in a Dutch oven; add 1 teaspoon salt. Cover with water. Bring to a boil. Reduce heat; cover and simmer for 15-20 minutes or until tender. Drain. 2. Place potatoes in a large bowl. Add the cream, butter, rosemary, nutmeg, pepper and remaining salt; mash until desired consistency.
Preheat oven to 400 degrees Fahrenheit.
Place carrots in a large bowl and drizzle one tablespoon of the olive oil over the top. Toss to coat and add 1/2 teaspoon salt and 1/4 teaspoon pepper. Toss again. Spread in a single layer on a rimmed cookie sheet and bake, stirring/flipping every 15 minutes or so, until tender and browned in spots, about 40 minutes total. Remove from oven and let cool a bit.
While the carrots are cooking, heat the remaining tablespoon of olive oil in a large soup pot over medium-low heat. Add the onions and cook until just beginning to brown, about 8 – 10 minutes. Add the ginger and the vegetable broth and bring to a boil. Reduce heat, cover, and let simmer for five minutes until ginger is tender. Remove from heat.
When both the roasted carrots and the broth have cooled somewhat, add the carrots to the broth. Working with a blender in batches, puree the soup and return it to the pot; or use an immersion blender directly in the pot. Please make sure your soup has cooled enough to safely puree!
Place pureed soup over medium heat and return to a simmer. Reduce heat to low and stir in the heavy whipping cream. Taste and add additional salt and pepper if desired. Serve.