"The universe is not
outside of you.
Look inside yourself;
Everything that you want,
you already are."
~Rumi
Summer Share Box 17 Crop List
Acorn Squash – All Shares
Potatoes – All Shares
Apples – All Shares
Purple Carrots – All Shares
Kohlrabi – All Shares
Turnips – All Shares
Red Cabbage – All Shares
Summer Crisp Lettuce – All Shares
Boc Choy – All Shares
Thyme – All Shares
Broccoli – Full & Single Shares
Spinach – Full Shares
Farmer Notes
*This is week 17 of our summer CSA share – next week Oct. 17th is the final box.  Extend your access to fresh local produce by signing up for our Fall Share!!
*Apples are Haroldred and great for cooking and baking.  The black skin is strictly superficial.
*Last of the summer lettuce – enjoy a fresh summer salad while you still can
*As the days shorten and weather cools we deliver more root vegetables and brassicas
*Thyme pairs great with potatoes, carrots and other roasted vegetables
*Try a slaw with the cabbage, kohlrabi and the apples
*Do a stir-fry with the broccoli and Boc choy
*Cabbage is great sautéed with salt, pepper and butter
*Please wash the produce before you cook it or eat it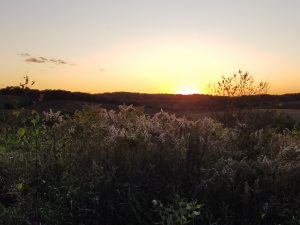 Farm Article
Here comes the cold – the meteorologist says it will be the end of the growing season!  We are suppose to get some freezing temperatures this coming weekend. There is a big difference between a frost and a freeze for most of the crops.  
***Many crops die from any kind of a hard frost or freeze and include tomatoes, peppers, eggplant, melons, sweet corn, squash, cucumbers, basil and such.
***There are other crops that we cover to protect them from the main damage of the cold temperatures and include chard, tatsoi, romaine, arugula, braising mix, etc.
***Then there are cold hardy crops that can take temps in the low 30's and even sweeten up after such an event.  These include many of the root veggies like beets, carrots, turnips, potatoes, rutabaga and parsnips and hardy crops like broccoli, cauliflower, cabbage, collards, kales, Brussels, scallions and leeks.
We are spending all of the next 2 days covering some of our crops in the field and bringing in many others for storage before the thermometer plummets on Friday night!
~Norm
Crop of the week – Carrots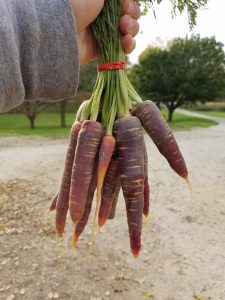 They're often times orange, and rhyme with parrot. Of course I refer to the humble carrot! This week we're taking a look at this wonderful root that many enjoy.
The carrot itself is actually the Taproot of the Carrot plant, Daucus Carota, which has been bred to be larger and more palatable. While this is what people usually think of, the stems and leaves of the plant are also edible, and in fact the leaves make a great pesto!
You've probably heard that carrots are good for your eyesight, but that's not the case. While carrots are great to add into your diet, as they contain your daily amount of vitamin A, the idea that they benefit your eyesight was actually propaganda pushed by the British to hide advancements in radar technology which aided their fighter pilots during night battles.
Included in boxes this week are A purple variety of carrots which, compared to their more well known orange cousins, provide more of the vitamin A found in the root. This is due to the anthocyanin present, which is the pigment found in many plants that have a blue and purple colour. It is a known antioxidant and adds extra nutrition to the carrots.
While you'll probably go through these delicious roots fast, carrots can be stored for long periods of time, with the greens cut off, in the crisper drawer of your fridge.
~Farmer Lily
Some recipes to try: 
Preheat oven to 350 degrees. Grease and flour a 9 x 5-inch loaf pan. Mix brown sugar and cinnamon together in a bowl and set aside. In a stand mixer (affiliate link), combine white sugar and butter until smooth. Add eggs and vanilla and continue to beat on medium speed until combined. Add flour and baking powder, then milk. Pour half the batter into the prepared pan. Cover with half of the apples. Pat apples into batter with the back of a spoon. Sprinkle with half of sugar and cinnamon mixture. Pour the remaining batter over apple layer; top with remaining apples and add more brown sugar/cinnamon mixture. Pat topping into the batter with the back of a large spoon. Bake for 50 minutes or until toothpick inserted into the center comes out clean. Cool in pan 10 minutes before transferring to a cooling rack.
Preheat oven to 400 degrees. Line two rimmed baking sheets with aluminum foil, and brush with oil.

Lay squash pieces on baking sheets. Season with salt and pepper; sprinkle squashes evenly with half the sugar. Roast until sugar has melted, about 5 minutes.

Remove baking sheets from oven. Using tongs, turn over pieces. Season with salt and pepper; sprinkle evenly with remaining sugar. Roast until tender, about 20 minutes.
Preheat the oven to 400°. In a medium bowl, toss the potatoes with the garlic cloves, olive oil, thyme and paprika and season with salt and pepper. Scrape the potatoes and garlic cloves onto a rimmed baking sheet and arrange the potatoes in a single layer, cut side down. Roast for 30 minutes, until the bottoms are golden brown. Turn the potatoes and roast for about 10 minutes longer, until tender. Transfer the potatoes and garlic cloves to plates and serve.