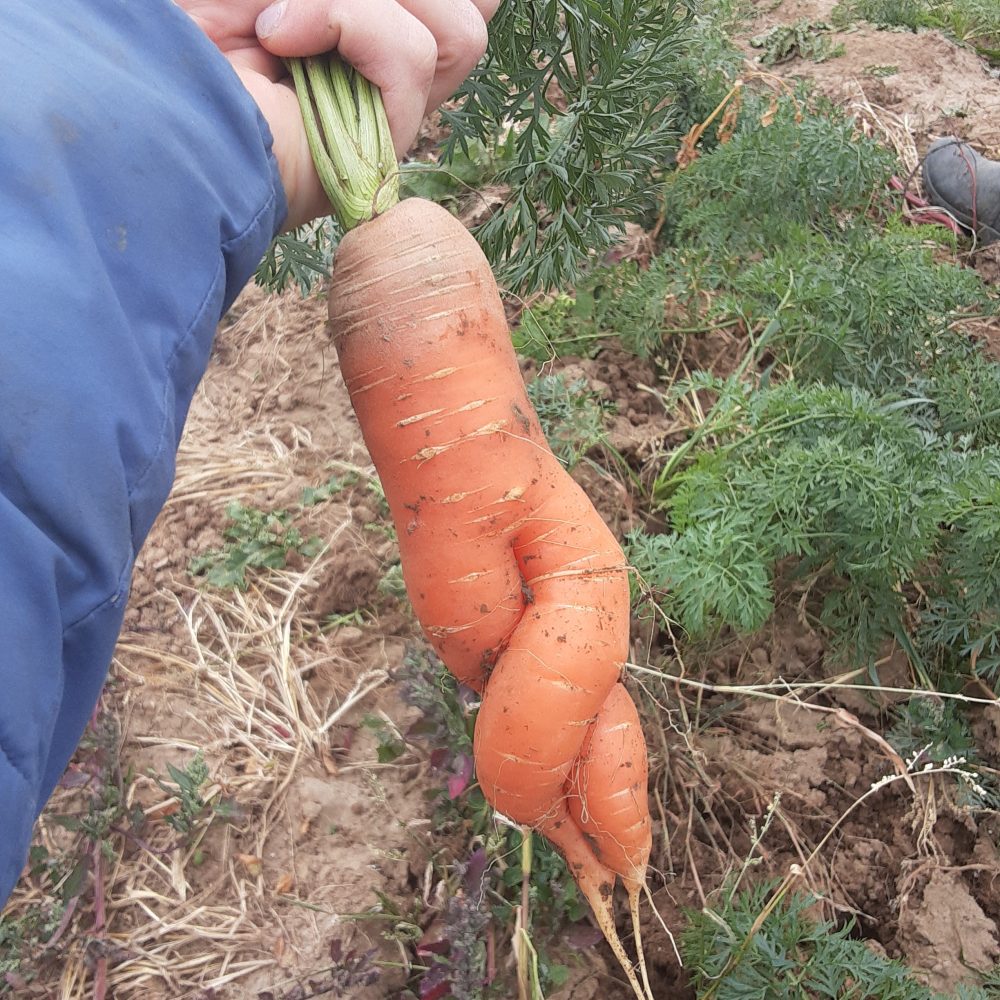 "I'm gonna wake up and keep trying to do good, and so are you, and nobody gets to vote on that"
~Justin McElroy
Fall Share Box 2 Crop List
Winter Squash
Potatoes
Kohlrabi
Napa Cabbage
Brussels Sprouts
Carrots
Kale
Mixed Greens
Hot Peppers
Rosemary
Romaine
Apples
Farmer's Notes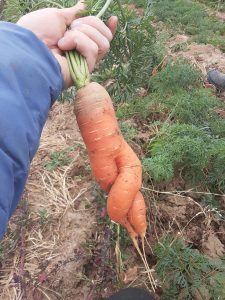 *Crazy record lows last week and now record highs this week – always weather on the farmer's mind
*Rosemary is great on roasted carrots, potatoes or squash, better used fresh but it dries nicely for later use
*Apples are Enterprise and are nothing to brag about.  They are best used with the roasted squash or brussels, or on a salad with kale, napa or the romaine
*Kohlrabi is wonderful, sweet and crisp sliced up cold, or used in a stir fry or baked like a french fry
*Tonight for supper we had spring rolls with carrots, kohlrabi, kale, radishes, and napa inside
*The Asian greens mix is mizuna and tatsoi – we tried to pick out some of the top leaves that had freeze damage under 2 layers of cover but there will surely still be a little sorting for you to do
*The jalapenos will last a couple of weeks in your crisper – or slice them and dehydrate and grind into a powder for winter use
*Please return our box and ice pack for reuse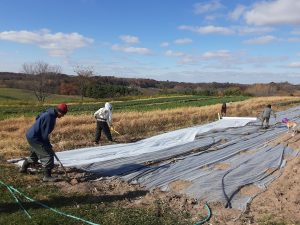 Farm Article
Last week we set 6 different records for daily cold temperatures and we had 3 days in a row where it did not get above freezing.  This was about 25 degrees below average and the cold spell lasted for most of 2 weeks.  We spent many hours covering crops, double covering crops, and harvesting some crops for fear that they would be killed.  We have our potatoes and carrots mostly harvested and in sand in our underground garage already.  This week we are dealing with temperatures nearly 20 degrees above normal, definitely a lot better to work in.  We are hoping that some of the crops use this time to make up for the last 10 days of no growth.  Some of our broccoli and storage cabbage and late beets still have some growing to do!  We hope that you are enjoying the boxes so far – the next delivery should bring some leeks, rutabagas, parsley, thyme, cabbage and spinach.  This has been a terribly stressful year with the pandemic, economic fall out, and now an emotional election.  Take some time to breathe, intentionally name your blessings, and make a delicious meal of comfort food from your box!
~Norm
Preheat oven to 400 degrees Fahrenheit.
Place carrots in a large bowl and drizzle one tablespoon of the olive oil over the top. Toss to coat and add 1/2 teaspoon salt and 1/4 teaspoon pepper. Toss again. Spread in a single layer on a rimmed cookie sheet and bake, stirring/flipping every 15 minutes or so, until tender and browned in spots, about 40 minutes total. Remove from oven and let cool a bit.
While the carrots are cooking, heat the remaining tablespoon of olive oil in a large soup pot over medium-low heat. Add the onions and cook until just beginning to brown, about 8 – 10 minutes. Add the ginger and the vegetable broth and bring to a boil. Reduce heat, cover, and let simmer for five minutes until ginger is tender. Remove from heat.
When both the roasted carrots and the broth have cooled somewhat, add the carrots to the broth. Working with a blender in batches, puree the soup and return it to the pot; or use an immersion blender directly in the pot. Please make sure your soup has cooled enough to safely puree!
Place pureed soup over medium heat and return to a simmer. Reduce heat to low and stir in the heavy whipping cream. Taste and add additional salt and pepper if desired. Serve.
Whisk together vinegar, sugar, ginger, oil, and 1/2 teaspoon salt. Add remaining ingredients and toss well. Let stand, tossing occasionally.
Step 1: Preheat oven to 350 degrees F. Line a non insulated cookie sheet with parchment paper.

Step 2: With a knife or kitchen shears carefully remove the leaves from the thick stems and tear into bite size pieces. Wash and thoroughly dry kale with a salad spinner. Drizzle kale with olive oil and sprinkle with seasoning salt.

Step 3: Bake until the edges brown but are not burnt, 10-15 minutes.