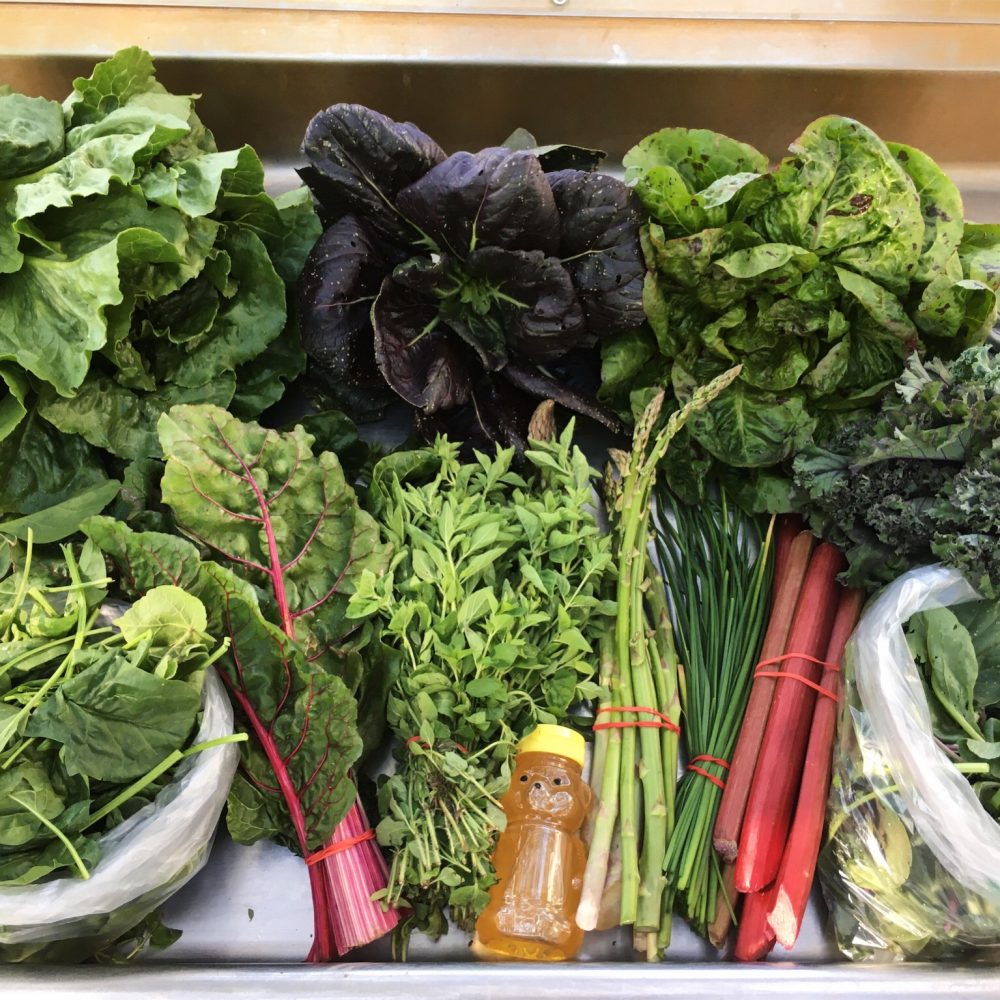 "Be nice to people … maybe it will be unappreciated, unreciprocated or ignored, but spread the love anyway. We rise by lifting others!"
-Germany Kent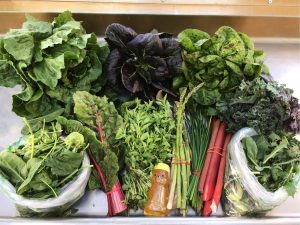 Summer Share Box 1 Crop List
Oregano (All Shares)
Chives (Full Shares)
Kale (All Shares)
Chard (All Shares)
Braising Mix (All Shares)
Honey (Full and Single Shares)
Asparagus (Full Shares)
Rhubarb (Single Shares)
Lettuce (All Shares)
Spinach (All Shares)
Bok Choy (All Shares)
Farmer Notes
Welcome to our 2020 summer CSA share season – we are so happy to have you join us!!
This email goes out as a reminder each morning on the delivery day – it also contains our newsletter, recipes, and some articles from the farm.  Please let us know if we need to add someone to this email list.
With the start of each season comes lots of greens and fixings for salads.  It has been very hot this week during the harvesting, especially for greens.  If some of your lettuce, spinach, chard, braising or bok choy seems dehydrated, just soak them for 5 minutes in very cold water.
We pride ourselves in having a top-notch perennial herb garden in black plastic.  We give an herb in almost every box during the season, and herbs are highlighted in our newsletter today!
If your share size box did not receive honey, rhubarb, or asparagus this week, you will get it in either weeks 2 or 3.
The Spring growing season/weather has been a good one this year.  The fields are looking good, the crops are looking great, and the intern help is outstanding!  We are looking forward to a wonderful summer of healthy, local food coming to your tables.
Remember to wash all of your crops before you eat them
We reuse our boxes and ice packs so please return them undamaged each week for us to collect.
Greetings from Farmer Norm on this warm humid evening.  The toads in our pond have started their evening cacophony that disrupts the white noise of several box fans.  It has been a busy day as the 7 interns harvested the remaining crops, cooled and washed the produce and packed the boxes.  I was on to cook tonight and managed to put together a pretty darn tasty Pad Thai with a cabbage slaw.  And thus our season moves forward:  Mondays, Thursdays and Fridays we plant crops, irrigate if needed, hoe or hand weed, do tractor work, trellis or apply row cover etc., and on Tuesdays and Wednesdays we harvest and pack for the delivery on Thursdays. We are super excited that you have decided to join us this year.  It has been an interesting Spring, needless to say, and our hearts go out to many of you small business owners, teachers and students, and all who have been negatively affected by the Covid-19 pandemic.  It was an unexpected boom for us as we were swamped with registrations and had to shut down new membership by mid-April.  We feel privileged to be able to grow food for your family table – let's work together to make it a personal and a healthy experience.  Unfortunately, we will not be hosting farm gatherings this summer, but welcome scheduled individual/family visits/tours of our farm.  Don't be a stranger: follow us on Facebook and on Instagram, and send me an email at any time at all.
Your farmer,
Norm
Crop of the week – Oregano!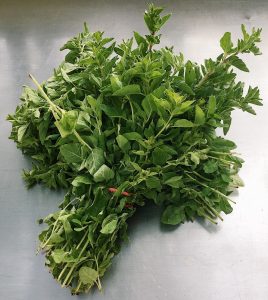 Here on the farm, we love herbs. We love to grow them, we love to eat them, and we especially love to share them with all of you! Throughout this coming season you'll be receiving many different kinds of herbs in your boxes and so this week's article will focus on all things herbs and hopefully inspire some culinary creativity and expel any apprehension about how and when to use them.
Defining an herb, it is a plant with "savory or aromatic properties that are used for flavoring and garnishing food, for medicinal purposes, or for fragrance." All of the herbs we grow here on the farm are for culinary use, although may have some medicinal properties as well. For example, tea made with thyme can help with a cough or congestion, sage can help with indigestion, and basil is anti-inflammatory.  It's true, food is medicine.
Herbs can be used in different ways: they can be dried, infused in water, sautéed with veggies or meats, added to morning eggs, put into salads, made into pesto, infuse it in oil or vinegar—the many ways you can incorporate herbs are almost endless.  The trouble many have with herbs is figuring out the right things to pair with the herbs.  The best way to figure it out is to just start experimenting! Taste the herb on its own to get a sense for the flavor and try it in a favorite dish. Don't be afraid to consult the web for recipe ideas and tips for any particular herb you may be less familiar with.
This week's herb is oregano, and a whole bunch of it, a great amount for making pesto. Did you know that you could make practically any herb into a pesto? It's not just basil! Oregano is often paired with tomatoes and garlic and used in pizza, soup, roasted veggies, and chicken.  It also makes a great oil infusion.  We encourage you to find a new way of using this tasty savory herb. Throughout this season, you may get herbs (or vegetables) that are unfamiliar and a little daunting, but we believe and hope that it will inspire new recipes and bring some excitement into your kitchens. Happy cooking!
~Farmer Emma
*Thanks a million for sharing these summer boxes with us
Some recipes to try:
The oregano is abundant and beautiful in our herb garden right now, so we've been making batches of oregano pesto! Although it is a bit subtler, we have been enjoying it just as much as basil pesto. A great thing about pesto is it is incredible adaptable. Just replace oregano for basil in your usual pesto recipe. You can also substitute almost any nut for what you have on hand. We made it in the food processor, with olive oil, garlic, oregano, pecans, salt and parmesan cheese. Experiment and enjoy!
Heat water and honey over medium heat. When mixture begins to boil, add rhubarb and boil five minutes more, stirring often. Stir in vinegar and lemon zest, and cook 5-10 minutes, until dressing is reduced by about half. Remove from heat, and let cool slightly. Whisk olive oil into dressing. Season with salt and pepper. Serve warm or cold.
Grilling is a great way to get your bok choy crispy and tender. I'd recommend brushing the bok choy with butter or olive oil just to avoid sticking and then placing it on the grill on medium-high heat. Watch it closely; it should only be about 3 to 4 minutes on each side. Take it off the grill and add the rhubarb dressing from the previous recipe, it's a great combination of flavors. Enjoy!