"No human is more human than another."
~Maya Angelou
~Romeo Dallaire
Summer Share Box 1 Crop List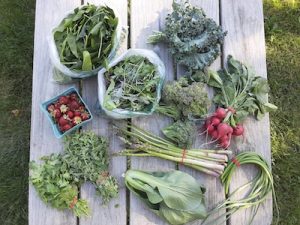 Garlic Scapes – All Shares
Asparagus – All Shares
Boc Choy – All Shares
Radishes – All Shares
Kale – All Shares
Strawberries – All Shares
Oregano – All Shares
Cilantro – All Shares
Spinach – Full Shares
Greens Mix – Full Shares
Broccoli or Cauliflower – Full Shares
Farmer's Notes
*Thanks a bunch for joining our 2021 Summer produce season.  This is the first of 18 weekly share deliveries.  Don't be shy – send me an email or contact your host if you have any questions … and make plans to visit us here at the farm this summer/fall!
*We try to create as little waste as reasonably possible: please be very careful as you collapse our waxed produce boxes so that they do not get torn in any way, return our ice packs each week, egg cartons, honey bears and pulp berry containers can be returned if they are clean and reusable – thank you in advance!
*Broccoli and cauliflower like the cooler weather – with our ongoing hot and dry June they have matured poorly and most did not make the cut
*Wilted kale is an excellent way to enjoy raw kale during the summer – wash your kale and drizzle with your favorite vinaigrette, massage the kale and placed it in the refrigerator for a few hours and enjoy
*This is the tail end of the asparagus as it needs a lot of moisture which has been hard to come by. If we get some rain then maybe more asparagus
*The dry and hot weather is wonderful for the strawberries.  They are a bit smaller, but with great flavor.  Hopefully they will stick around for a few weeks
*You could use most everything in the box today for a cold salad or in a stir fry
*The cilantro and oregano can sit in a small bowl/glass with some water in your fridge or even on the counter for a week to 10 days
*Garlic scapes are fun, funky and delicious – see our newsletter for more information from Josh
* The greens mix includes some kales, arugula and some lettuces. The arugula has some flea beetle damage so you will notice holes, but its flavor is incredible! Therefore we did not want to let it go to waste, we hope you enjoy it!
*Please wash all of your produce before you eat or cook with it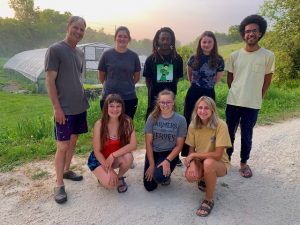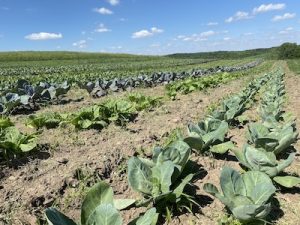 It feels good to be beginning the deliveries for this summer's produce shares!  In January and February we began to plan the year and order seed (a challenge this year due to high demand). In March and April we planted seeds and put them in a germination chamber or in our heated greenhouse (our greenhouse heater was not combusting properly which caused early peppers, eggplant and lettuce to die off).  In early May we field planted potatoes and onions and by mid-May lots of brassica crops and lettuce went into the ground.  May was downright cold and we had to apply row cover over much of the planted crops to prevent damage.  We had a late freeze yet on May 28th!  Then June came steamrolling straight out of hell, tons of sun, hot, and dry as a bone.  We have been irrigating around the clock for weeks now and managing to keep most things looking pretty good.  Like a lot of jobs, and like life in general I guess, farming can be extremely rewarding, but often that reward comes out of a lot of hard work and determination.  So like I said, we are happy to be passing on some food from our farm to your table!  Enjoy it and be well!!
~Farmer Norm
Crop of the Week: Garlic Scapes
The crop of the week for the first summer share of 2021 are garlic scapes. Garlic scapes can simply be described as the flowering stem of a hard-neck garlic plant. Visually resembling to a thin, curly scallion, garlic scapes both offers the same nutritional benefits as garlic while possessing a more mild flavor. Scapes are high in protein, vitamin C, and calcium. Think a mild garlic flavor mixed with onion. This crop can be used as a substitute for any recipe that calls for scallions, green onions, chives or garlic. They can add a pleasant crunch diced and eaten raw, offering a crunch similar to a green bean.
To prep for cooking, one must simply trim the top of the scape where the white flower bud has started to form. Garlic scapes will easily last a few weeks in the fridge when placed in a slightly open plastic bag. To extend shelf life you can try the similar storage method used for storing green onions long term. First, you will give the scapes a good rinse and cut them into evenly spaced pieces so that they stack in a plastic bag. Next, you will need to dry them and then wrap them in 2 or three layers of paper towel. Lastly, throw your wrapped garlic scapes into a seal-able plastic bag and place into your crisper drawer.
~Farmer Josh
Some Recipes to Try:
Place the garlic scapes, Parmesan cheese, Asiago cheese, lemon juice, and pine nuts in the bowl of a food processor. Drizzle the olive oil over the mixture. Blend until the pesto is a brilliant green color and smooth in texture. Season with salt and pepper. Serve over pasta or spread on top of crusty bread!
Zest one of the oranges; set aside. Slice off the ends of each orange. Working with one orange at a time, set an orange on end; using a small knife, slice off and discard the peel and the white pith. Holding the orange in your hand, cut the orange segments away from their membranes. Place segments in a bowl and set aside. Over a separate bowl, squeeze the remaining orange pulp to extract any remaining juice. Repeat with the remaining orange. Whisk 4 tablespoons oil, lemon juice, oregano, and scallions into the orange juice, and season with salt and pepper. Set the dressing aside.

Transfer the asparagus to a 9-by-13-inch microwavable baking dish. Sprinkle with reserved orange zest and drizzle with remaining 2 tablespoons oil and 1⁄4 cup water. Cover the dish tightly with plastic wrap and microwave on high heat for 2 minutes. Rotate the dish and microwave until the asparagus is just tender, about 2 minutes more. Uncover and drain off the cooking liquid. Toss the asparagus with the reserved citrus dressing, and season with salt. Top with the orange segments. Serve immediately or at room temperature.
Place the garlic clove and ginger into a food processor or blender; pulse until the garlic and ginger are finely chopped. Pour in the lime juice, honey, balsamic vinegar, and salt, add the cilantro leaves; pulse a few times to blend. Turn the food processor or blender on, and slowly drizzle in the olive oil until incorporated into the dressing. Season to taste with salt before serving.