"Gratitude turns what we have into enough."
– Author Unknown
Summer Share Box 18 Crop List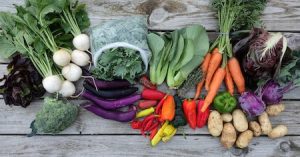 Potatoes – All Shares
Carrots – All Shares
Kohlrabi – All Shares
Radicchio – All Shares
Eggplant – All Shares
Bok Choy – All Shares
Broccoli – All Shares
Peppers – All Shares
Thyme – All Shares
Mixed Greens – Full and Flex Shares
Lettuce – Full Shares
Turnips – Full Shares
Farmer Notes
*This is the final delivery of our Summer CSA Share – thank you so much for joining us!!
*We still have a few spots for our Fall and our Winter Share seasons
*Radicchio is our vegetable of the week, we have not grown this vegetable for many years
*Thyme is wonderful with potatoes, and with most savory dishes.  It can be dried and used later on as well
*The broccoli and kohlrabi and choy are great as a fall crop – I hope that you enjoy them
*The carrots are the first of many to be dug and delivered through the fall
* I will return to all delivery locations next Thursday, October 21st and pick up any remaining ice packs and boxes
*Our first Fall Share delivery is next Thursday
*Be safe and have a super fall and winter – we hope that you can join us again for our 2022 CSA!  Sign-ups open up on Jan. 1st.