"The problems of the world will not be solved on the level of thinking we were at when we created them."
~Albert Einstein~
Summer Share Box 3 Crop List
Popcorn – All Shares
Cabbage – All Shares
Kale – All Shares
Collards – All Shares
Boc Choy – All Shares
Romaine Lettuce – All Shares
Scallions – All Shares
Sage – All Shares
Shelling Peas – Full Shares
Cauliflower – Full Shares
Farmer's Choice – Asparagus or Raspberries – Full Shares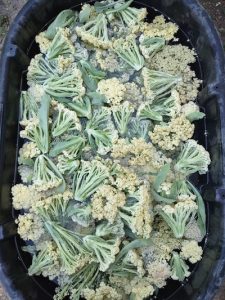 Farmer's Notes
*Please do not take eggs unless you have ordered and paid for them
*In the heat of summer, greens may need to just soak in very cold water in the refrigerator to freshen up if they seem a bit wilted
*We begin the Cabbage season:  green small head, then green cone, followed by red … and Napa throughout
*Scallions are ones we planted last fall and overwintered
*Collards are beautiful – they are a bit leathery and a tad bitter due to the extreme hot and dry June weather.  They were scrumptious sauteed with onions and bacon last evening
*Popcorn is from last Fall's harvest – we have a video on our Facebook here on one way to pop them
*Sage is tasty as a rub on meats going onto the grill or in sage butter to use on many breads and vegetable dishes.  We will cut it all back now and let it regrow for a late fall harvest
*Crisp Romaine lettuce will keep coming for the next few weeks if we can keep the deer off of them
*Cauliflower for the full shares are from 2 different varieties – the Chinese type is meant to be frilly with many small heads
*Happy 4th everyone – be safe and enjoy your loved ones
Well, we have received almost 2 inches of rain in the second half of June.  Although this has done little to bring us back to our annual 'normal' precipitation, it has definitely been helpful and much appreciated.  The crops have responded, and we have been able to turn some of our time away from irrigation and onto weeding the crops.  We never get 'caught up' in this line of work; we just shift our emphasis and energy to another aspect of the farm that has been somewhat neglected.  It is a fluid and ongoing endeavor that changes with the weather, how all the different crops are doing, what takes priority over what, etc.  It is at the same time very challenging, very interesting, and very rewarding to me.  I guess that is why I am, and remain, a farmer!  The season is looking bright – in particular, the newly trellised tomatoes look awesome, the sweet corn looks great, and the potatoes and eggplant are progressing well.  On the down side, winter and summer squashes took a big hit from the cucumber beetles during the drought and will be late and sporadic, and the replanted peppers will not be ready for harvest until September. I apologize a little for giving Kale as often as we have been, but it is doing well and it is really good for you.  All in all we are doing the best with what we have been given this year, and we are confident that each box will have a wonderful variety of fresh, local produce from our farm and from our hearts!
Crop of the Week: Cabbage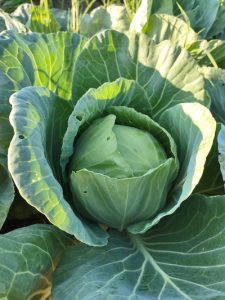 Green Cabbage is a leafy green crop that is well known for its dense-leaved heads. This veggie is part of the brassica family and is a descendent of the wild cabbage. It ranks high in nutritional value, containing a good supply of vitamin K, vitamin C, and dietary fiber. The heads typically weigh somewhere between 1 to 9 pounds! Cabbages can be prepared in many different ways for eating; they can be pickled, fermented (made into sauerkraut), steamed, stewed, sauteed, braised, or eaten raw.
Some Recipes to Try:
Step 1: Preheat oven to 350 degrees F. Line a non insulated cookie sheet with parchment paper.

Step 2: With a knife or kitchen shears carefully remove the leaves from the thick stems and tear into bite size pieces. Wash and thoroughly dry kale with a salad spinner. Drizzle kale with olive oil and sprinkle with seasoning salt.

Step 3: Bake until the edges brown but are not burnt, 10-15 minutes.
Melt the butter in a medium saucepan set over low-medium heat. When butter begins to get just slightly bubbly, add the chopped garlic clove.

Stir the garlic in the butter for 1 minute.

Add the chopped sage to the garlic butter and continue stirring and cooking the mixture for 1 to 2 additional minutes, until the butter has turned very light brown and has a rich, nutty aroma.

Season with the black pepper.
This can be used for sauteing any kind of meat and/or vegetables, and is great over cooked pasta with some grated Parmesan!
Preheat oven to 425 degrees F

Brush both sides of each cabbage wedge with olive oil. Sprinkle garlic powder, red pepper flakes, savory, salt, and pepper over each wedge. Arrange on a baking sheet.

Roast in the preheated oven for 15 minutes covered with foil; flip cabbage (add grated cheese if desired) and continue to roast uncovered until browned and charred in some areas, about 15 more minutes.