"The truth is rarely pure and never simple."
~Oscar Wilde~
Fall Share Box 1 Crop List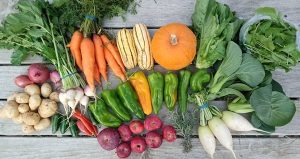 Pie Pumpkin
Delicata Squash
Potatoes
Red Onion
Turnips
Daikon Radish
Carrots
Apples
Italian Frying Peppers
Hot Peppers
Romaine
Greens Mix (arugula, mizuna, red kale, mustard, baby chard)
Bok Choy
Rosemary
Farmer Notes
*Thanks a bunch for joining us for our Fall produce season!
*Eggs are only for those who signed up and paid for them – 2 dozen with each box
*Apples are what is left of the Enterprise – they are gnarly and need some slicing and dicing.  Use them in a salad or in your oatmeal.
*The bag of greens is a mix of arugula and Asian greens
*The big white tuber is a Daikon – read last week's newsletter for information on them
*The Purple Top turnips are small and tender – they are our 'featured vegetable'
*Romaine is big and straight out of our hoop house
*Pumpkins are bred for pies, so make a pie!
*Bok Choy is perfect, they love the crisp Autumn weather
*Rosemary is my favorite herb – use it with potatoes, the squash, or with a root vegetable medley roast
*Try to keep our new boxes new, and please return them to us
*The next delivery is on November 3rd
We have had a lengthy cold snap the last week or so which is quite uncommon for mid-October.
With 2 nights at 20 degrees and days barely above freezing, we have spent an inordinate amount of time harvesting or covering crops in the field.
We have over an acre of crops covered one time, and sometimes double covered, with a woven fabric row cover called Agribon or Remay.  It comes in different sizes and thickness. The sides and ends need to be held down with shovels of dirt every 10 feet or so.  It helps hold in the warmth of the ground and keeps the frosty air at bay.  It can protect the crop by keeping it from 3 to 7 degrees warmer.  All of our squash is now in our greenhouse with the heater set at 55 degrees.  Most of the root vegetables are still fine until the ground begins to freeze (hopefully not for another month).
This next week looks a lot warmer, with hopefully a little shot of rain come early next week … fingers crossed!
~Farmer Norm

Crop of the week – Turnips
With a few frosts earlier in the week, it has been cemented in our heads that fall is firmly here and winter is rapidly approaching. These boxes are a reflection of that shift into autumn. Our boxes have placed an emphasis on root vegetables,  and we have decided to highlight turnips as our crop of the week. The variety harvested this week was purple top turnips. Salad turnips will be present in the boxes next week. Turnips are commonly grown in temperate climates and are grown for their fleshy white taproot. Smaller, more tender varieties are grown for human consumption while the bigger ones can be used to feed livestock.
Wild forms of turnips have existed for over 2000 years in Western Asia and Europe. While the exact origins are unknown, people began cultivating edible turnips in medieval Europe and it was an important crop to Hellenistic and Roman societies. By 700 AD, the crop had spread to Japan and China. It was also an important staple in Antebellum America. With greens growing within two to three weeks, plantations were able to use those yields to sustain themselves when they were just getting off the ground.
Turnips are rich in fiber and B vitamins. Turnips can help regulate your blood sugar, and lower the amount of glucose created by the liver. When broken down, compounds in the turnip known as isothiocyanates are capable of inhibiting microbial and bacterial growth.
I love roasting turnips as part of a root vegetable medley. The creamy potato-like center just melts in your mouth when roasted, and is a nice contrast to the earthiness of beets and the sweetness of carrots. You can mash them up the same as you would potatoes for a savory staple winter dish. I usually do 50/50 turnips to potatoes for that. The greens are edible as well, and can be sauteed similar to beet greens. I hope everyone is enjoying the change of the seasons, and is taking the time to appreciate all they have done this year. Here's to a great fall season!
-Farmer Dylan
Some Recipes To Try:
Slice potatoes and turnips 1/4-inch thick. Cook in boiling water for 15 minutes or until fork-tender. Drain. Whip unpeeled cooked potatoes and turnips with electric mixer, mixing until moderately smooth (don't overbeat them; a few lumps are nice). Add hot cream, butter, and sour cream. Season with salt and pepper, to taste. Whip again until blended. Adjust thickness by adding more cream, if desired. If you do not have an electric hand mixer, you can use a potato masher.
I found this recipe at https://leitesculinaria.com/67572/recipes-root-vegetable-gratin.html#recipe When I made this recipe I added garlic and also dried thyme. I crushed and then chopped the garlic and and added it to the sauce pan with the creams and that is also when I added the thyme. It was very tasty - highly recommend!
To make the root vegetable gratin, preheat the oven to 400ºF (204° C). Butter a 12-by-8-inch baking dish.

In a small saucepan over low heat, combine the cream, crème fraiche or sour cream, and milk and heat until the crème fraîche has melted into the cream. Remove from the heat, season with salt and pepper to taste, and stir well.

Arrange half of the root vegetables slices in the baking dish. Sprinkle with a little salt and about 1/3 of the cheese. Pour 1/3 of the cream mixture over the cheese. Top with the remaining vegetable slices, the remaining cheese, and a sprinkle of salt. Pour the remaining cream mixture over cheese.

Bake the root vegetable gratin for 1 to 1 1/2 hours, until browned on top. Serve immediately.
Heat vegetable oil in a large skillet over medium-high heat. Add garlic and ginger and cook until fragrant, about 30 seconds to a minute.

Add bok choy, soy sauce, and 2 tablespoons water. Cover and cook 1 minute, then remove lid and cook, stirring occasionally, until cores are tender and all liquid has evaporated. Transfer to a serving dish, drizzle with sesame oil and sprinkle with sesame seeds, if using.