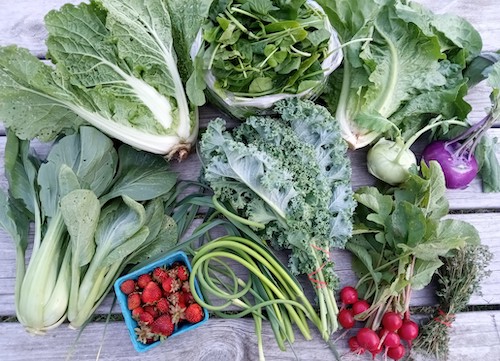 "How you do anything is how you do everything."
~Martha Beck
Summer Share Box 3 Crop List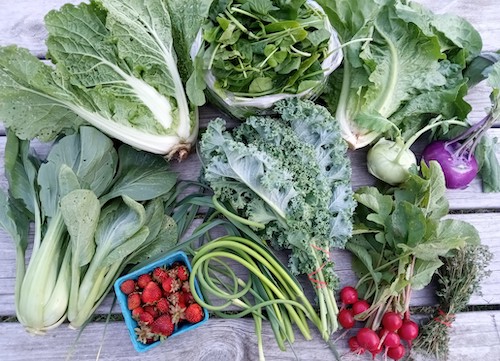 Romaine – All Shares
Kohlrabi – All Shares
Napa Cabbage – All Shares
Kale – All Shares
Strawberries – All Shares
Radishes – All Shares
Bok Choy – All Shares
Greens Mix – All Shares
Thyme – All Shares
Garlic Scapes – Full Shares Only
Farmer Notes
*we continue on with romaine lettuce as the foundation for summer salads
*this is the main delivery of our June bearing strawberries – the are pretty small but delicious
*garlic scapes will go to everyone in week 4 and will be our featured vegetable
*thyme seems to be a pretty popular herb – it goes well with most soups, meats or casseroles.  Use it fresh or let it hang dry for use later on
*our greens mix today is spinach and arugula
*kohlrabi will be in the next few boxes – it is a fun vegetable and is best eaten cold and cut up like a carrot.  Learn more about it in our 'veggie of the week' article
*it will be another warm delivery day – try to pick up your box soon after it is delivered and rehydrate any greens as needed and get them into the fridge
*make sure to keep returning our boxes and ice packs so we can keep using them
*wishing you a super fun and relaxing 4th – be safe!
June has been absolutely fantastic in the weather department down here.  The rain has been timely but not too much.  On 2 occasions it came down harder than we would have liked, but all in all it has been wonderful.  We have only had to irrigate the onions one time so far.  Our luck could change on a dime, so we keep our fingers crossed as July rolls in, and keep the irrigation lines ready!  The temperatures too have been very seasonal.  We have had some hot stretches, but usually for only a day or 3.  Some nights have been downright chilly and perfect for sleeping.  You can only imagine how often I am checking the weather on my phone, looking at the 10 day, looking at the one day, scanning the radar, and making my preliminary field plans accordingly.  This is a dance as things constantly evolve and change.  Earth Dance.  Yesterday on the 5 o'clock weather the meteorologist said that the incoming system would not hold together because we did not have enough moisture on the ground.  An hour later we were under a thunderstorm warning with 60+ mile an hour winds, heavy rain(1/2 inch) and minor hail.  We farmers learn to watch and prepare, roll with what comes …  Well, kind of!
~Farmer Norm
Crop of the week – Kohlrabi
Kohlrabi, also known as German turnip, is a cruciferous vegetable that belongs to the brassica family. This funky looking crop is widely used in Europe and Asia but has made its way around the world. It comes in different sizes and colors depending on the variety. Here on the farm we grow the typical green kohlrabi as well as a purple variety which both grow to be about the size of an orange.. The health benefits of kohlrabi are plenty. It is an excellent source of vitamins such as C, B6, and also potassium. In addition to that, it's high in fiber – giving you 17% of your daily need in just 1 cup! There are many ways you can enjoy this crop including, but not limited to, eating it raw or roasted and adding it to salads, slaws, and stir fries.
~Farmer Vanessa
Some Recipes To Try:
Peel the kohlrabi. Peel it vigorously and completely—the peel is quite tough and fibrous so don't err towards keeping any of it around.

Grate the kohlrabi on the large holes of a grater into a bowl (or use the grater attachment in a food processor).

Lift the grated kohlrabi out of the bowl and onto a double layer of clean kitchen towels or multiple layers of paper towels. Lift the corners of the towel(s), twist them together, and squeeze out as much liquid as you can. Seriously, squeeze hard—properly "drained" and pretty much dry-to-the-touch kohlrabi is the absolute key to ending up with tender fritters rather than leaden pancake-like flops.

Crack the egg into a large bowl and beat it thoroughly with a fork—you want no strands of white clinging to the fork when you lift it from the bowl. Combine the kohlrabi and the egg.

Sprinkle the mixture with the flour and salt and stir to combine thoroughly.

Heat a generous layer of oil (about 1/4-inch deep) in a large frying pan or pot over medium-high heat until the oil shimmers when you swirl the pan. A bit of batter dropped into the pan should sizzle immediately.

Put generous spoonfuls of batter into the pan and flatten the resulting mounds a bit with the back of the spoon. You should be able to fit about four fritters in a large pan at a time. Partially cover and cook until the fritters are browned on one side, 2 to 3 minutes, flip, partially cover again, and cook until they are tender and browned on both sides. Transfer the fritters to a paper towel-lined plate to drain. Repeat with remaining batter. Serve immediately.
Place kohlrabi in a large bowl with chopped cilantro, scallions, hot pepper, lime zest, and orange zest

Prepare dressing: whisk olive oil, lime juice, orange juice, honey, salt, and vinegar in a small bowl.

Toss the dressing with the salad. Refrigerate until serving. Garnish with zest and cilantro.
Apple or cabbage can be substituted for/added in with the kohlrabi to give the slaw some different flavors.
Preheat your oven to 450 degrees. Remove the root end, leaves, and peel/slice off the thick outer

layer to expose the inner flesh. Dice the kohlrabi into approximately 1/2" inch pieces.

Toss the diced kohlrabi with olive oil, garlic, and salt. Add some coarsely chopped onion pieces if you like, half way thru roasting. Roast in a roasting pan (not a cookie sheet, needs sides) so that you may toss them over every now and then. You want to cook them until the bottom starts to stick then toss and repeat. It will take about 45 minutes to cook.