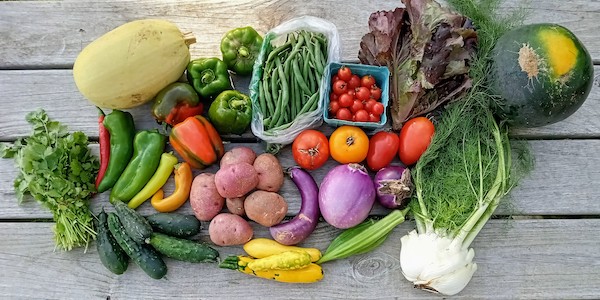 "We are shaped and fashioned by what we love"
~Goethe~
Summer Share Box 15 Crop List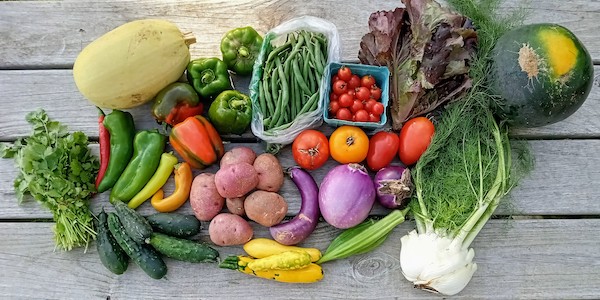 Spaghetti Squash – All Shares
Potatoes – All Shares
Peppers (Bells, Italian Frying, Hot Wax, Cayenne) – All Shares
Mini Tomatoes – All Shares
Slicing Tomatoes – All Shares
Eggplant – All Shares
Green Beans – All Shares
Cilantro – All Shares
Summer Squash – Half Shares Only
Cucumbers – Full Shares Only
Fennel – Full Shares Only
Watermelon – Full Shares Only
Okra – Full Shares Only
Lettuce – Full Shares Only
Farmer Notes
*Our Farm Fall Fest is this Saturday – come anytime after 2.  It looks to be a nice Fall day!
*Don't forget to sign up for our bi-weekly Fall Share that begins on Oct. 20th
*We are back in lettuce with Summer Crisp for the next few boxes
*Roasted spaghetti squash is wonderful, especially on these cooler days
*Potatoes will move from red to white moving forward, and will be a staple in the remaining boxes
*Cilantro and tomatoes pair well for their final week combo – make some salsa!
*Enjoy the last of the green beans, they have been fantastic this fall
*We are enjoying the cooler days for working, and are now in need of a good rain
*Enjoy your box and have a great weekend
I wanted to keep you posted on the hot peppers that we are growing here at EDF this season.  I grew up with little to no 'heat' in my food, and it has taken many years to acquire the appreciation.  I would say that I am a medium spicy kind of guy at this point, but I feel like something is missing in a hot dish if it hasn't been elevated with some smoky heat.  Diane usually smokes a mix of hot peppers in our smoker, dries them(it takes a looonng time) in our dehydrator, and then grinds them with a coffee grinder.  It makes a great gift, and we keep 2 pint jars for our own use over the year.  In order of intensity we grow Beaver Dam, Hungarian Wax(banana), cayenne, jalapeno, and habanero – sorry, no ghost peppers from this farm.  If you would like a bunch delivered, let us know which kinds and how many at $1 apiece.
Crop of the week – Spaghetti Squash
Summer is slowly transitioning into autumn, which means some changes on the farm. Some crops have had wonderfully prolific and long seasons while others are burgeoning and begging to be put into the boxes. Spaghetti Squash has been patiently growing and curing in the fields, waiting for its moment to shine. This week is that moment.
Spaghetti squash gets its name from its flesh that when cooked, resembles the namesake pasta. It is high in carotene (the more orange the better) which is good for your vision. It is a low calorie food, averaging about forty-two calories per cup.
There are many ways to prepare spaghetti squash, but my favorite way is to halve it, scoop out the seeds, drizzle with oil and salt, and bake it. It is a simple recipe but really highlights the delicate sweetness of the squash. Its shape and size make it a perfect vehicle for stuffing. A seasoned ground meat, with rice or any grain you have on hand, and some onions, peppers, or other ingredients from the box or your pantry can go right inside that halved squash. You can use the stringy flesh as a pasta substitute, and with some tomato sauce on top, would make a great dinner.
The options are endless when cooking with such wonderful ingredients, and it has been my pleasure to convey what little I know about the bounty of the harvest. Have a great week!
-Farmer Dylan
Some Recipes To Try:
Preheat the oven to 425 degrees F (220 degrees C).

Brush both sides of the squash with olive oil, sprinkle with salt, and place cut-side up in a baking pan. Cover tightly with aluminum foil.

Roast in the preheated oven for 20 minutes. Uncover and continue to roast until tender, about 35 minutes more. Let cool slightly, about 5 minutes. Use a fork to scrape the squash flesh into a large bowl and toss with Parmesan cheese.

**Added note** This is a really easy recipe to play around with and add other things you may like!
Preheat the oven to 400 degrees F (200 degrees C).

Brush the inside of the spaghetti squash with 1 tablespoon olive oil and place cut-side down on a baking sheet.

Bake in the preheated oven on the middle rack until squash is easily pierced with a fork, about 25 minutes.

Meanwhile, heat 1 tablespoon olive oil in a skillet over medium-low heat and cook garlic until fragrant, about 1 minute. Add bell pepper. Cook and stir until softened, about 3 minutes. Stir in tomatoes and basil, cover, and cook, stirring occasionally, until soft, about 10 minutes.

Remove spaghetti squash from oven, cool slightly, and shred the cooked squash into spaghetti-like strands. Place strands in a bowl. Add bell pepper mixture, goat cheese, salt, and black pepper and mix until well combined. Spoon mixture back into the squash halves. Sprinkle with breadcrumbs and butter cubes.

Bake in the preheated oven until filling is bubbly and bread crumbs are browned, about 15 minutes.