"Solitude is a chosen separation for refining your soul. Isolation is what you crave when you neglect the first."
~Wayne Cordeiro~
Summer Share Box 17 Crop List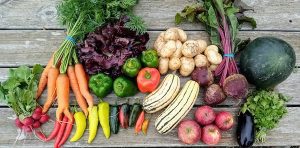 Potatoes – All Shares
Apples – All Shares
Peppers (Bells and Hot Peppers) – All Shares
Lettuce – All shares
Carrots – All Shares
Beets – All Shares
Cilantro – All Shares
Delicata Squash – All Shares
Watermelon – Full Shares Only
Eggplant – Full Shares Only
Radishes – Full Shares Only
Farmer Notes
*This is week 17 of our CSA Summer Share, next Thursday, October13th, is the final box.  It is not too late to sign on for our bi-weekly Fall Share which begins on October 20th
*Lots of color in the box today:  red apples and radishes, orange carrots, golden delicata, purple beets and lettuce, white potatoes and green watermelon and peppers of all colors
*This is the last of the bell peppers, eggplant, watermelon and cilantro
*These squash are super sweet when roasted, add a bit of butter and eat the skin as well
*Roast the carrots, potatoes and beets together – maybe even throw in some peppers and apple
*The carrot greens make a very tasty pesto
*We can bring anyone additional hot peppers for salsa, drying, or freezing if you want any – week 18 is your last chance
*Apples are higher quality and size than normal thanks to almost weekly rains most of the summer
*Enjoy your box and this beautiful time of year

After a wonderful year of steady moisture throughout the late spring and summer, we have been without any for the past 6 weeks.  We have been irrigating crops in the field for the last 3 weeks, namely, the carrots and beets, fall brassicas and alliums, greens and spinach, radishes and lettuce, kale and chard etc.  The crops are looking good!  The dry weather is helpful for other crops that have matured and now need to dry/cure:  winter squashes, dry beans, popcorn, storage onions.  It has been difficult to plant much cover crop lately as my broadcast method needs timely rains to germinate well.  I heard on the radio today that the Twin Cities is 8″ below normal for the year – yikes!  I hope that we receive an inch or 3 soon so that we can get potatoes out of the ground, plant our garlic, and fill out our emptying fields with fresh new cover crop seed.
~Farmer Norm
Crop of the week – Apples
Our box this week is definitely reminiscent of fall. Gone are the delicate, temperamental summer crops which make way for the hardy staples that will hold the reins for autumn and winter shares. With so much abundance in our box, we decided to highlight apples this week. Apples represent the changing seasons, and the ever changing nature of what a CSA box is week to week. These apples, which have been growing on the farm for many years (planted in 2006-2007) have hit their stride and are producing in quantities not seen in past seasons.
Apples tend to be high in dietary fiber, high in antioxidants, and aid in digestion. The adage "an apple a day keeps the doctor away" can hold some truth as apples do aid in inflammation and thus can aid in heart health.
My go-to recipes for apples are pretty basic. I love just slicing it up and drizzling honey or peanut butter on them for a nice snack. You can make stewed or braised apples with cinnamon that would make an excellent breakfast or dessert. You could also make an apple crisp if you are in the baking mood. The best dishes are the ones that get eaten, so I know that you will find a way to make these apples shine for you or your family. Cheers!
-Farmer Dylan
Some Recipes To Try:
Preheat oven to 350 degrees. Grease and flour a 9 x 5-inch loaf pan. Mix brown sugar and cinnamon together in a bowl and set aside. In a stand mixer (affiliate link), combine white sugar and butter until smooth. Add eggs and vanilla and continue to beat on medium speed until combined. Add flour and baking powder, then milk. Pour half the batter into the prepared pan. Cover with half of the apples. Pat apples into batter with the back of a spoon. Sprinkle with half of sugar and cinnamon mixture. Pour the remaining batter over apple layer; top with remaining apples and add more brown sugar/cinnamon mixture. Pat topping into the batter with the back of a large spoon. Bake for 50 minutes or until toothpick inserted into the center comes out clean. Cool in pan 10 minutes before transferring to a cooling rack.
Prepare a grill for medium-high heat; lightly oil grate. Grill beets, turning occasionally, until skin is charred and flesh is fork-tender, 50–60 minutes. (Alternatively, you can tuck vegetables into coals left over from grilling something else. Wait until charcoal is completely covered with ash and no black spots remain. Shake grill to knock excess ash off coal, then rake them around and pile them up around vegetables.) Let cool slightly.

Halve beets; scoop flesh into a food processor. Add lemon juice, tahini, and garlic and process until smooth; season with salt and pepper.

Drizzle baba ghanoush with oil and top as desired. Serve with flatbreads or pita bread. Dip can be made 3 days ahead. Cover and chill.
To blanch the carrot tops: remove thick stem pieces. Bring a pot of water to a boil. Prepare a large bowl with ice cubes and cold water in it. Once boiling, add the carrot tops to the pot. Stir occasionally, cooking for about 3 minutes or until bright green and tender. Immediately remove from the pot, drain the hot water, and add the carrot tops to the ice cube bowl to stop the cooking process.

Drain the carrot tops, wring out excess liquid, and spread them on a plate to dry while you do the remaining recipe prep.

Add all of the ingredients from garlic through walnuts (if using) to the food processor. Blend until a chunky paste forms with small bits of carrot tops. Depending on the size of your food processor, you may need to stop frequently to scrape down the sides. Add the olive oil a tablespoon at a time until combined. Season to taste with salt, pepper, and more lemon juice if desired.

To use as a pasta sauce, cook your pasta in salted water according to package directions. Reserve 1/2 cup of pasta cooking water, drain the pasta, and return it to the pot. Add the reserved cooking water and carrot top pesto, stir to combine, and cook over low heat until warmed. Serve right away.

Otherwise, once cooled to room temperature, store the pesto in the fridge in an airtight container for several days. The bright green color may fade to a slightly darker green, and this is totally normal