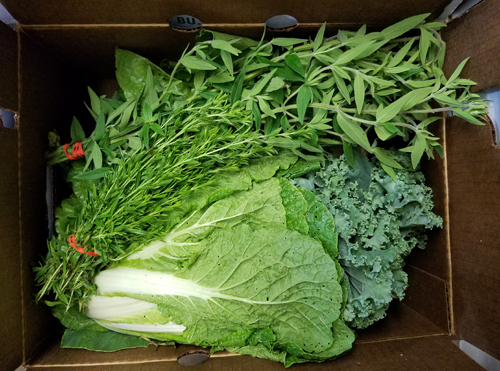 "Adopt the pace of nature: Her secret is patience."
– Ralph Waldo Emerson
Summer Share Box 2 Crop List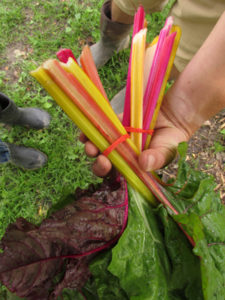 Pac choy – all shares
Napa cabbage – all shares
Kale – all shares
Swiss Chard – all shares
Romaine – 2 heads for full shares, 2 for single shares, 1 for half shares
Savory – all shares
Mint – all shares
Asparagus – half shares
Chives – single shares
Collard greens – full & single shares
Spinach – full shares
Farmer Notes
I hope that everyone enjoyed your first week's produce.
If you have a share partner who you wanted to receive this newsletter then they should indeed receive it today. Please let us know if they do not.
There are two types of mint today – mountain and apple, both great to flavor water, to cook with, or to add to cold dishes or drinks.
Read more about napa cabbage in our 'vegetable of the week' along with some recipes.
Look for raspberries, shell peas, and basil in box #3.
Popcorn from last season did not make the box this week for the full shares due to questionable quality. We will have new popcorn late in the fall.
The 4th of July is next Wednesday, and we will deliver on the 5th as planned. Please have a responsible person pick up for you if you are out of town.
Our eggplant, tomatoes and peppers, are all in black plastic and are full of fruits and blossoms … maybe some eggplant for some boxes next week already.
Please wash all of your produce before you eat it.
Enjoy healthy living and have a great week.
Farm Update
I love garlic. I love the smell, I love the taste, I love cooking with it, and I love eating it in most things. It is also really fun to grow. You save your best bulbs, or buy them in the fall, break them apart into cloves when you are ready to plant, plant them in October and mulch them in with straw. In the spring they grow right through the mulch which acts as a weed barrier and moisture retainer. About now they put forth scapes and usually members get a bunch of 10 or so in box two or three. Last week I had a member ask me when she should expect them. It forced me to name the truth – I basically have a failed crop this year!! And it makes me sick. I planted over 3000 cloves last fall and only about 1 in 10 came up this spring. I have never experienced this before and am a bit at a loss for why it happened. I will continue to investigate and let you know what I learn. In the meantime, a few of you will get some scapes in box three that are great to sautee, make into a pesto, have with eggs, etc., and all of you will get a garlic bulb or two later in the fall.
Weather wise, we have had a cold winter, a late spring (really cold April) and a wet summer so far. Some crops do well in weather that other crops struggle in. That is why in CSA we have such a wide range of crops and varieties of crops that there should always be a decent selection of vegetables in each box. Early season now you will see your share of green, and feel like you are a rabbit, but soon enough we will see some color in purple eggplant, red raspberries and radishes, and yellow summer squash. And so the season will turn … I think we are off to a good start – thank you for joining the ride!
~Norm
Crop of the week: Napa cabbage
Napa cabbage is a cool season cruciferous vegetable that was first grown near the Beijing region of China. Commonly referred to as "Chinese cabbage," it is thought to have originated as a hybrid cross between a turnip and a pac choy. Due to Minnesota's hot summers, napa and other cabbages are often planted twice, in order to reach maturity during the late spring and early fall. Napa cabbage can be distinguished from the more common green cabbage by its thick white ribs and crinkled pale green leaf blades. It has plenty of vitamin C and calcium, and can be enjoyed both raw or cooked (or even grilled!). One of the most popular uses for napa cabbage is in the Korean dish kimchi.
Some recipes for this week's box:
Chances are you've never seen or heard of savory, but this annual plant is part of many popular herbal mixes, including "herbes de Provence." A member of the mint family, savory can be used in the same way as thyme, marjoram or sage. It goes especially well with beans and any type of meat. Like other highly aromatic herbs, its tea is good for nausea, bloating, flatulence, and other digestive upsets. If you have more fresh herbs than you know what to do with, it's always a good idea to make either a herbal butter (simply chop up herbs and mix with room temperature salted butter, then keep it in the fridge) or an infused oil (slightly warm up good quality olive oil in a pot, add herbs, let it sit for a day or two, covered, then strain it and discard herbs), to add to dishes, or drizzle/spread on a good slice of bread. You can also dry it for future uses by hanging it upside down in the shade.
In a large bowl, toss together cabbage and carrots.

Combine sugar, vinegar, sesame oil, and soy sauce in a small bowl. Stir until sugar dissolves, then pour over cabbage and carrots.

Toss until slaw is coated and top with mint leaves.
This light salad is a great side dish for a grilled summer entree.