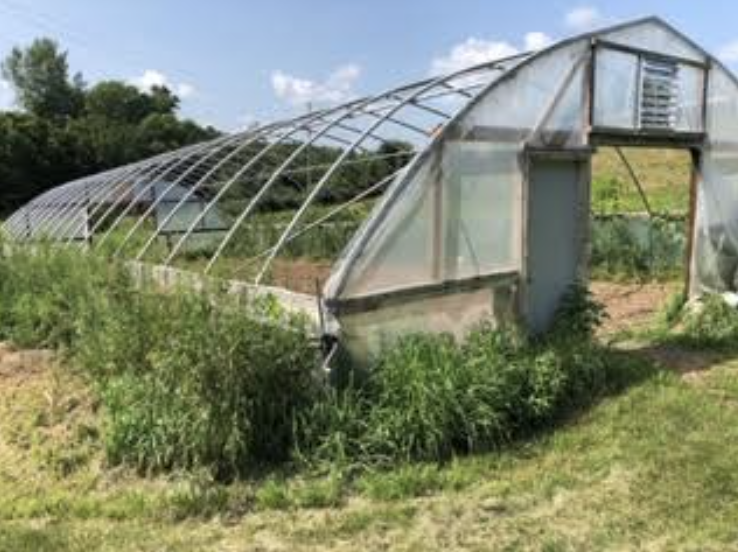 "If you want to go fast, go alone.  If you want to go far, go together."
~Nelson Mandela
Summer Share Box 6 Crop List
Starting with radishes and going clockwise:
Radishes – Full and Single shares
Green Cabbage – All shares
Romaine Lettuce – All shares
Summer Squash – All shares
Zucchini – All shares
Cucumbers – All shares
Brassica (Cauliflower, Kohlrabi, Napa) – Farmer's Choice
Marjoram – Full and Single shares
Mint – All shares
Raspberries – Flex shares; Twin Cities Half shares
Swiss Chard – Single shares
Scallions – All shares
Collard Greens – Full shares
Kale – Full and Half shares (not pictured)
Farmer Notes
Green beans, snap peas, bell peppers, and eggplant will all see some playing time next week.
A 'Farmer's Choice' is when you get one of 2 or 3 different similar type crops.  This week each box will either receive kohlrabi, cauliflower or a head of napa cabbage.
We are very much enjoying a week of sun, a cooler breeze, and low humidity!
I apologize for the condition of the basil last week.  Basil does not do well with water on its leaves – the humidity and rainy weather last week had its toll.
Scallions again this week and next week and is our 'vegetable of the week'.
Cucumbers are just kicking off – they are a summer favorite.  Eat them sliced with salt or vinegar, on a sandwich, or made into a refreshing smoothie or sauce.
Probably the last of the raspberries and mint for the season.
Wash your produce and please return our box and ice packs each week.
Have a wonderful weekend!
Growing under cover in the market garden industry is very commonplace these days.  I think one would be hard-pressed to find a CSA that does not have at least one greenhouse structure in their operation.  There is some confusion, even on my part, when it comes to names and features of these buildings …here is what I think:
Greenhouse – a permanent, covered, heated growing structure for starts and seedlings.
Hoop house – a permanent covered structure that is unheated and used for growing plants in the ground to extend the growing season.
Field tunnel or High tunnel – usually not permanent and not heated, but can be.  Usually used to grow out in the field under cover.
Cold Frame – not a permanent structure and without heat, but used in the field to protect and warm crops and usually can be moved fairly easily.
A green house can be covered with a 6 mil clear plastic, a woven plastic, or a rigid polycarbonate. Other structures usually use the 6 mil, or less, clear plastic film.
At Earth Dance Farm we have one heated greenhouse, and one hoop house that allows us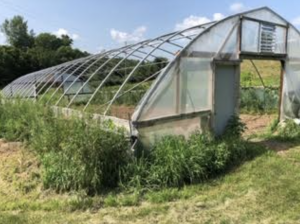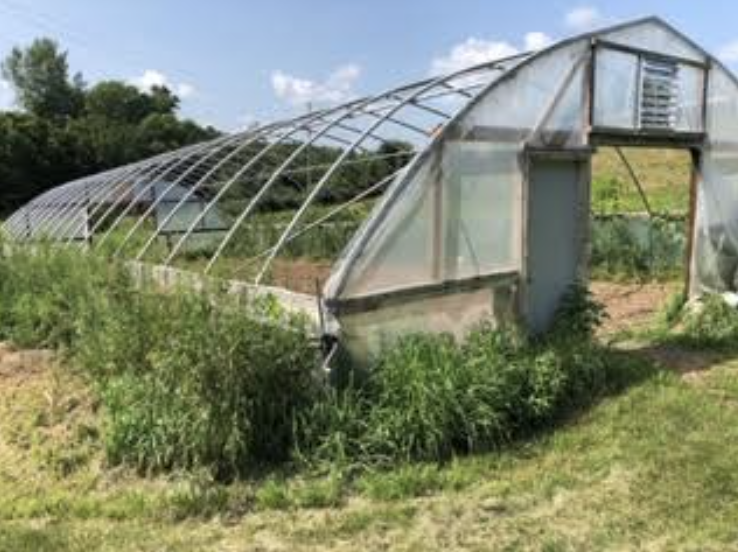 to have a Spring share and helps with our Fall share.  We purchased it for $11,000 back in 2010, half of it paid for by a NCRS grant. After 8 seasons it was high time that we regenerate the soil and get a new wrap of 6mil film.  Jon, one of our summer interns, obtained  a soil test from the U and is helping with 2 rounds of cover cropping to build soil.  We are planting a cow pea/buckwheat summer cover crop this week.  In 45 days that crop will be tilled into the soil and a rye/vetch/radish cocktail will be planted in fall to overwinter.  We will re-cover the structure before the snow flies so that it will be warmer and snow-free come next March to begin planting for the Spring Share.
….maybe you wanted to know this!
~Norm
Crop of the week – Scallions
Earth dance farms is proud to announce the crop of the week: Scallions. Scallions are a type of onion which is commonly referred to as green onions or spring onions. The long green stalk of the scallion is very similar to that of the chive, which leads to a white undeveloped bulb at the base. Both the green and white portion of the plant can be used in recipes either raw or cooked. Scallions are members of the Allium family, which includes garlic, onions, leeks, and shallots. These plants can be found on the farm growing in clumps of three to four with hollow, tube-like leaves. The flavor of the scallion is sweeter and much milder than that of a white onion, but somewhat stronger than chives. Many home cooks find that the top green portion of the scallion is a great substitute for chives in many recipes. Scallions can make great additions to salads, salsas, potatoes, eggs, and many Asian dishes. Storing is very simple, first remove rubber band and rinse with cold water, pat dry with paper towel or dry rag and store in refrigerator for up to three days. Scallions are a very versatile vegetable that can add a great flavor to a variety of dishes.
– Farmer Jon
Some recipes to try:
melt the butter in a medium sauce pan. Add the radishes and coat with butter. Cook over medium heat for about 10 minutes, stirring occasionally until softened and golden brown.

Remove from heat and add the lemon zest and chives, season with salt and pepper to taste.

Alternatively you could roast these in olive oil in a 375 degree oven for about 35 minutes, then season.
Whisk oil, vinegar, coriander, salt, pepper, and cardamom in a large bowl. Add cantaloupe, cucumber, and chiles and toss to coat in dressing. Let sit, uncovered, 15 minutes.

To serve, add pumpkin seeds, cilantro, and mint to salad and toss gently to combine. Top with sumac.
Sumac, a tart, citrusy spice generally sold in ground form, can be found at Middle Eastern markets, specialty foods stores, and online.
Prepare a grill for medium-high heat and lightly oil grate. Drizzle cauliflower florets and scallions with 4 Tbsp. oil; season with salt and pepper. Grill scallions, turning occasionally, until charred in spots, about 2 minutes. Grill cauliflower in a grill basket until tender and charred in spots, 8-10 minutes.

Blend ginger, garlic, cilantro, lime juice, and remaining 2 Tbsp. oil in a food processor, thinning with water if needed, until sauce is the consistency of yogurt; season with salt.

Chop scallions into 1-2 inch pieces, and then arrange cauliflower and scallions on a platter. Sprinkle with red pepper powder and sesame seeds and drizzle with sesame oil. Serve with cilantro sauce alongside.