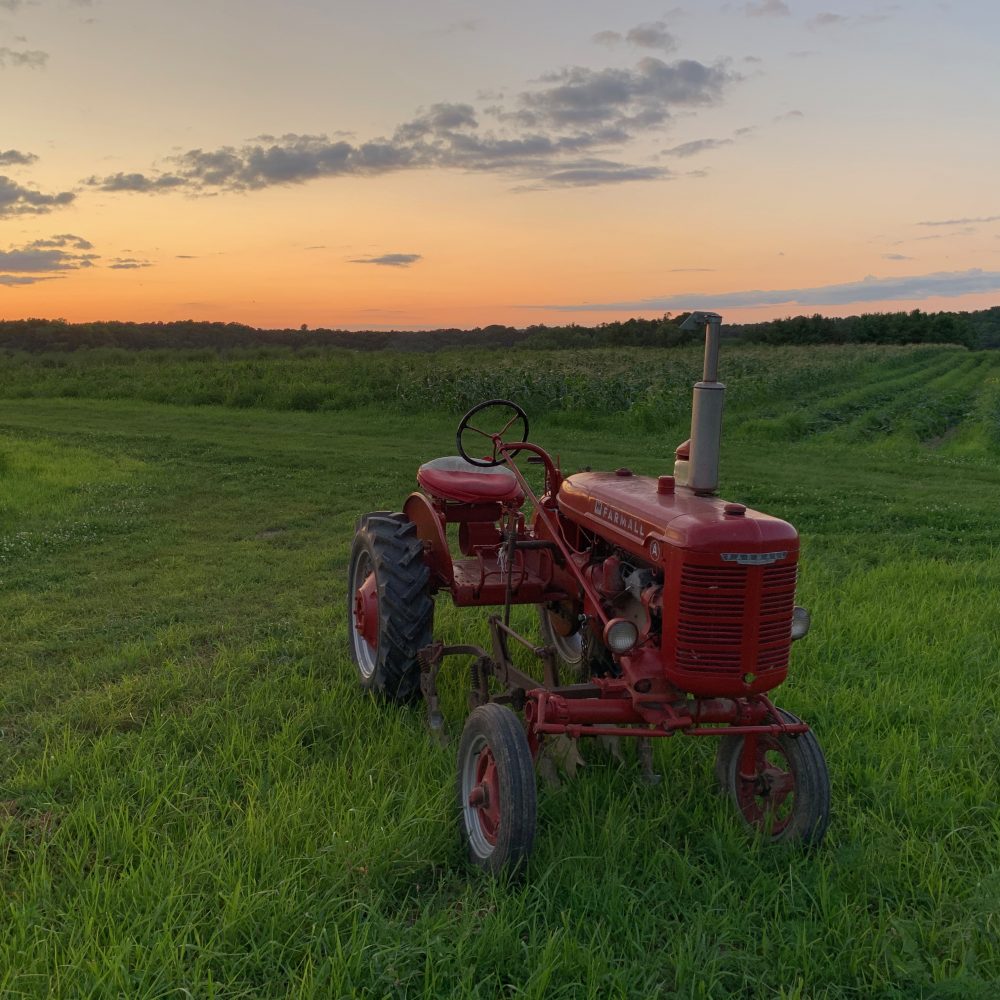 "If you hear a voice within you say, 'You cannot paint', then by all means PAINT, and that voice will be silenced."
~Van Gogh
Summer Share Box 7 Crop List
Clockwise starting with green beans:
Green Beans – All shares
Scallions – All shares
Red or Green Cabbage – All shares
Collard Greens – Single shares
Eggplant – Full shares
Cucumbers – All shares
Lovage – Full shares
Tarragon – Single shares
Sage – All shares
Radishes – All shares
Romaine Lettuce – All shares
Zucchini – All shares
Summer Squash – All shares
Bell Peppers – Full shares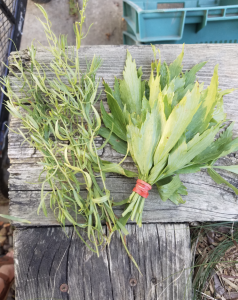 Farmer Notes
Beautiful sunny dry summer days – we will begin some irrigating later on this week.
Lovage (celery-like) and Tarragon are less-known herbs for some of you – a photo and recipes may help you out.
Eggplant and peppers are just kicking off!
Lots of green beans this week and next – they are our featured vegetable.
Summer squash and zucchini and cucumbers are now in their prime.
One more week of scallions for box #8 and then on to sweet onions.
We are waiting until next week for the sugar snap peas.
Member farm work opportunity is Friday August 9th
Next week we will begin the tomato season.
I stuffed grilled peppers tonight with rice, oregano, black beans, onions, garlic, and sausage.
Cucumbers are great sliced or diced into some salt or vinegar water and kept chilled in the fridge.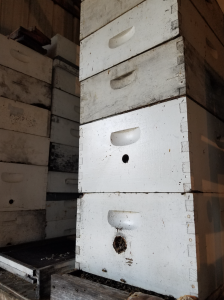 We have not had the best year for our bees this season.  We usually purchase 5 new colonies every spring no matter how many hives survived the winter.  We keep bees on the farm mainly for pollination, but the honey is not bad either. Several colonies died out in June due to the excessive moisture and, consequently, there was a high load of Varroa and tracheal mites.  The bees would be
outside of the hive, but unable to fly even though their wings seemed fine.  I sent photos to the U of M Bee Squad and to my supplier but to no avail.  One hive is doing great in the bee yard and another relocated to our pole barn where we keep our supply of bee equipment.  Last week I was shocked by the lack of summer squash and cucumbers and thought "I do not have enough pollinators on the farm," and "who might I contact to have more hives brought over."   It turns out that the cucumbers, the squash, the zucchini and the eggplant are all busting a gut this week so we must have enough honeybees and native pollinators to do the job.  It is very satisfying to walk the fields during harvest and hear bees everywhere busy on the blossoms.  I think we all often take for granted the important work that our pollinators do for us.
~Norm
Crop of the week – Green Beans
Green beans have many common names such as French beans, string beans, snap beans, and snaps.
Historically, green bean pods contained a "string", which was a fibrous strand that ran down the length of the pod. To prepare the beans for cooking, the bean was either cut into small sections so they could be 'swallowable' or by removing the string completely. Many heirloom varieties may still have the "string" trait; now modern commercial varieties are grown to be stringless. Here on the farm we grow stringless green beans.
Whether they're eaten raw, sautéed, steamed, boiled, braised, stir-fried, baked, or even pickled, (also very common in dishes such as soups, stews or casseroles) green beans are enjoyed all around the world!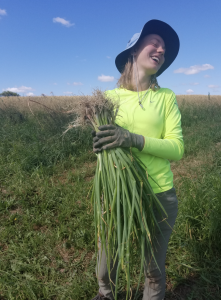 Some easy ways to eat green beans:
Make green bean french fries! Sprinkle fresh green beans with a little olive oil, salt, and pepper. Spread them out on a shallow pan. Bake at 400° F for 20-25 minutes, turning them over when they're half-way done.
Use green beans instead of spaghetti. Top some steamed green beans with your favorite spaghetti sauce and sprinkle them with Parmesan cheese.
Enjoy steamed green beans sprinkled with fresh lemon or orange juice.
Green beans are also great in salads and soups. Or just dip into some of your favorite dressing and eat as a snack (try our creamy radish dip below!).
~Farmer Maddie
Some recipes to try:
Tear bread into pieces then add to a food processor and pulse until you have coarse breadcrumbs. Set aside.

Melt butter in a large skillet over medium heat. Once butter starts to foam, swirl the skillet until the butter turns golden brown, 2-3 minutes. Add garlic, then saute for 30 seconds. Add breadcrumbs and fresh sage then season with salt and saute until breadcrumbs are crispy and browned, 10-12 minutes, stirring frequently. Transfer breadcrumbs to a plate then set aside.

Return skillet to stove then turn heat up just a touch and add extra virgin olive oil. Add green beans, season with salt and pepper, then saute until the green beans begin to blister, 5 minutes. Add water then place a lid on top of the skillet, turn heat back down to medium, and then saute until green beans are tender, 5-7 minutes, shaking the skillet occasionally.

Plate green beans then top with crunchy breadcrumbs and serve.
In a small bowl, beat cream cheese and butter until smooth; stir in the radishes, onion, parsley and salt. Chill for at least 1 hour.
In a medium bowl, whisk together the olive oil, balsamic vinegar and garlic until blended. Season with salt and pepper.

Add all the rest of the ingredients to the bowl and toss to combine. Season with additional salt and pepper if necessary. Serve immediately.
Add the chopped onion, wild garlic and celery to a large saucepan with a little butter or oil and sweat over a medium heat for 5 minutes.

Add the rice and stir before adding the vegetable stock, chopped lovage, lemon zest, lemon juice and salt and pepper to season. Cover the pan, lower the heat and simmer for 25 to 30 minutes, or until rice is cooked and vegetables are soft.

Check the seasoning before serving with crusty bread and/or croutons.