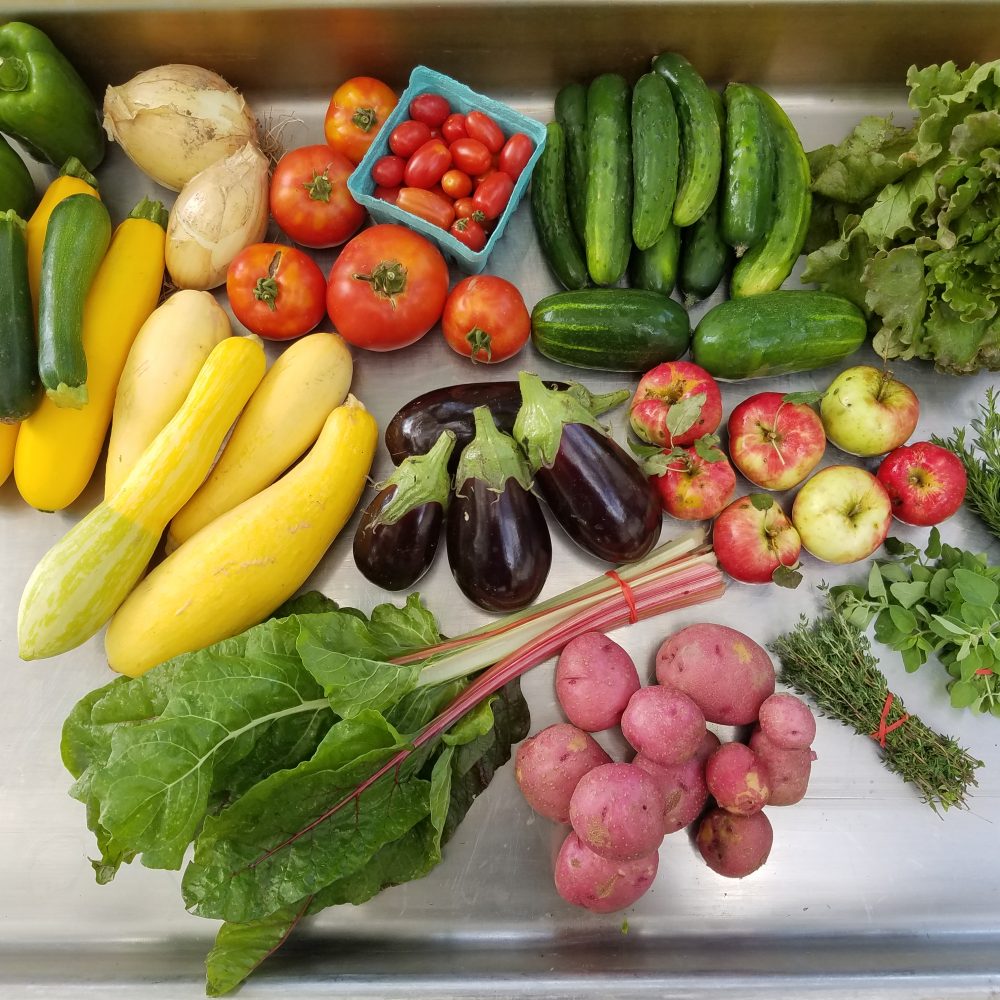 "Context and memory play powerful roles in all the truly great meals in one's life"
~Anthony Bourdain
New Red Potatoes (All Shares)
Slicing Cucumbers (All Shares)
Zucchini (All Shares)
Summer Squash (All Shares)
Swiss Chard (All Shares)
Sweet Onions (All Shares)
Summer Crisp Lettuce (All Shares)
Eggplant (All Shares)
Tomatoes (All shares)
Peppers (Bells for Half Shares, Italian Frying for Full Shares)
Pickling Cucumbers (Full and Single Shares)
Apples (Full Shares)
Herb (Savory for Full Shares, Thyme or Oregano for Single and Half Shares)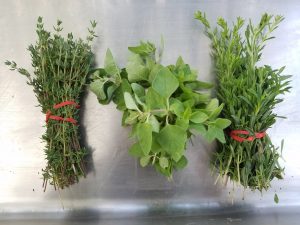 Farmer Notes
~Red Norland potatoes are 'new' and not cured (skins may be partially off) so eat them up in the next week or keep them in the refrigerator
~Pickling Cucumbers for the full and single shares are a blocky shape with a small seed cavity for cutting into spears and canning – good luck and have fun!!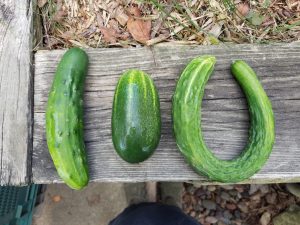 ~Apples for full shares are for use in salads or slaw or to cook to make into a sauce or a dessert
~We currently have an abundance of eggplant. They are incredibly sweet and delicious if you cut them the long way in thin slices, brush both sides with olive oil, and brown them in the oven broiler or on the grill. Top with parmesan and take the delight!
~Peppers and tomatoes have been slow to ripen with the wet, cloudy and cool temperatures we have had this last week
~We only pick tomatoes one time per week, therefore some may need to sit on your counter for a few days to fully ripen
~Fry up some onion with small cubed potatoes and your herb and peppers and you have yourself a meal
~The hope is to have some sweet corn next week if the sun would come out
~Please return ice packs and boxes each week
~Thoroughly wash your produce before you eat it
My Dad, Emil, was a pretty decent cook. As a young man he and his brother owned and operated a small restaurant, although the finer details of that venture always remained opaque. By the time he married Mom, he took on the responsibilities of farming the land and making a living. The kitchen became Mom's domain … and boy did she own it! Gender roles were entrenched to say the least.
We always had a large vegetable garden, potatoes and sweet corn out in the field, and an orchard. Though we did not grow up having a multitude of material things, we always had plenty of a few things: eggs, onions and good 'ole potatoes. They were cheap, they were plentiful, and they were delicious. Breakfast, yes, but better yet for some late night sustenance. Breakfast belonged to mother, morning lunch around 10 was prepared by mother, noon dinner was made by mom, afternoon lunch at 4 was mom's doing, supper around 6 was served by mom, but after that she was finished in the kitchen and us boys could have ourselves some fun! Dad loved to fry up some onions in a pan with lard, add in some cubed or sliced potatoes, salt and pepper of course, and maybe an egg to boot. Many nights after a basketball or baseball game I would come home and satisfy my hunger with the same. And I still love it to death. It is the smell of home. It is a food memory. We hope you and your family are in the midst of creating some food memories for yourselves this summer.
~Norm
Crop of the week – Eggplant
Long prized for its deeply purple, glossy beauty as well as its unique taste and texture, eggplants are now available in markets throughout the year, but they are at their very best from August through October when they are in season. And oh boy do they grow like crazy! Eggplants belong to the nightshade family of vegetables, which also includes tomatoes, peppers and potatoes. They grow in a manner much like tomatoes, hanging from the vines of a plant that can grow several feet in height. While the different varieties do range slightly in color, taste and texture, one can generally describe the eggplant as having a pleasantly bitter, yet sweet, taste and spongy
texture. This year we have three different varieties growing here on the farm; White Eggplant, Italian Eggplant(round purple), and Japanese Eggplant(long banana-like purple). See picture to the right. These lovely vegetables have many health benefits. In addition to featuring a host of vitamins and minerals, eggplant also contains important phytonutrients, many which have antioxidant activity. In my opinion, Eggplant is one of those foods you either love or really don't, or you just aren't familiar with it yet. Whichever category you may fall under, I challenge you to try something new and incorporate it into a meal! Cheers!
~Farmer Vanessa
Some recipes to try:
Prepare grill for medium-high heat. Combine chile and 2 Tbsp. vinegar in a small bowl; set aside.

Place onions on a rimmed baking sheet and drizzle with 2 Tbsp. oil; season with salt and pepper. Turn to coat. Grill onions directly on grate until lightly charred and softened, about 2 minutes per side. Transfer to a large bowl and toss with remaining 2 Tbsp. vinegar; let cool.

Coarsely chop ½ cup grilled onion and return to bowl. Add chile and soaking liquid, cucumber, oregano, and 2 Tbsp. oil and toss to combine; season with salt and pepper. Serve drizzled with more oil.
(If planning to serve as soon as they're done), preheat oven to 250 degrees. Have a baking sheet lined with paper towels ready. Trim ends off zucchini and grate them either on the large holes of a box grater or, if you have one, using the shredding blade of a food processor.

In a large bowl, toss zucchini with 1 teaspoon coarse salt and set aside for 10 minutes. Wring out the zucchini in one of the following ways: pressing it against the holes of a colander with a wooden spoon to extract the water, squeezing out small handfuls at a time, or wrapping it up in a clean dishtowel or piece of cheese cloth and wringing away.

Return deflated mass of zucchini shreds to bowl. Taste and if you think it could benefit from more salt add a little bit more. Stir in onion, egg, flour and some freshly ground black pepper.

In a large heavy skillet, heat 2-3 tablespoons of oil over medium-high heat until shimmering. Drop small bunches of the zucchini mixture onto the skillet only a few at a time so they don't become crowded and lightly nudge them flatter with the back of your spatula.

Cook the fritters over moderately high heat until the edges underneath are golden, about 3 to 4 minutes. Flip the fritters and fry them on the other side until browned underneath again, about 2 to 3 minutes more. Drain briefly on paper towels then transfer to baking sheet and then into the warm oven until needed. Repeat process, keeping the pan well-oiled, with remaining batter.

Cook's Note: I like to make sure that the fritters have at least 10 minutes in the oven to finish setting and getting extra crisp.

Do ahead: (This is the best part!)These fritters keep well, either chilled in the fridge for the better part of a week and or frozen in a well-sealed package for months. When you're ready to use them, simply spread them out on a tray in a 325 degree oven until they're hot and crisp again.
Mix olive oil, cloves of minced garlic, chopped herb(s), chili flakes, salt and pepper, and lemon zest together in a small bowl and set aside to infuse a little bit while you work on cutting up eggplant.

Slice eggplant into 1/2 inch slices in direction of your choice (either lengthwise or across).

Heat a medium to large non-stick skillet to medium/high heat. Meanwhile, brush slices of eggplant with the olive oil mixture. Once the pan has heated, put one layer of eggplant on the pan to ensure even cooking. Cook for about 2-3 minutes or until there is a slight golden-brown color, and then flip them over and do the same.

If you do not have a brush for the olive oil mixture, you could just drizzle some into the hot pan and cook the eggplant in it.

Serve as a side dish or over quinoa or rice.