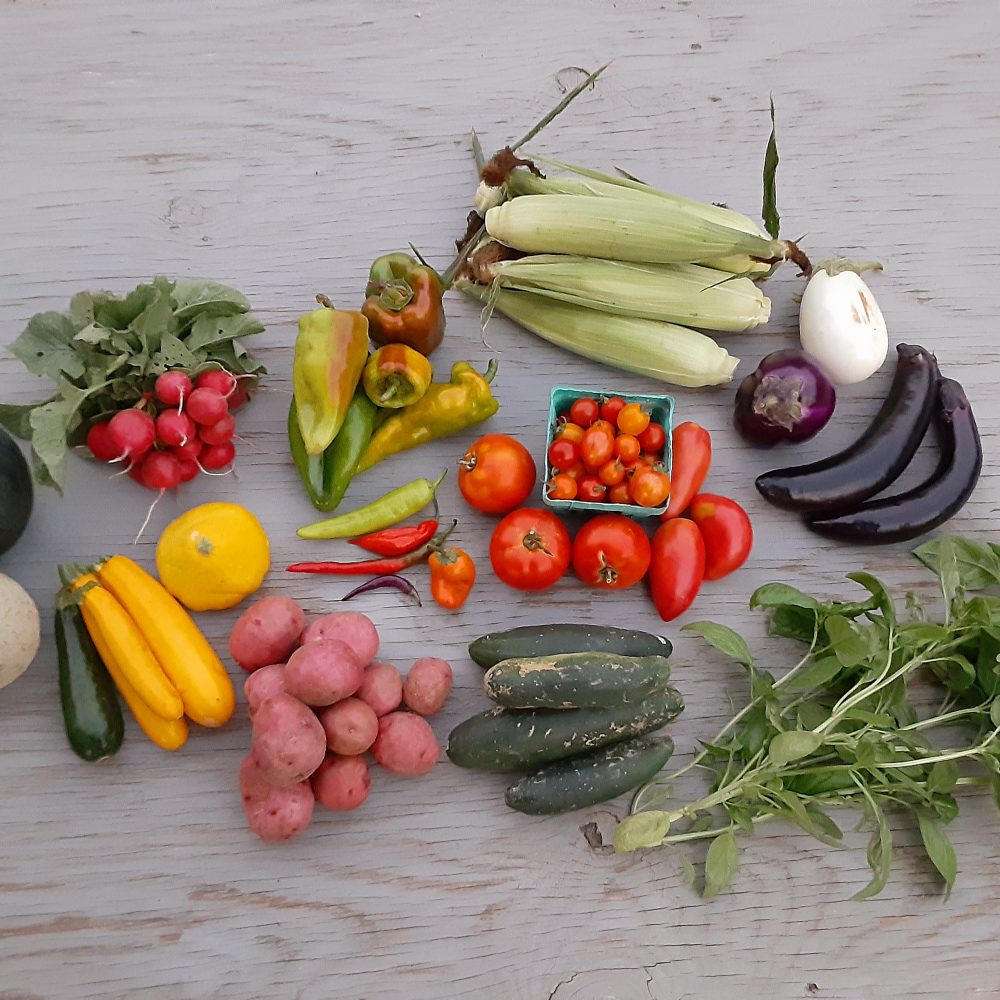 "Do small things with great love."
~Mother Theresa
Summer Share Box 10 Crop List
Sweet Corn – All Shares
Melon – All Shares
Summer Squash and/or Zucchini – All Shares
Peppers – All Shares
Mini Tomatoes – All Shares
Slicing Tomatoes – All Shares
Radishes – All Shares
Basil – All Shares
Red Potatoes – Full Shares Only
Cucumbers – Full & Single Shares Only
Eggplant – Single & Half Shares Only
*The boxes are heavy this week with the corn, melons, etc., please handle them with care for their sake and your back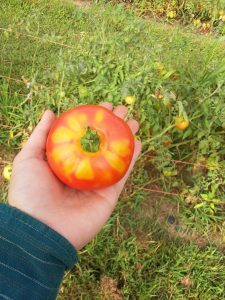 *Slicing tomatoes are at different stages of ripeness, if they are a bit hard or orange just leave them sit on your kitchen counter for a few days
*Basil is a natural partner with tomatoes – we had a 46 degree night that turned some of the basil leaves brown
*Last of the first sweet corn planting – we are hoping for a second crop in a couple weeks but our drought makes this unpredictable
*Less than an inch of rain in the last 6 weeks (an inch a week is ideal) keeps us irrigating 24-7
*I think this will be the end of our 2020 cucumbers
*In our 'crop of the week' we have a photo of all of our different peppers with their heat rating
*Sweet corn is great in the husk on the grill
*Make some pico with peppers, onions, tomatoes, corn and lime – with chips of course (Onions and cilantro coming soon!!
*Enjoy these final week of summer
Crop of the Week: Peppers
This week, we're weighing in some lightweights and some heavy hitters on the scale…and that scale is the Scoville Scale.
Peppers are our Crop of the Week this week and in your boxes, you should find quite the variety of our little guys, each with their own unique flavor and level of intensity for your taste buds.
Starting off with the no heat peppers at 0 Scoville Heat Units (SHU), we have our Bell Peppers and Sweet Sunrise. These can both be eaten raw and are known for their sweet flavors, once the colors begin changing. While most of the Bell Peppers you will be receiving are more on the green side, they are high in Lutein, which is absent from ripened Bell Peppers and can help improve eye sight, protecting your retina and cutting the risks of both cataracts and macular degeneration. On the opposite end of the spectrum, we have the Sweet Sunrise, known for their sunrise like colors once they begin to ripen. These also have no heat and are much sweeter than the green Bell Pepper.
Next up, between 500-1,000 SHU we have the Beaver Dam Peppers. A pepper you may have received a couple of times already, these are about the same level as pimento peppers and add just a tiny kick of heat. Practice on raising your Scoville intake with these peppers and you'll graduate to the next level: The Jalapeno.
From 1,000-10,0000 SHU, the Jalapeno has quite the range of heat. Unfortunately, we didn't have very many to give this time around, as they've just began to ripen, but soon, you will get the opportunity to try this very well known pepper and see if you're able to handle the jump to our first heavy hitter.
Between 30,000-50,000 SHU we have our Purple Cayenne Peppers, known not only for their beautiful, vibrant purple color, but their delicious taste and their high heat. Cayenne are part of the nightshade family, such as Bell Peppers and Jalapenos, and are full of anitoxidants and Capsaicin, the main reason why you're tasting different levels of heat in each pepper in the first place.
Another of the Cayenne family with almost double the strength at 80,000 SHU, we have the Red Flame, with a color and level of heat to match its name. Cayenne peppers have been used for thousands of years for their medicinal properties and beneficial nutrients. Just five grams of cayenne contains Vitamins A, E, C, B6, and K among other antioxidants and are great for boosting metabolism, lowering blood pressure and many more benefits.
And last, but most certainly not least, is our crinkled Habanero. Sharing a similar color with the Red Flame, these little guys are our hottest peppers, ranging from 100,000-350,000 SHU. Like the cayenne in the lower SHU levels, these peppers are capable of helping fight weight gain and even help prevent cancer because of their high levels of Vitamins A & C. But practice caution with these levels of Capsaicin! Many who are not connoisseurs of such high levels of heat could experience nausea , abdominal pains or vomiting!
Whether you're looking for the multitude of health benefits or you're just a daredevil seeking a reason to sweat a bit, peppers have quite the spectrum for you to explore and we hope you enjoy the range of heat we've provided for you to taste test and potentially expand your horizons to subtler or hotter levels.
~Farmer Jordan
Some recipes to try:
Preheat oven to 400 degrees Fahrenheit and line a large, rimmed baking sheet with parchment paper for easy cleanup. On the baking sheet, toss the whole cherry tomatoes and sliced zucchini and squash with 2 tablespoons olive oil. Sprinkle with salt and pepper and arrange in a single layer (or as close to a single layer as possible). Roast for about 25 minutes, tossing halfway, until the cherry tomatoes have burst and the squash is tender.

Meanwhile, bring a pot of salted water to boil and cook the pasta until al dente, according to package directions. Before draining the pasta, reserve about 1 cup of the pasta cooking water. Drain the pasta and return it to the pot.

While the pasta is hot, add the lemon juice, butter, goat cheese, garlic and red pepper flakes to the pot. Add about ¼ cup of the reserved pasta cooking water and gently toss the pasta until the ingredients are evenly mixed together and the pasta is coated in a light sauce (add more reserved cooking water if the pasta seems dry).

Once the tomatoes and squash are out of the oven, add them to the pot along with all of the tomato juices. Gently toss once again to combine. Season to taste with salt (I added more than ½ teaspoon) and freshly ground pepper, then sprinkle chopped basil over the pasta and divide into individual serving bowls. Serve immediately.
Combine all ingredients in a medium bowl and season with salt to taste.

The salad can be stored covered in the refrigerator for up to 1 day.
Slice eggplant lengthwise into 1/2-inch-thick planks. Grill or broil them until moderately charred.

Meanwhile, place olive oil, onions, and garlic in large soup pot; cook on high heat, stirring frequently, until translucent.

Dice the charred eggplant, add it to the pot, reduce heat to medium, and cook 10 minutes, stirring frequently. Add tomatoes and cook 5 minutes. Add stock, lemon juice, and spices; simmer 30 minutes.

Let it cool a little, then puree in small batches. The color will be a rich brick hue. You may add salt and additional spices to taste.

Reheat the soup when you're ready to serve it, garnishing each bowl with a lemon slice topped with a dollop of sour cream. The soup may also be served chilled in the summer.
This is a great soup to improvise with, adding other vegetables or fresh herbs if you have them.