"The difference between fiction and truth is that fiction needs to make sense."
Tom Clancy
Summer Share Box 17 Crop List
Sweet Dumpling/Delicata Squash – All Shares
Potatoes – All Shares
Rutabaga – All Shares
Green Beans – All Shares
Romaine Lettuce – All Shares
Collard Greens – All Shares
Rosemary – All Shares
Hot Peppers – All Shares
Cilantro – Full and Single Shares Only
Carrots – Single Shares Only
Apples – Full Shares Only
Radishes – Full Shares Only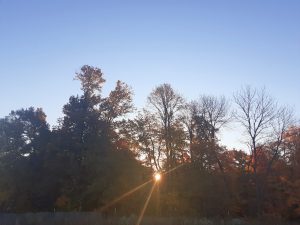 Farmer's Notes
*Green beans in October, are you kidding me?
*Rutabaga is great creamed into mashed potatoes
*Enjoy a fresh salad before the cold weather sets in
*Winter squash can be a super easy bake:  cut in half, clean out the seeds, oil up and turn upside down on a cookie sheet and bake – you can always add some brown sugar and/or butter and of course a little s+p
*Beans can be steamed with salt and butter, caramelized in the oven, or baked into a casserole
*We give quite a few weeks of potatoes – they can be prepared in many ways and can be stored in a cool dark place( fridge crisper) for a few weeks
*Next week is the final delivery of the 2020 summer CSA share, if you have purchased a Fall Share, these begin on Oct. 22nd
*Let us know if anyone wants extra hot peppers for next week – around 20 in a paper bag for $10
*Please always remember to wash you produce before eating it
Farm Article
We sure have been enjoying the wonderful Autumn weather the last several weeks.  It seems like we get a colder week followed by a warmer one and so forth –  the colors are spectacular.  Most of our tillable fields sit upon a higher piece of land that overlooks a winding Bear Creek and its surrounding rolling hills.  The work is hard and the weeks are long, but it is a beautiful environment to pass the days.  And when we get hungry, my sweet Jesus, we eat – and we eat well!  We end our days eating supper together, that one of us put together, and as the windows turn dark we relax and slump a bit into our chairs and a slight smile graces our mouths.  Another day, solid work handling plants and soil, enjoying the unique weather of the season, relaxing with others in a warm home in front of a table full of fresh produce – it's all right … and we wish you much the same!
~Farmer Norm
Crop of the Week: Rutabaga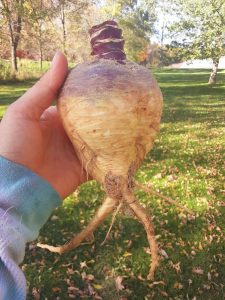 Rutabaga is a crop in the brassica family with an eastern European origin story. First written notes on the crop were created in 1620 by a Swiss botanist by the name of Gaspard Bauhin. He originally noted that it was growing wild in Sweden but is believed to have originated in Scandinavia or Russia. The introduction of this food to North America came in the early 19th century with preliminary reports showing crops in Illinois as early as 1817.
These root crops are mainly considered winter vegetables and can hold in a cold area like a root cellar for several months. A common thing to do with rutabaga is to mash them together with potatoes to make a hybrid mashed potato type dish. It can also be used as a substitute for potatoes in most recipes like oven-fries and gratin. Another use for the bulbous roots are as lanterns for Halloween. This is a common practice in Northern England, West England, Ireland and Scotland.
~Farmer Joshua
Some recipes to try:
In large pot, bring potatoes, rutabagas and enough salted water to cover to a boil. Reduce heat and simmer 20 minutes, or until potatoes and rutabagas are fork-tender; drain.

Transfer to large bowl. Using hand masher or potato ricer, mash potato mixture until smooth. In pot over medium-high heat, warm buttermilk and butter for 1 minute, or until hot.

Stir hot buttermilk mixture into potatoes. Fold in chives; season with salt and pepper, if desired.
Pre-heat the oven to 200ºC/390ºF. Place a roasting tin the oven to heat up.

Peel the rutabagas and cut them into large chunks.

Place the rutabagas in a bowl and dress with the olive oil, maple syrup and thyme or rosemary.

Add in a good sprinkle of salt and pepper and toss to combine well.

Spoon the rutabaga into a roasting tin, reserving any dressing that has pooled at the bottom of the bowl.

Roast in the oven, for 25 minutes, then drizzle over the reserved dressing and cook for a further 15-20 minutes until crisp and golden.

Serve with a sprinkling of fresh thyme or rosemary (Or chives works well too!)
Preheat oven to 375 F. Cut squash in half and scoop out seeds. (The seeds can be roasted like pumpkin seeds.)

Place squash face-down in an oiled baking dish. Bake until tender when pierced with a knife, about 30 minutes. Remove squash from oven but keep oven on.

Prepare the stuffing while the squash is baking. Heat oil in a medium saucepan over medium heat. Add onions and sauté until onion is translucent. Add pistachios, dates, lemon zest, and cinnamon and sauté for another minute. Stir in the cooked quinoa and season to taste with salt and pepper.

Turn the squash upright in the baking dish and stuff with the quinoa mixture.

Cover dish with aluminum foil and bake for another 20 minutes.

Serve warm, garnished with extra pistachios or lemon zest, if desired. The peel of sweet dumpling squash is generally tender enough to be eaten.