"Independence?  That's middle class blasphemy.  We are all dependent on one another, every soul of us on earth."
-George Bernard Shaw
Summer Share Box 3 Crop List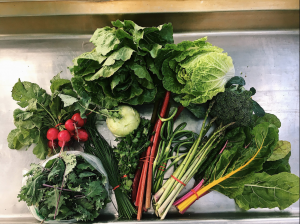 Kohlrabi (All Shares)
Chives (Half Shares)
Red Kale (Full and Single Shares)
Broccoli (All Shares)
Basil (All Shares)
Cilantro (Full and Single Shares)
Radishes (Full and Half Shares)
Asparagus (Single Shares)
Napa (Single and Half Shares)
Lettuce (All Shares)
Scapes (All Shares)
Chard (All Shares)
Rhubarb (Full Share)
Raspberries (Local Rochester Shares)
Farmer Notes
*It is really hot, and now starting to dry out – we will begin irrigation tomorrow
*Next week we shift to a Summer Crunch lettuce, romaine will come back around in the fall
*This is the last of the rhubarb and asparagus, and chives for the season
*Garlic Scapes are fun to look at and fun to cook with – it is our vegetable of the week
*Big 'pesto bunch' of Genovese basil so … make yourself some pesto
*Basil does not like refrigeration – please keep it on your counter in a glass of water. Use within a few days.
*Broccoli and kohlrabi this week, cabbage and collards next week
*Over the course of the next several weeks you will receive raspberries one time
*If you are on vacation this week, make sure someone picks up your box with your name on it!
*Have fun this weekend, but stay cool, be smart and be safe
*Wash all of your produce and please return our boxes and ice packs each week
My mother died last Thursday at the age of 100 years 8 months.  On Tuesday we buried her in the Westphalia, IA. cemetery.  We had a wonderful ceremony, and it was a comfort to celebrate with so many of my siblings and their families.
Mom was the eighth of 12 siblings, finished eighth grade, and married Emil Gross when she was 17.  They spent their honeymoon picking ear corn by hand. They raised 13 children on a 160 acre farm that all us kids called home.  She spent her days, her years, her life, raising children, washing clothes, cooking meals, tending the large garden and the orchard, canning and freezing produce, helping as needed in the fields, and then cooking some more meals.  She enjoyed this life, she was very good at it, she was a great mother.  She used to bake 4 loaves of bread every other day – that smell, the melting butter, that first bite!  She also said the rosary a lot, and would sing songs to the Virgin Mary while she worked.
The last time that I saw her was in early March before Covid -19.  5 of us brothers were visiting with each other while she dozed off and on.  After about 30 minutes she woke up, very alert and said, "Are you guys still here!  Don't you have some work to do or something?"  She had a strong work ethic to say the least, and she was also the one that made sure no more pennies were spent than were earned.
Her life was full and long, and her death was peaceful.  I feel tremendous gratitude and love.  I will miss you Mom.
~ Norm
Crop of the Week: Garlic Scapes!
The crop of the week for summer share #3 here at EDF is garlic scapes. If you are familiar with growing garlic, you will know that you actually get TWO crops from garlic. We planted the garlic for this year last fall and the plants are growing vigorously. At this stage of maturity
they have began to grow their flowers. These "scapes" must be cut off at some point so that the bulb continues to grow and retain its flavor. The plant must have its' energy output curved towards the prioritization of the bulb so that a harvestable crop is available. Luckily, they have many uses in the kitchen.
Garlic scapes will readily replace garlic and scallions in almost any recipe. Garlic scapes have a texture comparable to asparagus when harvested fresh. They can be sautéed, pureed, roasted, pickled or just eaten raw (although the stems can be tough at parts). They will usually last up to two weeks in your crisper drawer. They can also be cut or diced up and frozen to greatly extend their shelf life. Feel free to slice these up similar to the way you would garlic or scallions and throw them into a dish. They have a flavor that could be described as a cross between sweet onions and garlic. One could also use garlic scapes to replace basil in a pesto recipe, although it is recommended to use a neutral oil so that it doesn't compete with the stronger flavor of your garlic scapes.
Some recipes to try:
In the past, I have always been on the search for quick, delicious recipes. It has always been hard to allocate time to making dinner because after work, we're hungry and want to eat. The times have changed, and now we may be staying at home and have more time to meal prep. In the past few months, I have been enjoying making an event out of cooking dinner. One of my new favorite meals to make is spring rolls. They sound intimidating at first but I realized after a friend showed me how to make them, they are simple and straight forward. The most time consuming part of making spring rolls, is chopping up the veggies. Making spring rolls can be a great activity for you and the whole family! I believe that little creative hands would help make this dinner/art project really fun and delicious! When making spring rolls, you can use pretty much any vegetable that can be rolled into the rice paper wrappers. Out of the box this week, you could use kohlrabi, broccoli, cilantro, radishes, chard, scapes, basil and lettuce or Napa cabbage. I'd also recommend adding vermicelli noodles for some extra filling.
| | |
| --- | --- |
| | |
I cut up my veggies into match stick shapes and veggies like broccoli just into small bite size pieces. Tip: you want the veggies to be pretty small so it is easier to roll up the rice paper. In a bowl of warm water, wet the rice paper wrapper for a few seconds until it feels a bit slimy and the texture is floppier. You do not want to soak the paper too long or it will turn to mush. Just soak it long enough to be workable. Then place the rice paper wrapper flat, place a small piece of lettuce or napa cabbage to act as the bed and then add the rest of your fixings. Make it as artistic as you desire. Tuck in the sides of the paper and roll it up. Place it on a plate and as it dries it will stick together

I serve my spring rolls with a peanut sauce that is just peanut butter, Sriracha, soy sauce and a squeeze of lemon to brighten it up. Garnish with some lime wedges.
I love pickling! It is a great way to extend the shelf life of your food but also adds a nice tangy flavor to your favorite veggies. Because this is a quick pickle, the pickled veggies will go directly in the fridge so you can avoid boiling jars, just wash them with soap and water.
Place scapes in a jar. You could also add in radishes, asparagus and kohlrabi if your heart desires.

Bring salt and equal parts water and vinegar to a boil.

Pour brine over scapes in the jar.

Add 1-2 tbsp of spices into the jar.

Place pickled scapes in fridge for at least four days and enjoy!
Recommended spice combinations:
Dill, Red Pepper Flakes, Mustard Seed, Smoked Paprika
Mustard Seed, Turmeric, Cayenne Pepper, Peppercorns, Red Pepper Flakes
Remove ribs and stems from chard leaves and finely chop. Tear leaves into small pieces. Set both aside separately.

Heat ⅓ cup oil in a large pot over medium-low. Cook reserved ribs and stems, stirring often and adding a splash of water if they start to brown, until tender, 5–7 minutes. Add garlic; continue to stir for about 1 minute. Add reserved chard leaves by the handful, letting them wilt before adding more; cook, tossing, until all the leaves are wilted and tender, 10–12 minutes total. Let cool. Squeeze excess liquid from mixture into a measuring glass. (You should have about ½ cup liquid.)

Place Swiss chard mixture and 1 Tbsp. cooking liquid in a food processor and add tahini, lemon juice, and ⅓ cup oil. Season with salt and process, adding more cooking liquid if needed, until dip is creamy and only speckles of chard remain. This could take up to 5 minutes. Season with more salt if needed.

Transfer dip to a serving bowl and drizzle with more oil. Serve with flatbread and lemon wedges.