"The land knows you, even when you are lost."
-Robin Wall Kimmerer
Summer Share Box 4 Crop List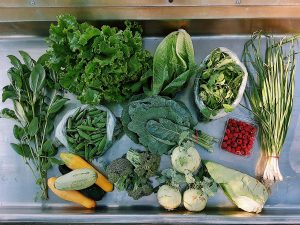 Squash (All Shares)
Kohlrabi (All Shares)
Cone Cabbage (All Shares)
Broccoli (All Shares)
Basil (All Shares)
Butter Crisp Lettuce (All Shares)
Romaine (Full Shares)
Collards (All Shares)
Scallions (All Shares)
Peas (Full Shares)
Arugula (Full Shares)
Raspberries (Single and Half Shares)
Farmer Notes
*Week 4 and boy has it has been hot in the fields
*There are lots of our bug friends in the field, and perhaps in the box this week:  both the arugula and the collard greens have some holes in them and the broccoli and cone cabbage will have some small green cabbage worm somewhere deep within.  We wash everything, and you need to do the same as you break things apart for cooking.  A salt-water soak often works to dislodge them.
*Shelling peas went to Full Shares and raspberries to Singles and Half shares this week, most likely that will switch up for box 5
*Last of the basil for a while, this batch was grown in our hoop house.  We made several batches of pesto and froze it into ice trays, then into baggies for winter meals
*We are growing 5 varieties of summer squash and 2 of zucchini, you may have a mix of any variety this week.  For supper tonight I grilled 7 of them on a grill pan until caramelized along with some onion
*Make some pasta with squash, peas and scallions and garnish with basil
*Cucumbers and peppers are just around the bend
*Collard Greens, like Kale, is a very hardy crop that many find difficult to enjoy.  These crops are extremely nutritious and healthy – read more from Jordan in our 'crop of the week' article.
*Please return our boxes untorn, and our ice packs each week
We have been stuck in a weather pattern for the last 2 weeks that has been hot and dry.  Almost every day there is a 40% to 60% chance of rain in the late afternoon that either evaporates as it nears, skirts around us, or gives us a rumble and a few sprinkles.  It looks somewhat 'promising' again for tomorrow afternoon, but the pattern continues for at least the next 10 days.  This affects us in many ways: begin work earlier and quit earlier, more time irrigating crops, always preoccupied with the timing of our tasks.  Crops react differently depending on how much they like the heat and can withstand long dry periods.  Basically the crops that are larger and have a deeper root system (like corn, kale, potatoes) or are under plastic (peppers, eggplant and tomatoes) do better, and crops that have a shallow root system like onions or ones that love cooler temps like the cruciferous family do not fare so well.  Everything is a mixed bag here on the farm, every weather situation, every given season, has its up-sides and its down-sides.  Growing an abundance of a great variety of crops almost ensures that every week there will be wonderful produce to put in the box.  It is certainly our hope that you are experiencing that this year so far!
Crop of the Week: Collards!
A highly sought brassica, such as Cabbage and Broccoli, the crop of the week for Summer Share #4 are the strong and hardy Collard Greens. Feasted on by Humans, Flea Beetles and Cabbageworms alike (hence the holes that decorate some of our leaves), the collard green comes in shades of emerald and forest green, with a hint of magenta decorating the edge of some of these broad giants.
Collard Greens as a food dates back to the 1600s as one of the few crops enslaved families were allowed to grow and harvest for themselves, where many would stew them down into gravy formed from the leftover water and seasonings. Since then, it has become a staple in Southern cuisine; typically cooked to soak up the flavors of ham or other salted meats paired with it.
By themselves, Collard Greens are QUITE nutritious plants, which is easily reflected in their strong, broad stature, when compared to other plants leaves. They provide extreme vitamin and mineral nutrition and are capable of a multitude of benefits:
-Slowing the loss of mental functions.
-Promoting healthier lungs and cardiovascular protection.
-Helping to have a healthier transition through menopause.
-Providing Calcium and Phytonutrients and much more!
Beyond their many benefits and history, Collard Greens are extremely versatile when it comes to how you want to prepare them. Capable of handling the extreme environments of the cooking world, unlike most leafy greens, you can stew, braise, fry and saute them without worrying too much about them disintegrating into nothing, like most leafy greens do when added to heat. Some less known uses would be turning them into a salad or slaw, blending them into your daily smoothie, pureeing into a homemade pesto or even substituting a whole leaf for your favorite brand of tortilla for a much more nutrient rich and vegan friendly option.
Until you decide to use your greens, wrap them in a damp cloth and store them into a plastic bag to ensure freshness. Properly stored Collard Greens will last four to five days until you will want to dispose of them, unless you are savvy in the art of blanching your veggies to freeze for later use.
~ Farmer Jordan
Some recipes to try:
Whisk 2½ cups flour and 1 tsp. salt in a large bowl. Mix in sesame oil and 1 cup boiling water with a wooden spoon until a shaggy dough forms.

Turn out dough onto a lightly floured surface and knead, adding flour as needed to prevent sticking, until dough is smooth, about 5 minutes. Cover with plastic wrap; let rest at room temperature 1 hour.

Divide dough into 8 pieces. Working with one at a time, roll out on a lightly floured work surface as thin as possible (each should be approximately 10" in diameter). Brush about 2 tsp. chicken fat on dough and top with about ¼ cup scallions; season with salt. Roll dough away from you (like a jelly roll) into a thin cylinder, then, starting at 1 end, wind roll onto itself to create a coil (like a cinnamon roll). Cover with plastic wrap and repeat with remaining dough. Let rest at room temperature 15 minutes.

Working with 1 coil at a time, roll out on a lightly floured surface to a 5" round (keep other coils covered). Repeat with remaining dough and stack as you go, separating with parchment or lightly greased foil brushed with vegetable oil.

Heat 1 Tbsp. vegetable oil in a medium skillet over medium-low. Working with one at a time, cook pancake, turning frequently to prevent scallions from burning, until golden brown and crisp on both sides and cooked through, 8–10 minutes. Transfer pancakes to a wire rack and let rest about 5 minutes before cutting into wedges.
Whisk vinegar, soy sauce, chili oil, sugar, and red pepper flakes in a small bowl until sugar is dissolved. Serve alongside pancakes for dipping.
Beat eggs, oil and vanilla together. Gradually add sugar.

Mix Dry ingredients together and add to egg/sugar mixture. Batter will be quite dry at this point.

Stir in zucchini and nuts.

Divide into 2 greased and floured bread pans.

Bake at 325 degrees for 1 hour.
Heat a heavy-bottomed pot over medium-low heat. Add the olive oil followed by the onions. Cook until the onions are fragrant and translucent, 4 to 5 minutes. Stir in the squash, potato, and carrot. Continue to cook for until the squash begins to soften, 5 minutes or so. Stir in the garlic, cook for a minute then add in all the spices, cooking for another minute more.

Add the wine, scrapping up any pieces stuck to the bottom. Allow some of the wine to cook out then measure in the vegetable broth. Bring to a boil, reduce to a simmer, and let cook until the potatoes are tender, 10 to 15 minutes.

While the soup simmers, heat 2 tablespoons of the oil in a frying pan on medium high. Add the collards and cook, stirring, until the collards become bright green and tender. Remove them from the heat and set aside.

Puree the soup using a blender or an immersion blender. Add in the coconut milk and continue to heat the soup until hot. Taste and add salt as needed (usually depends on how salty the broth is). Divide into two bowls and top with a drizzle of coconut milk, sprinkle of paprika.