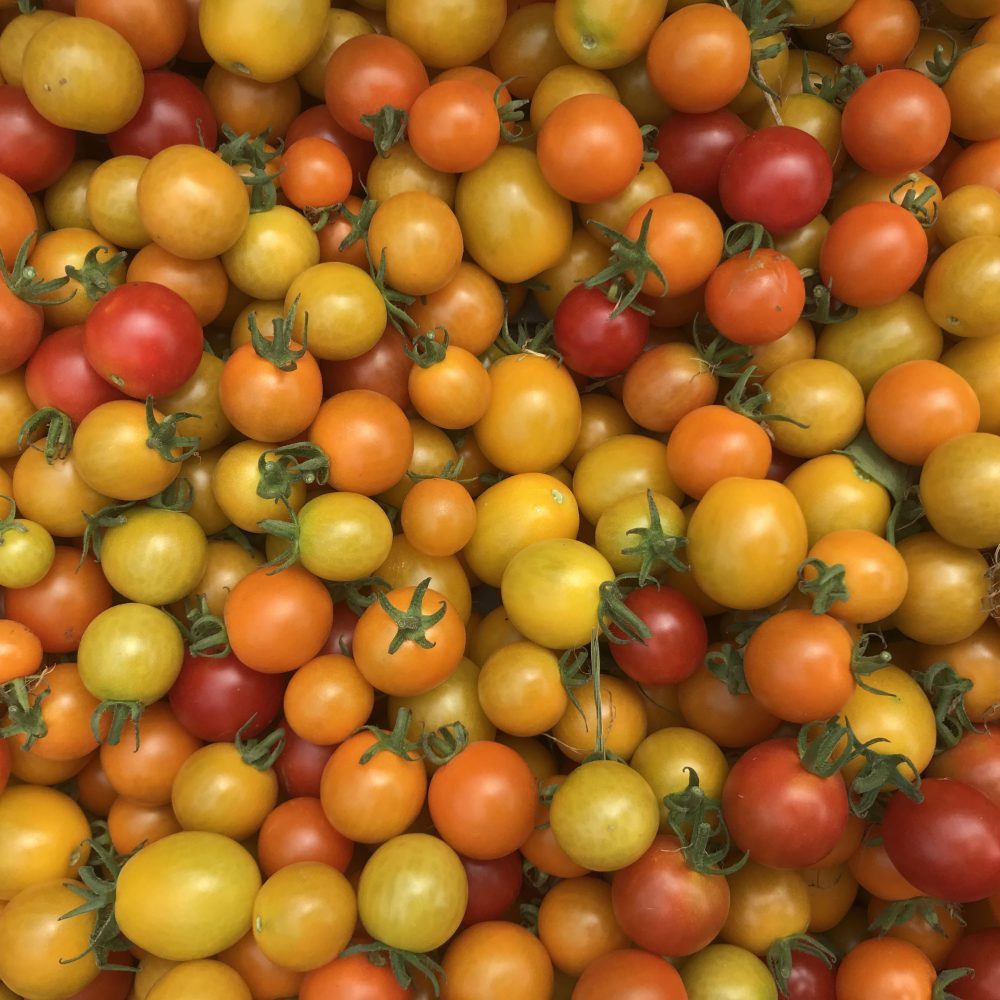 "We ask ourselves,'Who are we to be brilliant, gorgeous, talented, and
fabulous?' Actually, who are you not to be … your playing small does not serve
the world."
~Nelson Mandela
Summer Share Box 7 Crop List
Summer Squash (All Shares)
Slicing Cucumbers (All Shares)
Zucchini (Full and Single shares)
Cone Cabbage (All Shares)
Bibb Lettuce (All Shares)
Farmer's Choice: Mint/Lemon Balm/Oregano (All Shares)
Kale (All Shares)
Snow Peas (Half Shares)
Farmer's Choice: Mini Tomatoes/Cantaloupe (Full Shares)
Green Beans (All Shares)
Red Potatoes (Full and Single Shares)
Eggplant (Single and Half Shares)
Beets (Full Shares)
Farmer Notes
Potatoes are Norland Red – they are fresh out of the ground (uncured),  so eat them up in the next week
Lots of cucumber slicers that are great to have in cold, salty water in the fridge for a quick, healthy and refreshing snack

Farmer Vanessa hard at work harvesting tomatoes

Tonight I grilled squash, onions and tomatoes with a pepper and served it on a toasted sourdough open faced bread
Last of the snow peas – we should have sugar snap peas in 2 weeks or so
The melons, tomatoes and peppers are just beginning to roll
Bibb lettuce this week is smaller and a bit more delicate than romaine
Green beans are done for now – we have a second planting just coming up out of the soil
We missed out on the rains this weekend – we have had less than 1.5 inches the whole month of July.  Needless to say we are irrigating full time, but that never can take the place of a good drink from Mother Nature
Let us know if you want any pickling cucumbers to process – $2/pound with a minimum of 5 pounds per order
Keep returning our boxes and ice packs – we really appreciate it
Bees on the farm
We have a constant companion in honey bees here at Earth Dance Farm.  Anywhere on the farm you find yourself working, you will notice a few bees working right alongside you.  They have the important job of pollinating most of our crops and our harvests are much more abundant because of their dedicated labor.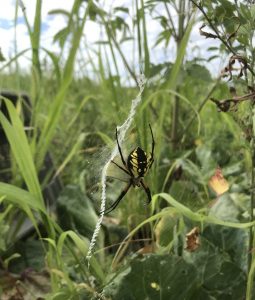 We purchased 7 hives at the beginning of the season in mid April, much like we do every year.  One of our interns, Anna, knows more about beekeeping than I do, so she has been managing the hives this season, and they are thriving!  It is a blessing for us to partner with such hardworking little guys.  We planted an acre of buckwheat for them (and for our fall brassicas) and have a couple of different water stations for them.  Anna makes sure they do not have swarm cells, that they have a queen and viable brood, and that they have plenty of room to expand.  Soon we will begin taking some of the full super frames of honey and spinning it for next year's CSA.  This is just one more aspect of running a small, diversified produce farm and it keeps things busy and interesting.
~farmer Norm
Crop of the Week: Potatoes
Potatoes, one of the world's favorite foods, are this week's crop of the week. They were one of the first crops planted this spring on the farm, and will be harvested into the fall. They take a lot of time and effort, but it's all worth it when we dig up those spuds. This is the first of the potatoes, but expect more in the coming weeks.
Potatoes are native to the Americas and were originally domesticated in southern Peru and northwestern Bolivia between 8000 and 5000 BCE. It spread to Europe in the 16th century and has since become one of the most commonly eaten foods globally.
Potatoes are part of the Solanaceae or Nightshade family, which also includes tomatoes and eggplant. As a member of this family, potatoes contain a small level of toxic glycoalkaloids that increase if the tubers are exposed to sunlight and turn green–this is the logic behind avoiding green potatoes. But no worries, when potatoes are cooked, the glycoalkaloids are degraded and can no longer cause harm.
There are a few main groups of potatoes: russet potatoes, red potatoes, white potatoes, yellow potatoes, and purple potatoes, though there are 1000s of cultivated varieties. These can be harvested at different stages—immature, new, and cured—which changes the flavor and texture of the potato. This weeks Full and Single shares got new red potatoes, which means they will be nice and creamy but with thinner skins than cured potatoes whose skin has more time to toughen up.
The possibilities for preparing potatoes are unlimited: skin-on or peeled, whole or cut up, mashed, baked, boiled, steamed, hashed, scalloped, or fried! Pair them with almost any herb or spice; they make a great addition to any meal.
Some recipes to try:
Preheat oven to 425°F. Place potatoes, rosemary sprigs, smashed garlic, 1/4 cup of the salt, and water to cover in a 3-quart saucepan. Bring to a boil over high; reduce to medium, and simmer until potatoes are tender when pierced with a fork, 10 to 15 minutes. Drain; discard rosemary sprigs and smashed garlic.

Brush a rimmed baking sheet with 2 tablespoons of the oil. Arrange potatoes on prepared baking sheet. Using the heel of your hand, lightly crush potatoes until they are about 1/2 inch thick. Brush with 1 tablespoon of the oil. Bake in preheated oven until golden brown and crisp, 25 minutes.

Stir together butter, chopped parsley, thyme, rosemary, minced garlic, pepper, and remaining 1 tablespoon oil and 1/2 teaspoon salt. Brush mixture over potatoes, and serve immediately.
Mustard Balsamic Dressing
| | |
| --- | --- |
| Mustard Balsamic Dressing | |
Mix together the dressing ingredients. Toss with salad ingredients to evenly coat.
Place all of the ingredients except the orange juice in a saucepan, and simmer over medium heat until the beets are tender, about 15 to 20 minutes. Cool and puree. Add the orange juice and chill.
This soup freezes well if you have any left over.
Source: Lee Bailey's Southern Food written by Lee Bailey