"I learned the value of hard work by working hard."
~Margaret Mead~
Summer Share Box 12 Crop List
Sweet Corn – All Shares
Peppers (Bells and Hot Wax) – All Shares
Eggplant – All Shares
Summer Squash – All Shares
Slicing Tomatoes – All Shares
Romaine Lettuce – All Shares
Cilantro – All Shares
Mini Tomatoes – Full and Flex Shares
Melon (Cantaloupe 

or

Watermelon 

or

Torpedo) – Full and Flex Shares
Okra – Flex Shares
Chard – Full Shares
Farmer's Notes
*I will be on vacation next week, please be patient if we are running a bit behind, etc.
*2nd planting of sweet corn this week is sweet and will be the last for this season
*We received 5 inches of rain last week and had very little standing water when all was done
*All that rain negatively affected our tomatoes, so they will back off noticeable now
*This is the final batch of melons, and the basil all succumbed to downy mildew
*Carrots, beets, parsley, winter squash, and all the fall cold crops are looking fantastic
*Swiss chard is back with all its beauty and is our 'vegetable of the week'
*The boxes are heavy again – please be careful with the bottoms and the handles
*We wish you all a very fun and safe holiday weekend!
On the winter solstice my mother would remind us kids that it was the shortest day of the year and that now the days would slowly get longer.  "You won't really notice the lengthening days until well into February."
Again on the summer solstice we would be reminded that we now had the most daylight per day as in any other time of the year.  "You won't really notice the days dramatically shortening until well into August."
Well, sure enough, those words ring true still!  I have been seriously noticing how early night falls these days, and the plants take due notice as well.  Our cucumbers, basil, sweet corn and melons are mostly a thing of the recent past, the tomatoes struggle to stay viable, and the peppers, eggplant, and summer squash will fade with the first visit of frost.  And so the seasons turn.  Many crops that loved the cool of spring, now once again grace the fields:  radishes of all sorts, spinach, all of the cold crops(brassicas), Asian greens and lettuces, carrots and beets, potatoes and winter squashes, apples, dry beans, popcorn and herbs … and so we roll straight into Autumn!
~Norm
Crop of the Week: Swiss Chard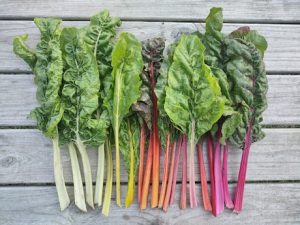 The crop of the week for the 12th summer share is swiss chard! While it would appear that chard is from Switzerland, it is in fact native to the Mediterranean and belongs to the Chenopodioideae family. This leafy green is high in Vitamins A, K, and C and a good source of calcium, magnesium, copper, zinc, sodium, phosphorus, and Vitamin E. Enjoy this delicious green and simultaneously receive an added boost of antioxidants like beta-carotene and flavonoids, which can help to reduce the risk of heart disease and cancer. Best kept in an airtight container in the refrigerator, swiss chard can store for up to 5 days. While amazing when prepared by sautéing with garlic and parmesan, chard can also be blended in a food processor to make dips and cooked on pizzas to create a nutrition-packed meal! Easy to cook and easier to enjoy, we hope you like it!
~Gabi
Some Recipes to Try:
Add the oil to a large saute pan with the garlic and red pepper flakes. Cook over medium heat until the garlic turns golden. Remove the garlic and discard. Add the chopped Swiss chard ribs and sautee until soft, about 4 minutes. Add the Swiss chard leaves and season with salt, to taste. Cook until the leaves are wilted. Stir in a splash of red wine vinegar. Serve immediately.
1 Pour oil into medium non-stick skillet. Add next 6 ingredients, and toss to combine. Mix in eggplant. Cover, and cook over medium heat 4 minutes to blend flavors, stirring occasionally. Mix in crushed tomatoes, garlic, and 3⁄4 cup water. Bring to simmer. Cover, and cook 10 minutes, or until eggplant is tender, stirring occasionally. Stir in ¼ cup cilantro; if sauce is too thick, add 1 to 2 Tbsp. water to thin it slightly. Season with salt and pepper, if desired.

Push aside eggplant mixture near top-center of skillet with wooden spoon, making deep hole. Drop in 1 egg. Repeat 3 more times, spacing eggs apart. Cover, reduce heat to medium-low, and simmer 4 minutes. Remove from heat, and let stand, covered, 1 to 2 minutes, or until egg whites are set. Sprinkle with remaining cilantro.