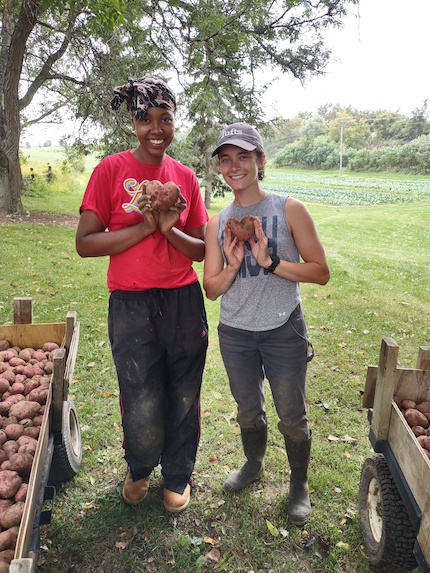 "In seed time learn, in harvest teach, in winter enjoy."
Summer Share Box 14 Crop List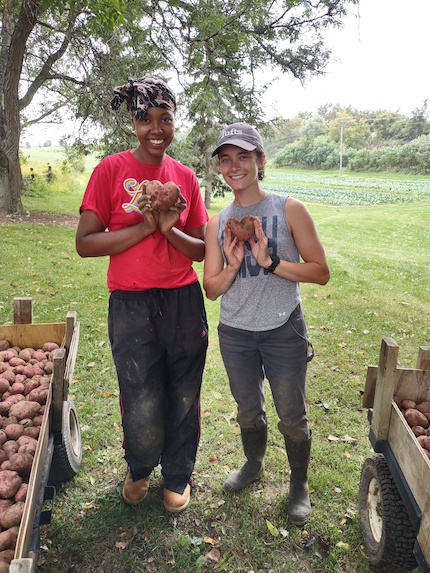 Fennel – All Shares
Summer Squash/Zucchini – All Shares
Peppers (Poblano, Italian Frying, & Hot Wax and/or Cayenne and/or Habanero) – All Shares
Tomatoes – All Shares
Chard – All Shares
Eggplant – All Shares
Potatoes – Full and Half Shares
Radishes – Full and Half Shares
Red Kale – Full Shares
Purple Carrots – Full Shares
Watermelon – Flex Shares
Spaghetti Squash – Flex Shares
Okra – Flex Shares
Sweet Onions – Flex Shares
Farmer Notes
*Radishes are back.  They like the fall season, and will again be in the boxes next week.
*Fennel is an interesting crop and is our 'vegetable of the week'.  You can grill it or roast it or have it raw in a salad.
*We have several hot pepper varieties – less heat to more heat: yellow wax, red cayenne, green jalapeno, and orange habanero.  Let us know if you want quantities of these for hot sauce as we will have lots of them for the next month.
*Last of the Red Norland potatoes, next up is Cascade white
*Terrible year for onions due to the heat and drought in June
*Purple carrots are big and beautiful, we will have lots of orange ones later in the season and throughout the fall and winter shares
*The Swiss chard is very pretty in the box and is wonderful sauteed with onions and vinegar
*Please keep returning the boxes and ice packs for us
So I had a nice vacation last week up North on White Iron Lake.  Our initial cabin was cancelled last minute due to the Greenwood fire.  We enjoyed the quiet in a remote spot without electricity or running water.  Canoeing, hiking, cooking and reading filled each day's agenda.  I can 'forget' about the farm for a while, since I know it is in good hands while I am away.  It is always good to return, though, and my hands are full making up for lost time:  getting the last of the seeds into the ground for the season, planting radish/hairy vetch/winter rye cover crop cocktail, keeping the pests and deer in check, final cultivation of growing crops, etc.  I hope that all of you have also had the chance to get away to relax, visit with family, and the like.  We have Autumn upon us now – enjoy life, stay safe, and eat well!!
Crop of the week – Fennel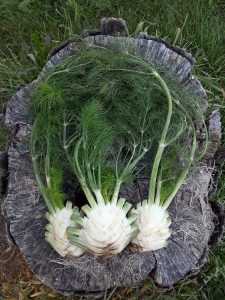 Fennel is a flowering plant in the Apiaceae family (the family that also includes carrots, dill, parsley, coriander) that is often overlooked and underrated. However, it is not as intimidating as it looks! Native to the Mediterranean region, this plant is most popular in Italy. As it gains insurgence, it is also becoming widely known and cultivated as both an herb and a vegetable throughout the diaspora. The most common type of fennel, Florence fennel, is often characterized by its distinct bulb-like base that weaves together and grows above the ground, tall stalks that resemble celery and flowering leaves that look like dill. Despite its looks, however, it is not a root vegetable.
While the entire plant is edible from its leaves all the way down to its bulbs and can be eaten both raw and cooked, most recipes only call for the bulb. When eaten raw, fennel has a crisp texture that resembles a mix of celery and licorice. It also caramelizes as it cooks, taking on a brighter and sweeter flavor. Fennel is a perfect addition to salads, roasts, stews and pork dishes.
Fennel is as nutritious as it is delicious. One cup of fennel contains around 20 percent of your recommended daily value of vitamin C. Outside of that, fennel also contains plenty of iron, fiber, potassium, vitamin A and calcium. Fennel is also heart healthy. It is a low cholesterol food that is also low in calories. Fennel also contains high levels of essential nitrates and is a great source of natural estrogen. Outside of dietary uses, fennel is also used in tea to help treat digestive issues, menstrual cramps, boost weight loss and prevent heartburn.
Fennel maintains its freshness best when stored in a cooler temperature. Keeping it in a refrigerator is your best bet. To properly store fennel, trim the stalks above the bulb and wrap the bulb loosely in a plastic bag. This can be stored in the fridge for 5-10 days depending on how fresh the fennel is.
I hope you have fun experimenting and creating new dishes and recipes with this exciting and exotic vegetable! I know I personally haven't heard of this plant until recently but I am excited to continue to learn more about it.
~Evette
Some recipes to try:
| | |
| --- | --- |
| Servings | cups (4 - 1.5 cup servings |
| | |
| --- | --- |
| Servings | cups (4 - 1.5 cup servings |
Heat oil in a medium, heavy bottom pot. Once the oil is hot, add onion, garlic and fennel along with a pinch of salt. Saute for 8-10 minutes or until the onion and fennel is beginning to look translucent.

Add tomatoes, broth, beans and season with salt and pepper, then bring to a boil. Once you've got your boil, reduce the heat and simmer for 20-30 minutes. This will allow the soup to thicken and become nice and hearty.

Once your soup has reached the desired consistency, stir in spinach. The spinach will wilt down in a matter of minutes and your soup will de done. Enjoy!
Preheat oven to 450 degrees F.

Trim the fennel bulbs and split lengthwise. Boil until tender, about 15 minutes. Drain, cut side down, on paper towels for about 5 minutes.

Place fennel, cut side up, in a buttered baking dish and brush with the softened butter. Season with the salt and pepper and top with thyme and grated Parmesan. Bake until cheese is golden brown, about 20 minutes
Whisk together oil, lemon juice, and mustard and season with salt and pepper.

Toss dressing with fennel bulb and radishes and adjust seasoning if necessary. Top with Parmesan and fennel fronds.