"If the house of the world is dark, love will find a way to create windows."
~Rumi~
Summer Share Box 4 Crop List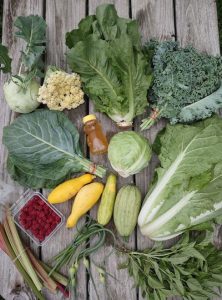 Green Cabbage – All Shares
Kale – All Shares
Collard Greens – All Shares
Napa Cabbage – All Shares
Honey – All Shares
Romaine Lettuce – All Shares
Basil – All Shares
Summer Squash – Full & Flex Shares
Farmer's Choice: Raspberries

or

Rhubarb – Half Shares
Farmer's Choice: Cauliflower 

or

Kohlrabi – Full Shares
Garlic Scapes – Flex Shares
Farmer's Notes
*The honey is from last fall's harvest – it is unpasteurized and not recommended for pregnant women
*Most years we give spring Napa cabbage before it forms a head, whereas the late fall crop is more condensed
*Collard greens for a second week comes as our 'vegetable of the week' and with a few recipes
*Basil is the first of several different sporadic deliveries during the season – it can last a week in a glass of cold water (do not refrigerate)
*Cabbages can be sauteed, made into a slaw, or a kraut
*Summer squashes are coming on strong and come in several different varieties: yellow, patty pan, and zucchinis
*We are enjoying a cool day today after 1.5 inches of rain last evening
*Please return our boxes and ice packs each week, and wash the produce thoroughly
There are several strategies we use here on the farm to deter pests, rodents and unwanted animals from taking too much of our field crops.  Sometimes it is row cover to keep flea beetles from eating the braising mix or radishes,  Row cover can also keep deer from eating romaine heads or beet greens as they nightly wander the fields browsing.    Another common method is fencing:  deer fencing around a field perimeter or an electric fence around a certain crop like the strawberries or sweet corn to keep the raccoons out of it.  There are sonar soil probes to irritate moles, live traps for skunks and opossum, and we use some organically approved insecticides at times to control the Colorado potato beetle and the cabbage looper.  Then we just shake our heads and let the rabbits take their share, or the cucumber beetles devour 15% of the squash crop.  Every year is a little different, but it is always an important aspect of this business and one to be taken seriously.  How can we best coexist with our fellow farm animals and still maintain our livelihood?
~Farmer Norm
The Crop of the week for summer share #4 is Collard Greens!  Collard greens have been eaten for over 2000 years and are one of the oldest members of the cabbage family. Collard greens are rich in nutritional value and packed with iron, calcium, magnesium, and potassium. These dark green leaves are a staple side dish in southern cooking, commonly used in braises and stews as the hearty leaves can hold up in much longer cooking times than most leafy vegetables. But these large, versatile leaves can also be sautéed, steamed, blanched, fermented to make collard sauerkraut, or even eaten raw in place of a wrap or taco shell. To store fresh collard greens until you are ready to use them, wrap them unwashed in a wet paper towel in an open plastic bag. They can store for up to 5 days in the refrigerator, and make sure to wash them well before cooking. Enjoy!
Some Recipes to Try:
Preheat oven to 275 F for a metal pan or 350 F for glass.

Roll out pastry dough and transfer to a 9-inch quiche dish or pie pan. Ease dough onto bottom and sides; prick the bottom and sides with a fork.

Partially bake until the crust just starts to get some color, about 12-15 minutes. Let cool slightly.

While the crust is baking, in a large bowl beat the eggs and half and half lightly. Add salt, pepper, marjoram, onion, green pepper, mushrooms, and collard greens. Set aside.

In a small bowl, mix cheeses together. Sprinkle half the cheese onto the piecrust and add the remaining cheese to the egg mixture.

Add the egg mixture to the piecrust; top with more cheese if desired.

Bake until a knife can be inserted near the center and come out clean, about 45-60 minutes. Let sit 10 minutes before cutting into wedges.
Quiches are one of those dishes that are super customizable. Don't like green peppers? Leave them out. Have extra tomatoes or spinach in the fridge? Add them! Bacon or ham are also great additions. Add your own favorite spices and cheeses too, or whatever you have on hand.
Heat a heavy-bottomed pot over medium-low heat. Add the olive oil followed by the onions. Cook until the onions are fragrant and translucent, 4 to 5 minutes. Stir in the squash, potato, and carrot. Continue to cook for until the squash begins to soften, 5 minutes or so. Stir in the garlic, cook for a minute then add in all the spices, cooking for another minute more.

Add the wine, scrapping up any pieces stuck to the bottom. Allow some of the wine to cook out then measure in the vegetable broth. Bring to a boil, reduce to a simmer, and let cook until the potatoes are tender, 10 to 15 minutes.

While the soup simmers, heat 2 tablespoons of the oil in a frying pan on medium high. Add the collards and cook, stirring, until the collards become bright green and tender. Remove them from the heat and set aside.

Puree the soup using a blender or an immersion blender. Add in the coconut milk and continue to heat the soup until hot. Taste and add salt as needed (usually depends on how salty the broth is). Divide into two bowls and top with a drizzle of coconut milk, sprinkle of paprika.
Heat oil in a large pot over medium-high heat. Add bacon, and cook until crisp. Remove bacon from pan, crumble and return to the pan. Add onion, and cook until tender, about 5 minutes. Add garlic, and cook until just fragrant. Add collard greens, and fry until they start to wilt. Pour in chicken broth, and season with salt, pepper, and red pepper flakes. Reduce heat to low, cover, and simmer for 45 minutes, or until greens are tender.