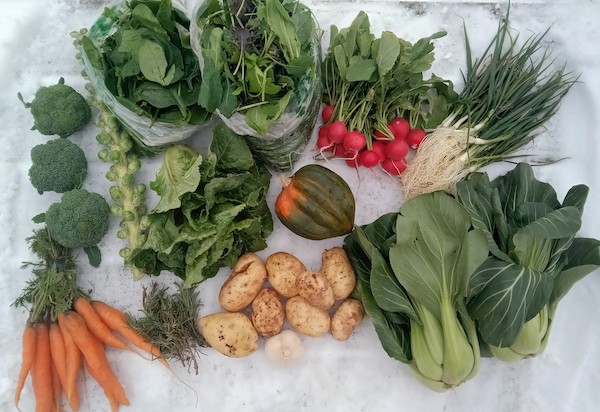 "Remember: Sometimes not getting what you want is a wonderful stroke of luck"
~Dalai Lama~
Fall Share Box 3 Crop List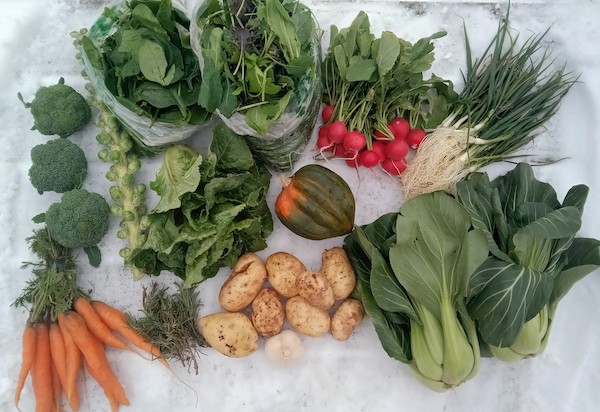 Potatoes
Winter Squash
Carrots
Garlic
Bok Choy
Romaine
Spinach
Greens Mix
Brussels Sprouts
Broccoli
Rosemary
Scallions
Radishes
Farmer Notes
*We have had some challenging weather for field crops lately – the spinach was washed one time, but is still a little dirty and very wet.  Please rinse it and spin it as soon as you can and it will last a week for you
*10 days of not getting above freezing and now several days of snow and some single digit nights – not many crops are able to remain in the field and survive under those conditions
*We have lots of salad greens for you this week – spinach, a baby kale medley, and the romaine.  Add scallions, carrots, radishes or broccoli if you want to
*Last of the Choy, lettuce, scallions and broccoli for this season
*I hope that a crop or two from the box can make it into your Thanksgiving meal
*Fall share box #4 will be delivered on Dec. 1st
Happy Thanksgiving everyone from all of us at Earth Dance Farm!!!
We have been doing nonstop field harvesting and covering for the last 10 days or so.  Many crops we had to harvest earlier than we would have liked to save them from the low temperatures.  Others were covered with 2 or 3 layers of Remay in an attempt to keep them alive during this cold spell.  Time will tell if they survive the upcoming single digit nighttime lows.  Farming certainly keeps us on our toes.  Every growing season is so unique with its challenges and its blessings.  Our dry Sept. and Oct. had a negative effect on several of our fall crops that struggled to put forth mature fruit before the weather turned (storage cabbage, much of the broccoli, and the kohlrabi are a few examples).  All in all it has been a wonderful year and there is plenty of food to see us through the Fall and Winter shares.
Stay warm, well fed, and in good cheer!
~Norm
Crop of the week – Broccoli
With snow on the ground, and temperatures indicating that winter is indeed here, it is amazing that broccoli has made its way into the box this week. It's looking great, and because of that, we have decided to make it the crop of the week. A stereotypical healthy food that is part of the brassica family, broccoli is high in fiber, Vitamins C and K, and a good source of iron and potassium. Broccoli is a low calorie food that has practically no fat, so it is a perfect choice for the health conscious.
Broccoli, in its more primitive form, can be traced back to the Roman empire. However it became more popular as people in Southern Italy and Sicily improved the crop via artificial selection into the vegetable we know today. It spread throughout Europe in the eighteenth century, and made its way to America with the tidal wave of Italian immigrants in the nineteenth century.
Broccoli can be eaten raw or cooked, and recent research suggests that a light steaming is the best way to get the most nutrients from the crop. Sauteed Broccoli with garlic is a simple and easy way to get a flavorful helping of vegetables. A cheesy broccoli casserole or broccoli cheddar soup is a great warming meal on cold days. It goes great in stir fries, can be a perfect side dish steamed then doused in butter, or can be chopped raw (or cooked for that matter) and be a not so usual addition to a salad. It is versatile, healthy, and in my opinion delicious so I hope you enjoy it and make good use of it in your meals these next two weeks.
-Farmer Dylan
Some Recipes To Try:
Preheat oven to 400 degrees F.

In a large bowl, toss broccoli florets with the olive oil, salt, pepper, and garlic. Spread the broccoli out in an even layer on a baking sheet.

Bake until the florets are tender enough to pierce the stems with a fork, about 15-20 minutes. Transfer to a serving platter and squeeze the lemon juice liberally over the broccoli.
Heat olive oil in a large wok or skillet over high heat. Stir in garlic and chili pepper; cook for 2 minutes, stirring frequently. Stir in broccoli; cook 1 minute. Add kale, and cook 2 minutes, stirring frequently. Stir in sun-dried tomatoes. Pour in lime juice, and season with salt to taste. Toss well.