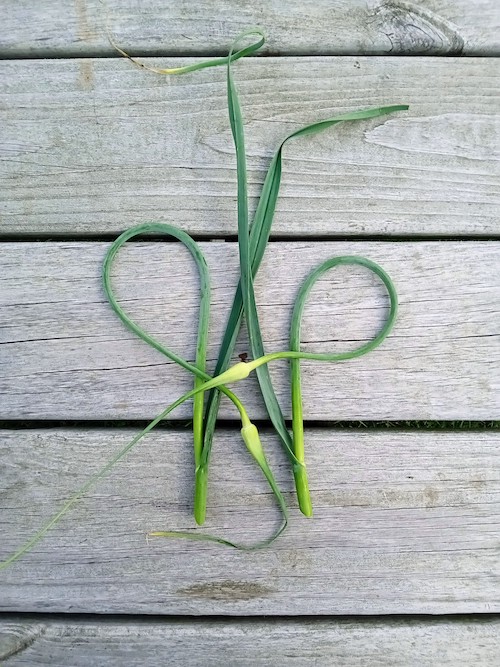 "Don't be satisfied with stories, how things have gone with others. Unfold your own myth."
Rumi
Summer Share Box 4 Crop List
Kohlrabi – All Shares
Romaine – All Shares
Shelling Peas – All Shares
Garlic Scapes – All Shares
Cilantro – All Shares
Kale – All Shares
Radishes – All Shares
Asparagus – Half Shares Only (not pictured)
Mixed Greens – Full & Flex Shares Only
Strawberries – Flex Shares Only
Napa Cabbage – Full Shares Only
Farmer Notes
*Last of the asparagus for 2022, it has been a good season for it!
*Garlic scapes are also all wrapped up – everyone gets some this week and it is our featured veggie
*Strawberries are finished now – not a great berry year with the cool, late Spring and lately such wet weather
*Kohlrabi is wonderful – crisp and sweet.  Other cruciferous crops are just around the corner:  collard greens, broccoli, cauliflower and cabbages
*Cilantro is this week's herb – use it with eggs, in salads and dressings, in tortillas and wraps.  Next week comes parsley and basil
*The shelling peas are sweet and delightful – eat the pea only and not the shell.  These are great in salads or as a side
*Crunch on radishes straight up or on a salad or even roasted.  A radish sandwich anyone?
*Our greens mix is red kale and a braising mix of mustards and Asian greens
*Napa cabbage and Bok Choy we will see again in the late Fall
*The summer squash/zucchini should finally grace your box in week 5
*We hope everyone is settling into the summer CSA season now and enjoying each box
*Make sure to wash the produce and return our boxes/ice packs each week
Westphalia, Iowa, population 126.  This is a small town, within a cluster of German Catholic colonies, in western Iowa's Shelby County.  Being the first settled, they were able to claim rights to the 4th of July celebration each year.  This year was a doozy – 150 years!  My oldest brother, Jerome, has been the Mayor for the last 35 years.  The first time he ran for the position, after that he was always a write-in winner, and never had the nerve to turn it down.  I think that he does a decent job at it, but says that this is his final term.
The celebration had many highlights:  a baseball game that featured my neighbor/1st cousin who pitched for the Yankees/Angels, a parade of 130 entrees (we had a family float that honored my 4 grandparent's families – Gross, Kaufman, Engel, Schneider), the famous broasted chicken supper, and an auction that raised $140,000 for the parish.  Rounding it out were lots of inflatables, raffles and games, bingo, beer garden and hamburger stand, and live music with street dancing.  Oddly there was no fireworks display involved, which was fine by me.  I ran into some old classmates, which is often a mixed bag. Diane and I enjoyed these festivities and time with family and also a needed couple of days off of the farm.  We hope that you all also had a relaxing, safe and fun 4th of July holiday.  We are coming into high summer now – enjoy the longer days and the delicious fresh food!
~Farmer Norm
Crop of the week – Garlic Scapes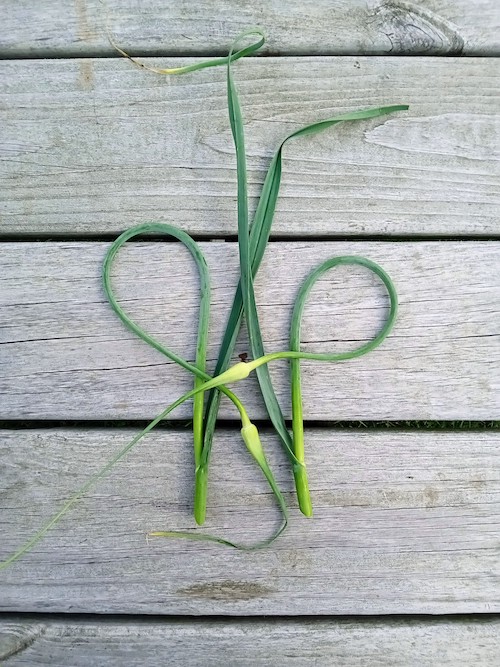 The featured crop for this week's share is garlic scapes. What are those you might ask? Garlic scapes are the tender stem and flower bulb of the garlic plant you know and love. Originating from east Asia, this quintessential seasonal crop is here today and gone tomorrow. Harvesting these curly cues at the right time is key, but if left on the plant too long you might be left with an underdeveloped garlic bulb and a tough woody scape. High in vitamins C and B6, these immune boosting cancer fighters are a great addition to a healthy diet. Scapes (also referred to as shoots or curls) have a more mild garlic flavor that has an asparagus-like texture. It can be used as a substitute for garlic, or shine brightly as the star of a dish. Season and grill it like you would asparagus, make a garlic scape pesto, pickle them, or you can make a compound garlic scape butter.
~Farmer Dylan
Some Recipes To Try:
Place the garlic scapes, Parmesan cheese, Asiago cheese, lemon juice, and pine nuts in the bowl of a food processor. Drizzle the olive oil over the mixture. Blend until the pesto is a brilliant green color and smooth in texture. Season with salt and pepper. Serve over pasta or spread on top of crusty bread!
Trim the garlic scapes, curl them up, and place them in a pint jar with a tight-fitting lid. We like to truly stack them on top of one another to make them pretty, and then fill in the center space with more tightly curled scapes, but you can also cut the scapes into bite-sized pieces and then just pile them in.

Work the chile, if you're using it, into the jar with the garlic scapes. Tuck it in the center, or work it in along the side of the jar so you can see it. (This is especially useful if you're making more than 1 pint and some have chile and some don't.)

In a small saucepan over medium heat, bring the vinegar, salt, and sugar with 1 cup of water to a simmer. Cook, swirling the pan if necessary until the salt and sugar are fully dissolved.

Pour the warm vinegar mixture over the garlic scapes in the jars to cover them (you may not use all of the vinegar mixture), but leaving about 1/2 inch of headspace at the top (between the top of the liquid and where the lid will be). Screw the lid on the jar. Let it sit until cool, then store it in the refrigerator for at least four weeks and up to six months to let the flavors blend and the garlic scapes to "pickle." The pickles will get more tender over time, but their flavor will stay garlicky strong.
Combine butter with the minced garlic scapes, in a bowl. Mix thoroughly, then add salt. Mix a second time ensuring the scapes are evenly blended with the butter. (You can use a stand mixer to mix the ingredients, if you prefer.)

Fold the entire mixture onto a sheet of clear plastic wrap.

Fold the plastic wrap over the butter (short ends in first) and begin to form the butter into a cylindrical roll with your hands.

After the butter is completely folded in the plastic, roll the mold to form your cylinder.

Wrap your compound butter roll in aluminum foil and store in the freezer. The foil will prevent the garlic aroma from leaking into the freezer and surrounding food. It will also keep your butter fresh.