"I don't have to agree with you to like you or respect you."
– Anthony Bourdain
Summer Share Box 1 Crop List

Braising mix – all shares
Red kale – all shares
Sage – all shares
Honey – all shares
Romaine – 2 heads for full shares, 1 for half shares, 1 for single shares
Pac choy – 2 for all shares
Asparagus – full shares & single shares
Strawberries – all shares
Chives – full shares
Collard greens – full shares
Farmer Notes
WELCOME to our 2018 summer CSA produce season!!
We reuse our plastic coated boxes, ice packs, and egg cartons so please return them to us in good condition.  A video showing the collapsing of the boxes is on our Facebook – do not tear the tabs or pull up on them. Rather, slide the tabs back out of their slots.
Only take the box with your name on it. Please leave the tape on the box for reuse each week.
Please use intention and care when picking up your produce from someone's home or business, help keep a tidy pick-up spot.
Do not take eggs unless you have signed up and paid for them, these are an add-on item and not a part of the regular produce share.
Flex Shares are only on even deliveries and begin next Thursday, June 28th.
We have been hit by heavy rains the last several nights. Strawberries have much moisture and should be eaten asap.
Half shares will get asparagus next week.
Honey is raw and unpasteurized and not recommended for pregnant women. I only heat it enough to pour.
Please wash all your produce before you eat it.
Enjoy and have a fantastic week!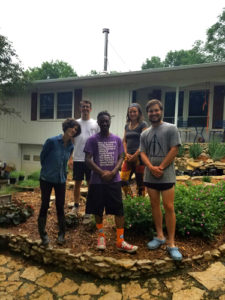 A few days ago Diane and I were ritually harvesting our daily asparagus and I was pondering the 'most important' aspect of our CSA. Surely, I thought, it is our members who join us on this venture and provide the financial foundation for us to operate. Or our interns who tirelessly (oh no, that is not completely accurate as they do indeed get tired) labor to plant, water, weed, harvest, and pack the crops all season long. Then there's the weather that needs to give us the temperatures, water, and sun – but please no hail, damaging winds, drought, or floods – and how about my own health and sanity to keep it all together. I am viscerally aware of all the blessings I count as mine as we embark on our 13th year of growing sustainable produce to bring to our local community. I thank you from the bottom of my heart for partnering with us for this season!!
We planted a perennial herb garden in a field near our bee yard last season. It was rewarding work as the apple mint, marjoram, oregano, sage, thyme, hyssop, loveage, savory, and rosemary (not perennial) joined our existing mountain mint and chives and thrived. Over the winter the oregano and marjoram died out so this spring we replanted them along with the rosemary and added 150 new chive hills and tarragon. We noticed how beautiful and 'in season' the sage seems to be so we are giving you a large bunch of it in box #1. I have always considered it a fall herb, but we will give you ideas and recipes to use in the early summer. In a pinch you can always dry it in a well-ventilated area and crumble it into a baggie/jar to use later on.
– Norm
Crop of the week: Sage
Sage is a hardy perennial herb that offers great benefits for human health. It is good for your skin and is known to boost cognition, strengthen the immune system, treat inflammation, and contain antioxidant properties. It is part of the mint family and is closely related to Rosemary. They are often referred to as "sister herbs."
Not all varieties of sage are of culinary use but the most popular kitchen sage is called Salvia officinalis, which is included in this week's box. It is a very versatile herb and is used in a wide variety of dishes. Items it pairs well with are meats, eggs, potatoes, beans, fruits, soups, pastas, and even some desserts. Sage is also great for steeping into tea or simply adding it to a glass of cold water.
Some recipes to try with your sage:

Melt the butter in a medium saucepan set over low-medium heat. When butter begins to get just slightly bubbly, add the chopped garlic clove.

Stir the garlic in the butter for 1 minute.

Add the chopped sage to the garlic butter and continue stirring and cooking the mixture for 1 to 2 additional minutes, until the butter has turned very light brown and has a rich, nutty aroma.

Season with the black pepper.
This can be used for sauteing any kind of meat and/or vegetables, and is great over cooked pasta with some grated Parmesan!
Add sage, parsley, Parmesan, walnuts, garlic, and salt to a food processor.

Pulse to a gritty texture and then gradually add olive oil until it has the consistency you're looking for.
This can be smeared on sandwiches or even just a piece of toast! Sage pesto would also be good for tossing cooked pasta in.
Fill a small mason jar 1/3 the way full of chopped fresh sage and 2/3 the way full of honey.

Cover and let sit overnight in a cool, dark place.

In the morning, uncover and strain out the sage leaves and then it's ready for use.
Some things you can use this honey for are mixing into your warm tea or coffee, drizzling it on a yogurt parfait or ice cream, or maybe a peanut butter honey sandwich!