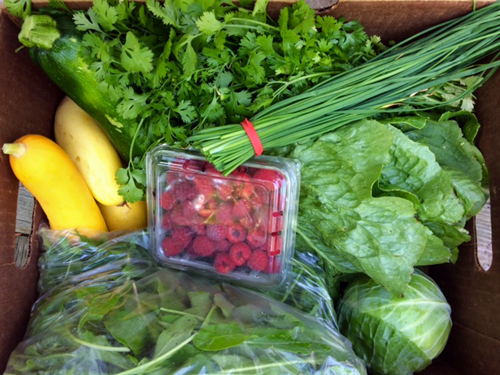 "Uniformity is not nature's way; diversity is."
– Vandana Shiva
Summer Share Box 4 Crop List

Romaine – all shares
Arugala – all shares
Cilantro – all shares
Basil – all shares
Brassica farmer's choice (mini cabbage/broccoli/kohlrabi) – all shares
Summer squash/zucchini – all shares
Chives – all shares
Raspberries/eggplant – all shares
Radishes – single shares
Hungarian hot wax peppers – single shares
Bell pepper – full shares
Scallions – full shares
Farmer Notes

We are having a tough year with the spring cole crops: April was terribly cold and most of these crops got into the field late. Then we had some stretches of hot weather in May and June and very wet conditions. Broccoli is poor, cabbage is weak and kohlrabi, is late. These crops will reappear in the late fall in much better shape.
Berries do not have a long shelf life – we harvested on Monday and again on Wednesday. Please eat them up straight away. Those who received eggplant instead of raspberries will get raspberries in box 5.
Lots of beautiful summer squash that is our 'crop of the week.'
Enjoy arugula with your romaine in a salad.
Romaine is showing some wear in the field – they will come again in the fall … in the meantime we have summer varieties in the ground.
Pesto bunch of basil means it is a big bunch to make pesto with. You can also just hold it in water on the counter and use for the week, or hang it to dry if you are busy. We have 2 more plantings to go with tomatoes and peppers.
Our first of two 'member work days' is Friday July 27th – check out our website and email us if you have an interest in participating.
Enjoy the food after you wash it thoroughly.
The dawning of a new dusk
Sure, we always had a yard light growing up on the farm. It was right in the middle of our yard – our farm yard, not our lawn yard. We used it a lot, too, since we were often out late doing chores and such, especially during the cold winter months. As a lad it always helped to ease my fear of going out to close the chicken barn doors after darkness had fallen. That light had a switch right inside of our front door. Whoever was last in from outside duties had the responsibility to turn it off. Too many times the folks had to shut it off before retiring to bed.
We had a yard light here on this farm also – most farms do. They go on automatically when it gets so dark and go off again in the morning when it gets light enough. Seems reasonable, most folks do not question it. Homeowners are not given a choice to put it on or off at their own choosing. We had ours 'retired' a couple of weeks ago and have been amazed to see a more natural progression of day into night. It was immediate and really not all that subtle – seeing the light fade for a much longer period of time, noticing new shades, shadows, shapes, watching the light merge into the dark. And then out come the fireflies to cheer the heart of a weary farmer – and god, oh dear god, the stars!
It is amazing, and a bit sad, that there is still plenty of light from Spring Valley, Rochester, and Stewartville to help one find their way around the farm. Sleeping in more of a natural darkness also seems more normal, more peaceful – even though I did run into the damn bathroom door two nights ago.
Darkness has many different connotations for most of us: darkness as sin, evil, that which to shun, also it is the unknown, the unseen, the mystery, and finally it is peace, comfort, rest – a place of rejuvenation, chrysalis, rebirth, possibility, and hope. Without darkness we cannot know or see light.
~Norm
Crop of the week: Summer squash
Summer squash is one of the oldest known crops still found on our plates today. An important part of the diet in many regions of Mexico and Central America, the squash was first eaten at least 10,000 years ago and was so prevalent that Spanish travelers brought it back as one of the first crops
from the 'New World' in the 1500s. Today, 'summer squash' is a name given to a number of different types of squash, a few of which are grown here at Earth Dance Farm. One of the most commonly known varieties is the zucchini, which was first bred in Portugal in the late 19th century. It is one of two main types of squash found in this week's box, along with the straightneck squash.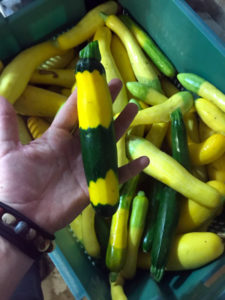 Unlike the winter squash, summer squashes are fast maturing and have thin rinds that are eaten with the rest of the gourd. In fact, the rind contains many of the squash's nutrients, which include magnesium, potassium, and Vitamins A and C. Summer squash blemish easily so they are best kept unwashed in a cool (but not too cold) refrigerator. They will typically last in this state for a few days before going bad. Squash can be eaten raw or cooked, and is especially good grilled. Any leftover squash can be easily frozen but this softens their flesh, making them ideal for baking breads or muffins.
Some summer squash recipes to enjoy:
Prepare the zucchini: Trim ends and cut zucchini the long way into 1/4-inch strips. Spread out strips on a large tray and brush lightly with olive oil and season well with salt and pepper.

On a grill or a grill pan, grill zucchini in a single layer until grill marks appear underneath, then flip over and repeat on the other side. Transfer zucchini to a platter and squeeze lemon juice over it.

Meanwhile, in a food processor or blender, combine basil and garlic with a few pinches of salt and black pepper until chopped. Drizzle in olive oil until it blends smoothly. Add 1 tablespoon vinegar and blend until well-mixed; taste and add more vinegar to taste. Season to taste.

Combine beans with about 2/3 of the dressing in a small bowl. In a larger bowl or serving platter, pour half of dressed beans in the bottom. Arrange grilled zucchini on top. Spoon remaining beans in the spaces. Drizzle the remaining dressing over the platter, to taste.

Finish with a light blanket of Parmesan and eat hot or at room temperature.
Using a large, ovenproof frying pan, heat 1 Tablespoon of oil to medium high.

Arrange squash (and any other veggies) in pan, add water and season lightly with salt, pepper, and basil.

Cover and cook over medium heat for 5 minutes, or until tender crisp.

Sprinkle with cheese and drizzle with remaining oil. Place under a preheated broiler and broil until cheese melts and browns slightly.
Preheat oven to 325 degrees F. Grease a 9x13 inch baking pan.

In a large bowl, beat eggs until fluffy. Beat in the sugar, oil, and vanilla

Gradually mix in the flour, baking powder, cinnamon, and nutmeg. Fold in the squash. Transfer to the baking dish.

Bake 45 minutes, until a knife inserted in the center comes out clean.