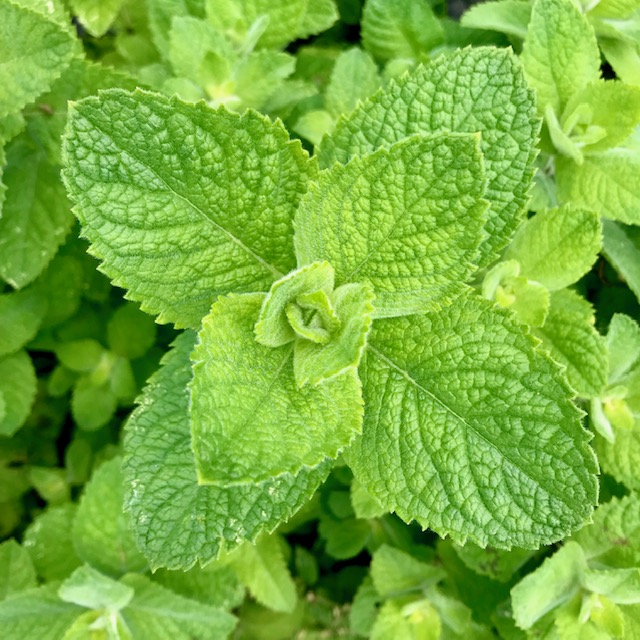 "I am larger, better than I thought; I did not know I held so much goodness."
~Walt Whitman
Summer Share Box 1 Crop List
From left to right, top to bottom:
Romaine lettuce – Full shares get 2 heads, Single shares 2 heads, Half shares 1 head
Honey (raw, unpasteurized) – All shares
Spinach – All shares
Popcorn – All shares
Napa cabbage – Full shares
Green kale – All shares
Asparagus – Full and Single shares
Collard greens – All shares
Sage bunch – All shares
Marjoram bunch – All shares
Strawberries – Rochester/Austin/Chatfield/Racine shares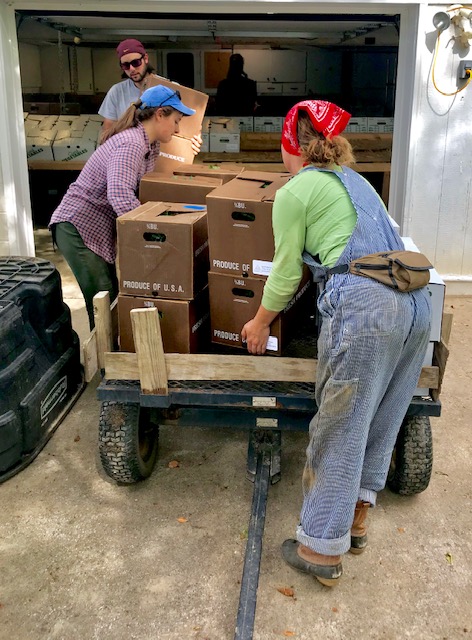 Farmer Notes
Flex (bi-weekly) shares begin next Th. June 27th.
Honey has never been boiled, which pasteurizes it and also kills many of its nutritional and medicinal benefits. It is not recommended for pregnant women.
We have a popcorn video on our Facebook here. This is a great activity for the entire family!
Our 'crop of the week' is "herbs".  Our recipes, photos and article will focus on these with helpful info on how to cook with them fresh and how to store them for later use.
Our six awesome interns are getting our crops planted in the field and the beds hoed and weeded – we are all in for a fantastic season!
Lots of salad fixings in this week's box – try some fresh herbs on a salad and use some of the honey to make a dressing.
Asparagus for the half shares in box #2.
After you break the bottom fibrous part off of the asparagus, peel those bottom parts and enjoy the crunchy flesh as a snack.
Eggs are a separate share from the produce box, please do not take eggs unless you have signed up and paid for them.
Please collapse our waxed box carefully so as not to tear anything – return them and the ice packs each week for reuse.
As always, wash all of the produce thoroughly before you eat it.
Warm greetings everyone from Norm the Farmer, and a hearty welcome to our 2019 Community Supported Agriculture growing season – we are thrilled that you have joined us!!  After a long, cold winter of record setting snowfall and a moderately cool and wet spring we are excited to welcome summer – a happy summer solstice to you all!!  It is always a milestone of sorts to be delivering the first summer box after a winter of planning and organizing and a spring of planting in the germination chamber, the greenhouse, the hoop house, and finally getting the crops into the open fields to mature.  I am pleased to say that the crops are looking great and we are well on our way to a fantastic season of great produce.  It is my hope that you can enter into this season wholeheartedly and embrace the opportunity to cook more creatively, eat more sit-down meals as a family, and just enjoy the simple pleasure that eating real food can bring.   We are here to help:  our main job is to produce the most nutritious and freshest produce that you can find, but also to offer recipes, give information about a particular 'veggie of the week', give helpful ideas for pairing/cooking/storing crops, and to open our farm up for visits, work opportunities and a fall party.  This year we will share a short monthly video of one of the farmers cooking a meal (we all take turns cooking an evening meal and eating together).  This will be another chance to connect with you and to say "We are cooking and eating this produce too."
We invite you to be involved – let us know how we are doing, comment and post on Face book and Instagram, share recipes that seem to work for your family.  You are a family, and we are a family.  We all eat food and we want to make better choices about what we eat.  We want to be healthy and to live a vibrant and full life.  We are in this thing together.  Thank you for letting us into your home this season!!!
Your Farmer,
Norm 
Crop of the week – Herbs 
"In general use, herbs are plants with savory or aromatic properties that are used for flavoring and garnishing food, medicinal purposes, or for fragrances; excluding vegetables and other plants consumed for macronutrients. Culinary use typically distinguishes herbs from spices. Herbs generally refers to the leafy green or flowering parts of a plant (either fresh or dried), while spices are usually dried and produced from other parts of the plant, including seeds, bark, roots and fruits. Some plants are used as both herbs and spices, such as dill weed and dill seed or coriander leaves and seeds. There are also some herbs, such as those in the mint family, that are used for both culinary and medicinal purposes. Culinary herbs are distinguished from vegetables in that, like spices, they are used in small amounts and provide flavor rather than substance to food."
Not only do herbs add incredible flavor to all kinds of food dishes, they have also been used as medicine for many many years and are valuable to your health. There are an overwhelming amount of herbs that exist but some of the common ones(also herbs that we grow here and will be giving throughout the year) include: Sage,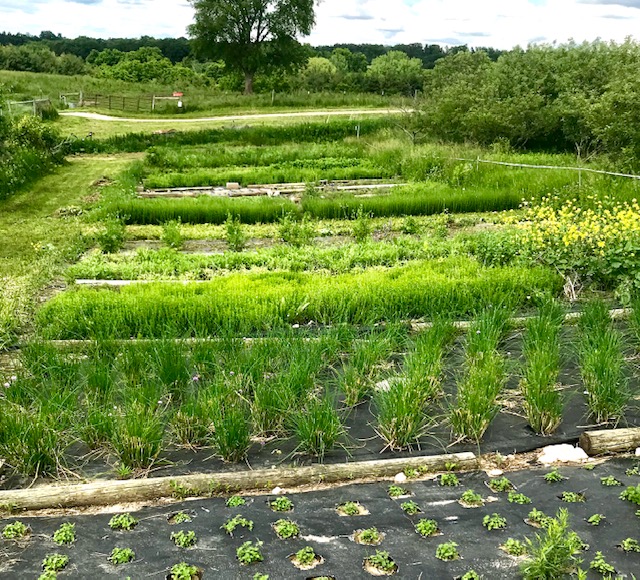 Oregano, Marjoram, Thyme, Rosemary, Mint, Basil, Parsley, Cilantro and Savory. If you are unfamiliar with herbs or don't use them regularly, it can have you feeling stumped as to what to do with them. Well, I am here to give you a little insight and encourage you to be creative in finding ways to use them up! For starters, fresh herbs are always the best when it comes to potency and flavor but they don't stay fresh forever so drying them is always an option for extended shelf life. Dried herbs are still plenty flavorful for up to a year. The best way to store your fresh herbs upon use is in a container in the fridge. If you plan to dry them, that can be done in a dehydrator or you can hang them to dry in a well ventilated area. Once they are nice and crisp they are ready to be stored in the cupboard or pantry in a glass jar or plastic zip lock. As far as what to use them in- I honestly put herbs in/on just about everything I cook. I sprinkle some on top of my morning eggs, sautee them in with my veggies, add them to soups, salads, pastas, any kind of potato dish(herbs and potatoes always pair very well together). Another great way to use them is by making herbal teas. Those are just some examples. Knowing which ones to use for whatever dish you choose is entirely up to you! Its good to get to know the smell of them to familiarize yourself and that will help you know what you might pair it with, or simply trying one of the leaves to get to know the flavor.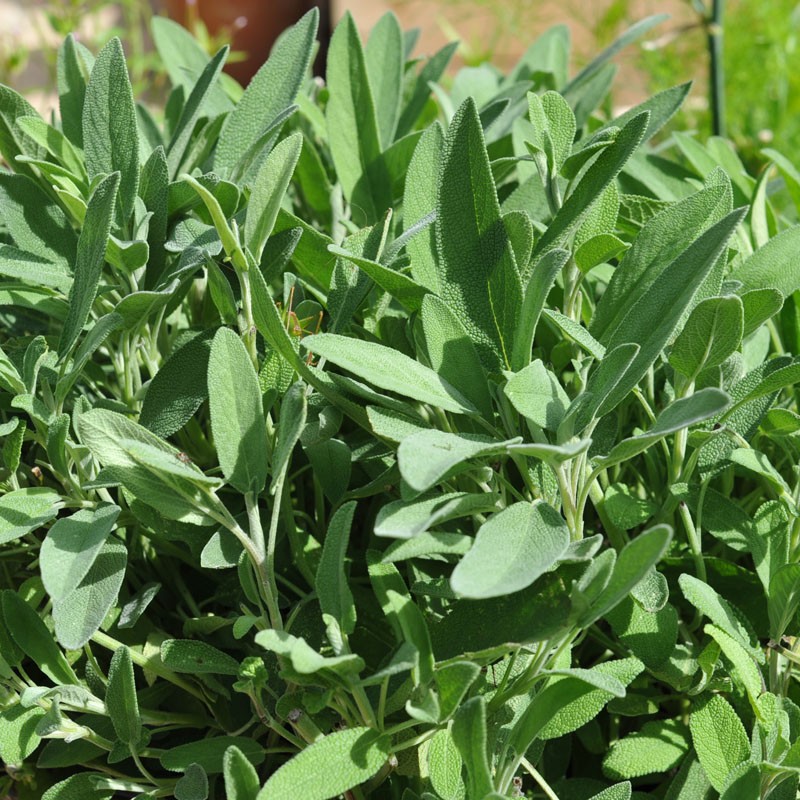 The herbs you are receiving this week are Sage and Marjoram. Both are a part of the mint family and have culinary and medicinal uses. Marjoram is very similar to Oregano, actually so familiar that it's hard to tell the two apart. Marjoram is commonly used in Italian and mediterranean dishes or any kind of tomato based dish but also goes well in plenty of other styles of food. It is actually native to the mediterranean region and many of the people believed that this herb had the power to banish sorrow. The name Marjoram is a Greek word that means "joy of the mountain." Sage is very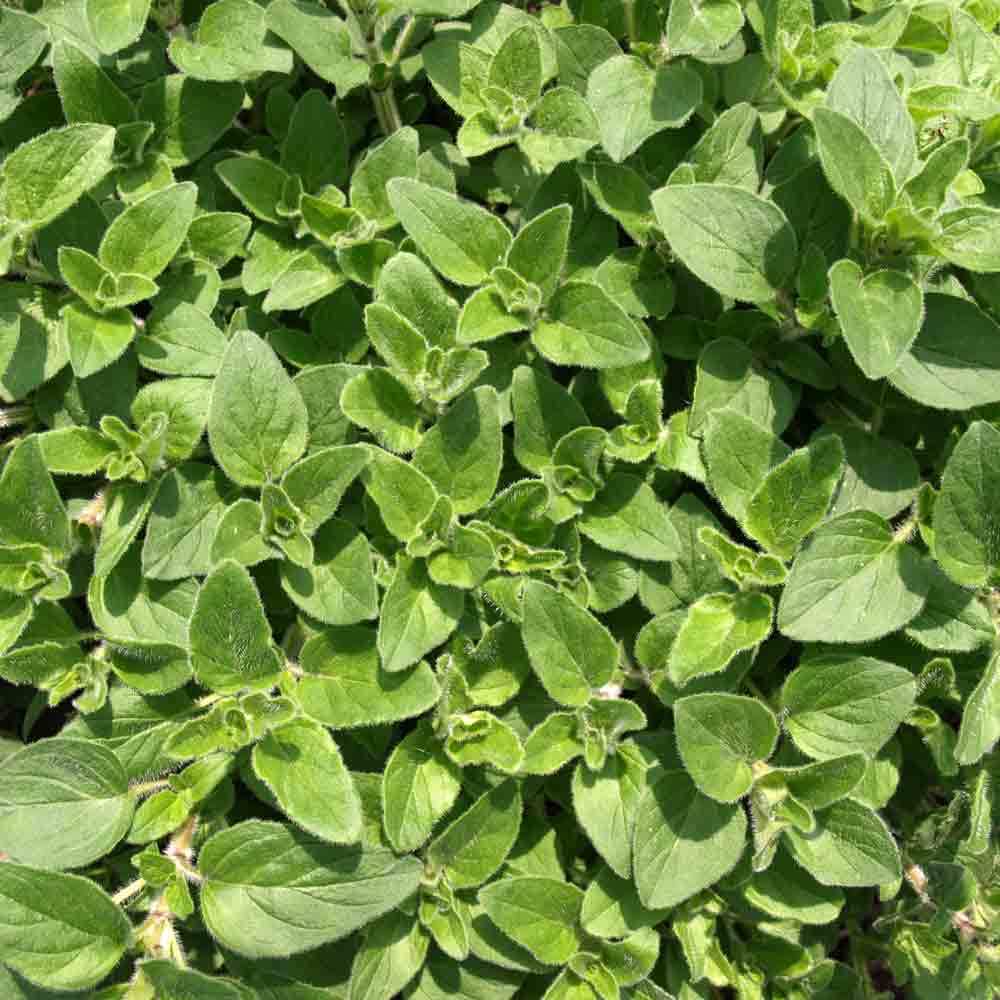 versatile and can be added in just about any savory dish to amp up the flavor, although it is commonly paired with meats and vegetables. As for medicinal uses- Marjoram has been known to help with coughs, headache, insomnia, menstrual cramps, nausea, and joint and muscle pain by drinking it as a tea or adding it into your food. Sage is a very powerful herb and is always a go-to for many herbalists. This antioxidant-rich, woody perennial is known to boost cognition, treat inflammation, improve bone health, strengthen immunity, and aids in digestion, which can also be made into a tea. It also helps treat skin conditions like eczema, psoriasis and acne when made into a salve. Making pestos with herbs is also wonderful and highly recommended. Check out our recipes for some ideas!
Your Farmer,
Vanessa
Some recipes to try:
Mix together all ingredients except the olive oil.

Slowly whisk in the olive oil until the dressing thickens and forms an emulsion.

Taste and adjust quantities as desired.
Lemon, orange, or lime juice can be substituted for the vinegar.
Add fresh herbs to the dressing to create endless variations!
Store in the refrigerator for up to 2 weeks.
Mince the garlic and the walnuts in a small food processor.

Chop the sage and parsley by hand then add with the salt and pepper into the food processor and blend in short bursts while pouring in the olive oil.

Store in the refrigerator for up to a week.
Preheat oven to 275 F for a metal pan or 350 F for glass.

Roll out pastry dough and transfer to a 9-inch quiche dish or pie pan. Ease dough onto bottom and sides; prick the bottom and sides with a fork.

Partially bake until the crust just starts to get some color, about 12-15 minutes. Let cool slightly.

While the crust is baking, in a large bowl beat the eggs and half and half lightly. Add salt, pepper, marjoram, onion, green pepper, mushrooms, and collard greens. Set aside.

In a small bowl, mix cheeses together. Sprinkle half the cheese onto the piecrust and add the remaining cheese to the egg mixture.

Add the egg mixture to the piecrust; top with more cheese if desired.

Bake until a knife can be inserted near the center and come out clean, about 45-60 minutes. Let sit 10 minutes before cutting into wedges.
Quiches are one of those dishes that are super customizable. Don't like green peppers? Leave them out. Have extra tomatoes or spinach in the fridge? Add them! Bacon or ham are also great additions. Add your own favorite spices and cheeses too, or whatever you have on hand.