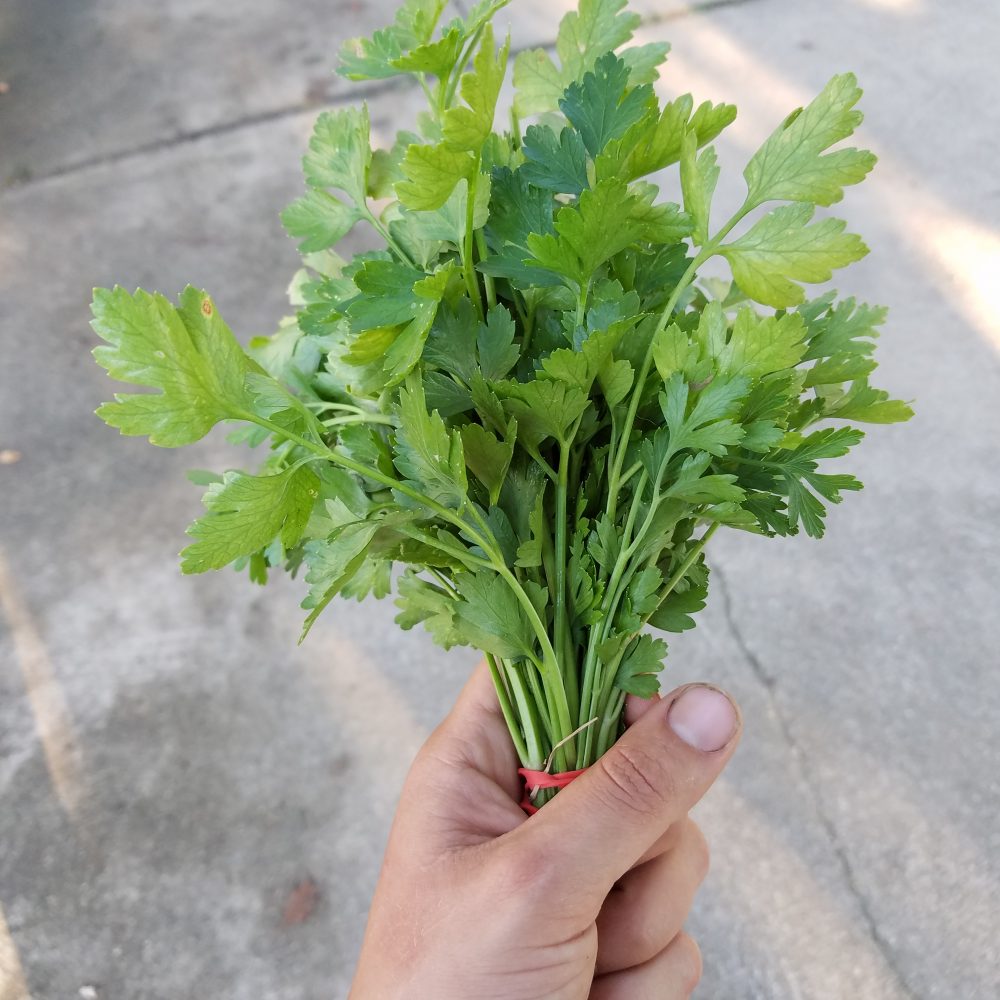 "The world offers itself to your imagination;
calls to you like the wild geese, harsh and exciting –
over and over announcing your place in the family of things."
– Mary Oliver
Summer Share Box 12 Crop List
Romaine Lettuce – All Shares
Beets – All Shares
Slicing Cucumbers – All Shares
Squash/Zucchini – Full and Single Shares
Eggplant – Single and Half Shares
Sweet Onions – All Shares
Slicing Tomatoes – All Shares
Mini Tomatoes – All Shares
Potatoes – Full and Single Shares
Green Beans – Full Shares
Melon – Full and Half Shares
Peppers – All Shares (Poblanos to Single & Half Shares/Bell, Hot Wax, Italian Frying to Full Shares)
Parsley – All Shares
Farmer Notes
~Our farm party is this Saturday during the afternoon hours, try to stop by if you get the chance
~Week 12 already of summer CSA 2019, 6 more boxes to go!
~Man, one can really notice the shorter days already
~Everyone will receive fennel and green beans next week
~Parsley is not just a garnish, it is wonderful in dishes hot and cold.  It is our vegetable of the week!
~Beets grew to a good size with all of this year's rain – the greens are also very nutritious sautéed or in a salad
~The mini tomatoes can be put in the oven until they begin to shrivel and used with olive oil in pasta, on a sandwich, or on pizza  … to die for!
~The last of our sweet onions for this year, but boy have they been good!
~Melons are a mix of canteloupe, honeydew, or a Korean variety
~The last week to order canning tomatoes is next week, box 13
~Potatoes are the last of the Red Norland and the beginning of our white Cascade
~Remember to wash your produce and to return our boxes and ice packs
Changing Seasons
I hope that all of you had a wonderful Labor Day weekend and have returned energized for the forthcoming fall season of school, projects, or whatever is on your agenda.  Here on the farm we have 2 new interns, Lily and Fabiola, who have been working hard already this week. The fields are producing wildly and most of our time is spent bringing in the fruits of our labor to be cleaned and boxed or dried/cured and put away into storage.  The garlic was dug last week and is laying on racks in our dehydrator and the storage onions are dry and ready for clipping and bagging until the Fall Share period in Nov./Dec. Several of our fields have been planted in cover crop ranging from buckwheat/cow pea, oat/field pea, or a vetch/radish/rye cocktail.  Our hoop house has its second round of cover crop planted as well as some elemental sulfur to bring down the ph and green sand to increase potassium. Other harvested areas have been mowed in order to keep weeds from going to seed. The next 2 days we do the last of our major planting with bok choy, romaine and kohlrabi going in as starts and radishes, arugula and red kale going in as seed.  We have plenty of work ahead, but we can certainly see and feel the growing season begin to wind down. Still lots of new crops as we edge into fall: fennel, carrots, winter squash, garlic, Brussels sprouts, leeks, rutabaga, turnips, dry beans, pumpkins etc.
We are hoping you are having a good season of produce so far!!
~Norm
Crop of the week – Parsley
Parsley or garden parsley is a species of flowering plant in the Apiaceae family that is native to the central Mediterranean region, but has naturalized elsewhere in Europe, and is widely cultivated as an herb, a spice, and a vegetable. Parsley is a popular culinary and medicinal herb recognized as one of the functional foods for its unique antioxidants, and disease preventing properties. It is widely and most commonly used as a garnish, simply sprinkled on top of a dish yet it is good for so much more! Parsley is a great flavoring agent in the preparation of vegetables, chicken, fish, and meat dishes in general but is great in all kind of dishes across the board, hot or cold! I have recently tried making a parsley pesto and it turned out much better than I anticipated, check out the recipe below and maybe try it out. 🙂
This healthy herb is a good source of minerals such as potassium, calcium, manganese, iron, and magnesium. Additionally, is also rich in antioxidant vitamins like vitamin A, B-carotene, vitamin-C, vitamin-E, zeaxanthin, lutein, and cryptoxanthin and is an excellent source of vitamin K and folates. It is, perhaps, the richest herbal source of vitamin K! Might I mention its medicinal properties as well; the leaves, stalks, and roots have antiseptic and carminative properties and is known to reduce blood sugar levels in diabetics.
Parsley is best stored in the fridge inside a container with a slightly damp paper towel or dried in an airtight glass container, however dried parsley is nowhere near as potent or flavorful as the fresh stuff. I hope you are able to find some creative/new ways to use up this leafy green herb!
~Farmer Vanessa
Some recipes to try:
Put the walnuts, parsley, cheese, garlic, lemon juice, and salt in a food processor and pulse for a few seconds to combine. Scrape down the sides of the bowl, then pulse again.

Drizzle in the olive oil while the machine is running just long enough to incorporate the oil, about 20-30 seconds.

Use immediately or cover with plastic wrap and refrigerate to store. Will last several days chilled.

Use with pasta or as a spread on bread or toast, or try using as a base sauce for pizza. Enjoy!
Prepare a grill for medium-high heat; lightly oil grate. Grill beets, turning occasionally, until skin is charred and flesh is fork-tender, 50–60 minutes. (Alternatively, you can tuck vegetables into coals left over from grilling something else. Wait until charcoal is completely covered with ash and no black spots remain. Shake grill to knock excess ash off coal, then rake them around and pile them up around vegetables.) Let cool slightly.

Halve beets; scoop flesh into a food processor. Add lemon juice, tahini, and garlic and process until smooth; season with salt and pepper.

Drizzle baba ghanoush with oil and top as desired. Serve with flatbreads or pita bread. Dip can be made 3 days ahead. Cover and chill.
In a small bowl, combine the oil, lemon juice, sugar and pepper. Slice cucumber, then cut into quarters.

In a serving bowl, combine cucumber and melon. Pour dressing over all; toss gently to coat.