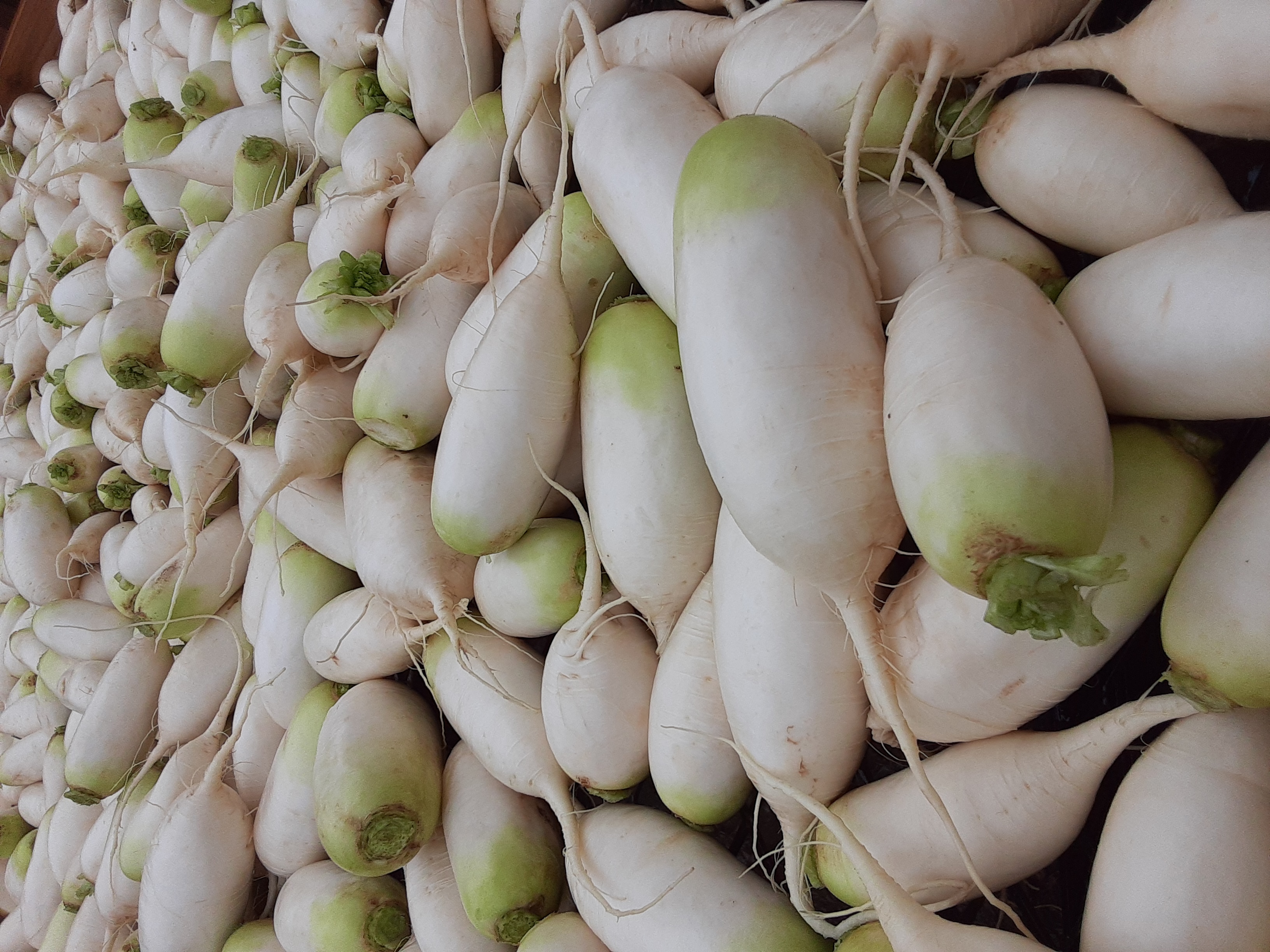 "Only to the extent that we expose ourselves over and over to annihilation, can that which is indestructible in us be found."
~ Pema Chodron
Fall Share Box 3 Crop List
Winter Squash
Napa Cabbage
Green Cabbage
Kohlrabi
Leeks
Beets 

or

Turnips
Rutabaga
Kale
Chard
Spinach
Daikon Radish
Broccoli
Rosemary
Cilantro
Farmer's Notes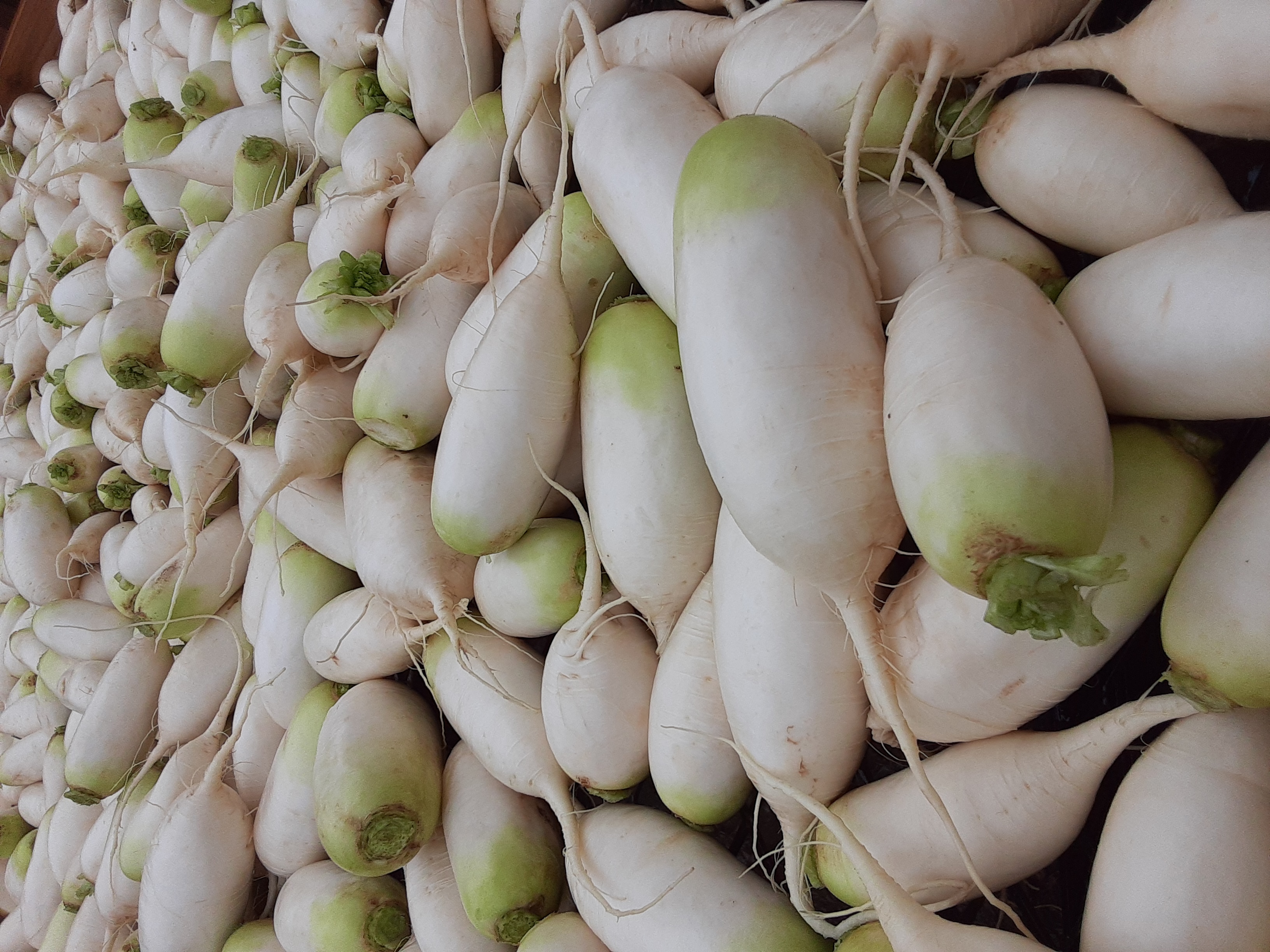 *Daikon radishes are beautiful – they are great raw or in a salad, pickled, or roasted
*Taking a week off of potatoes and carrots, they will return for weeks 4 and 5
*Spinach may have some leaves that have been damaged by freezing temps – rehydrate and sort as you wash
*Broccoli also has some freeze damage, please eat it sooner than later
*Kale could benefit from an ice water bath to rehydrate
*Last of the cilantro and swiss chard for 2020
*Kohlrabi, napa, and green cabbage are all wonderful late season crops – make some delicious coleslaw!
*Leeks are good in soups or sauteed into eggs – next week the'll be accompanied by potatoes
*Rutabagas are starchy tubers, they can be roasted or mashed like potatoes
*Roast a pan of rutabagas, beets, kohlrabi, squash, leeks, broccoli and daikon together on a cookie sheet and enjoy
*Please return our boxes and ice packs each week
Here are some suggestions for storing your produce. Please note that depending on the settings for your fridge(ie: temp very low) some of this advice could use a little wiggle room.
Beets- for fridge storage, first wash your beets well removing any dirt. Next, allow them to air dry and cut the greens leaving 2 inches connected to the beets. Note the greens are similar to chard in both storage technique and culinary uses. After the beets are completely dry, place them into a Ziploc bag and in your crisper drawer. Like this, they should last 2 to 3 weeks. Beets can also be blanched, cooled, peeled and placed into a freezer. Pickling beets is also a common long term option.
Herbs- it is best to either dry your rosemary or place it stem down into a shallow cup with just maybe an inch of water. The latter will also work for cilantro. These will be fine at room temperature. Cilantro can also be wrapped in a paper towel, placed into a container and into your fridge.
Cabbage- a whole, unwashed cabbage can be placed straight into a plastic bag and into a crisper drawer with a higher humidity setting. Note that cut cabbage won't last as long in the fridge and it also loses vitamin c as it deteriorates. To freeze your cabbage for longer storage you will first need to blanch it after it has been cut into quarters. Once that is done, you will then need to cool them in ice water, pat the sections dry and place them on a cookie sheet in a single layer. It is best to use a sheet of parchment paper so the cabbage doesn't freeze to the cookie sheet. Place this in the freezer for 12 hours and then store in freezer bags.
Kale- kale also does well wrapped in a layer of paper towels and placed in a crisper. Kale can also be blanched and placed into bags and should last in a freezer for around 8 months.
Rutabaga- this crops does best in a root cellar where there is usually a low temperature near freezing and high humidity. For those without the luxury, it is best to wrap the veggie in plastic wrap or placing it in a plastic bag and put into the fridge. This should help it stay firm.
Chard- this does best wrapped in a paper towel or plastic bag and placed in the fridge. It can be blanched for longer storage in the freezer.
Daikon- does well in the fridge but should be wrapped once it has been cut. Apparently, daikon can release a strong smell once it has been cut!
Broccoli- broccoli will stay fresh for 3 to 5 days unwashed and wrapped in a DAMP paper towel in your fridge. For similar shelf life, place your heads in a small jar or vase stem down into an inch or so of water and put into your fridge. Broccoli can be blanched and can last for up to a year in a freezer if stored in an airtight container.
Leeks- the paper bag method can be used with these as well and should be good for up to ten days as long as they are not cut or washed before hand.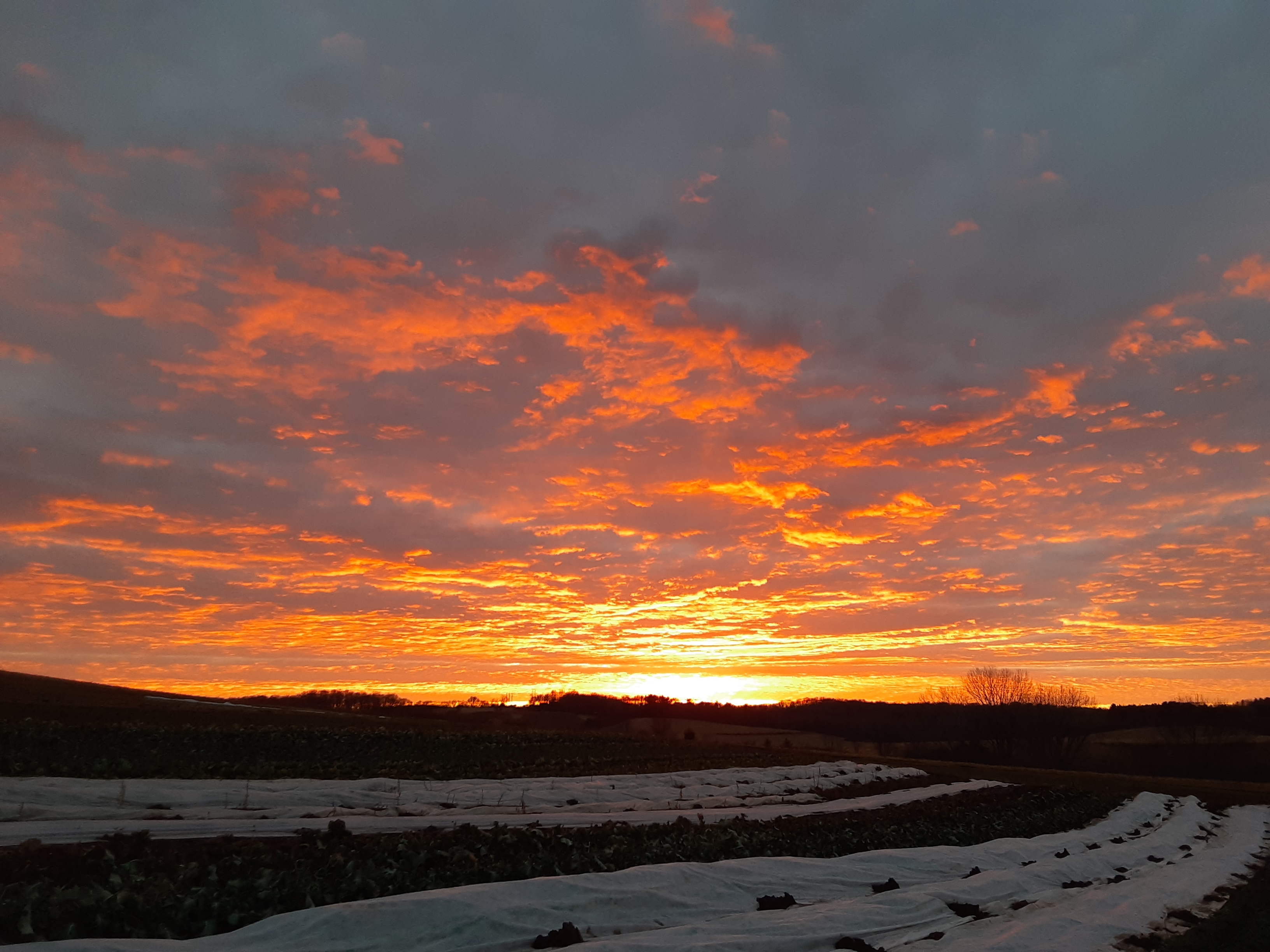 Some recipes to try:
1. Peel the radish and then slice it thinly as desired. 2. Sprinkle with salt and leave for 2 hours in order to draw out moisture. 3. Place the salt, sugar, vinegar, water and chillies in a saucepan and bring to a boil. 4. Continue stirring the pickling mixture until all the salt and sugar have dissolved. Set aside to cool down. 5. Squeeze the excess moisture out of the radish. 6. Layer the vegetable along with sprinklings of dill in a sterilized, airtight storage container. 7. Pour in the pickling liquid, ensuring all surfaces of the radish are covered. 8. Wait for at least 2 days, but preferably 1 month, for the flavors to develop. Serve with a bowl of rice, miso soup, stir fry, or any kind of pad thai/peanut noodle dish.
Peel the rutabaga and the onion and thinly slice them.

Preheat the oven and add butter and oil, and once they've melted, add the onion slices and let them brown for a few minutes (approx. 10 min).

Then take them out and put them in a small bowl.

Now, this is my favorite part: in a pan, place one layer of rutabaga slices, then another of sautéed onions, and then another one of rutabaga slices.

Cover the pan with a lid and leave it on medium heat for 15 minutes.

Afterwards pour three whisked eggs on them and put the dish to the oven for 5 minutes. until the eggs become brown at the top.

Season with salt and pepper.
Blend together the flour and salt in the bowl of a mixer or food processor fitted with a steel blade. Work the flour and salt until blended, and with the machine on, add the butter on piece at a time. Add the sour cream or yogurt, and blend until the dough forms a ball, less than a minute.

Roll out the dough onto a lightly floured work surface into an 11 to 12 inch wide circle about 1/ 8 inch thick. Fit into a 9 inch tart or pie pan, trimming the overhand to 1/2 inch over the sides. Fold the edges under and crimp the edge of the dough. Refrigerate while making the filling.

Clean the leeks by slicing lengthwise and run under cool water to remove any grit. Pat dry, and slice the white portion into ½ inch sections, including about an inch of the green. The very top green is not as tender, reserve for soup stock.

Melt the oil in a large skillet over medium high heat. Add the leeks and cook, stirring with a wooden spoon to prevent from burning, often until soft, about 15 minutes. Stir in the sugar, salt and pepper.

Reduce the heat to low and cook, stirring often, until the leeks are golden brown and have a sticky texture, about 25 minutes. Remove from the heat, stir in the Marsala wine, thyme, and rosemary. Gently cook for another 5 minutes, turn off the heat.

Position a rack in the center of the oven and preheat to 375*. Prepare the filling: In a medium bowl, beat together the egg with the ricotta. Transfer the mixture evenly into the pastry shell, spread evenly and distribute the caramelized leeks.

Bake until the pastry is golden brown, 35 minutes to 40 minutes. Remove from the oven, sprinkle with fresh minced garlic and rosemary and let stand for 10 minutes to cool slightly before serving.