"What day is it?" "It's today," squeaked Piglet. "My favourite Day," said Pooh.
~Piglet & Winnie the Pooh~
Summer Share Box 10 Crop List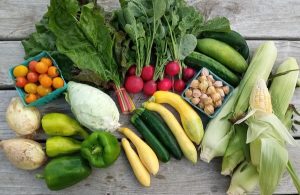 Sweet Corn – All Shares
Squash – All Shares
Sweet Onion – All Shares
Cone Cabbage – All Shares
Radishes – All Shares
Bell Peppers – All Shares
Beaver Dam Peppers – All Shares
Ground Cherries – Flex Shares Only
Cucumbers – Full Shares Only
Cherry Tomatoes – Full Shares Only
Chard – Full Shares Only
Basil – Full & Flex Shares
Farmer Notes
*The boxes are heavy this week – pick up the boxes from the bottom and do not strain your back
*Sweet onions, mini tomatoes, sweet corn and basil … com'on
*Peppers are in full swing, hot peppers like Hungarian wax, cayenne, jalapeno and habanero are soon to follow
*Lots of sweet corn today – grill it, microwave it, blanch and freeze it, or put it in a smoker before cutting and freezing
*Make some slaw or stuff some peppers
*Norland red potatoes coming in the next box
*Is anyone missing lettuce yet?  We will have several different varieties beginning in week 12
*Enjoy these final weeks of summer!
Now that we are getting on with summer, I wanted to write a little about our farm gathering that we are having here in a little more than a month from now.  The date is Saturday, Sept. 24th from 3-7.  It is an open house in the sense that you can show up at any time during those hours.  A rough itinerary will be:
*Farm tours on the hour
*A hayride at 5 up and around the farm fields
* Dinner from 4-6 – we will have homemade spaghetti and some bread and salad and ask that you bring a side or dessert to share.  We will have some drinks available, but you are free to bring your own as well.  No dogs please.
*A campfire will be going and lawn games will be available.  Let us know if/how many kids you will be bringing as we may have an organized event for them
This is an event to give you a reason to come visit the farm that grows your produce and a chance to meet some of us farmers.  It gives us a means to say 'thank you" and to visit with some of you.  We hope that many of you will consider joining us – please rsvp with an email.
Cheers!
~Farmer Norm~
Crop of the week – Sweet Corn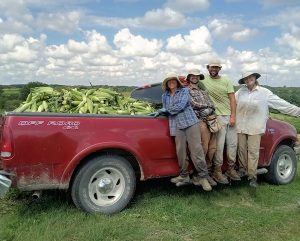 You might be wondering why your box is so heavy this week. The answer; Sweet Corn. Even though we did succession planting, a large amount of this crop is ready to go now, and thus is heavily featured in this week's box. Sweet Corn is similar to field corn, except it has a much higher sugar content. It is important to harvest these while they're still relatively immature, otherwise the sugar may turn into starch and that sweetness won't shine through as brightly. This corn is so delicious, you can and should eat it raw right off the cob.
One of the main nutritional benefits of sweet corn is the high amounts of dietary fiber. It is a hardy crop that people enjoy, and is readily available this time of year. My favorite way to eat this sweet corn is to roast it, and make a roasted creamed corn. It's a delicious side that goes well with anything and could be eaten on its own. You can cut kernels right off the cob and add it to any salad, or power bowl. If you're feeling adventurous on a hot day, try making sweet corn gazpacho. And of course you can't go wrong eating grilled or boiled corn on the cob. This sweet corn is a treat, and should be an awesome addition to your meals this week. Enjoy!
– Farmer Dylan
Some Recipes To Try:
FOR THE CORN: Preheat your grill to low. Peel off the husk, strip away all the silk and place the corn on grill grates. Turn once and grill until bright yellow and kernels are tender. Increase the heat to medium-high and continue to grill until a few kernels char. Charring the corn is totally optional.

Combine all ingredients into a large bowl, cover and refrigerate until ready to serve.

Toss once more before serving. Serve with tortilla chips or on tacos, enjoy!