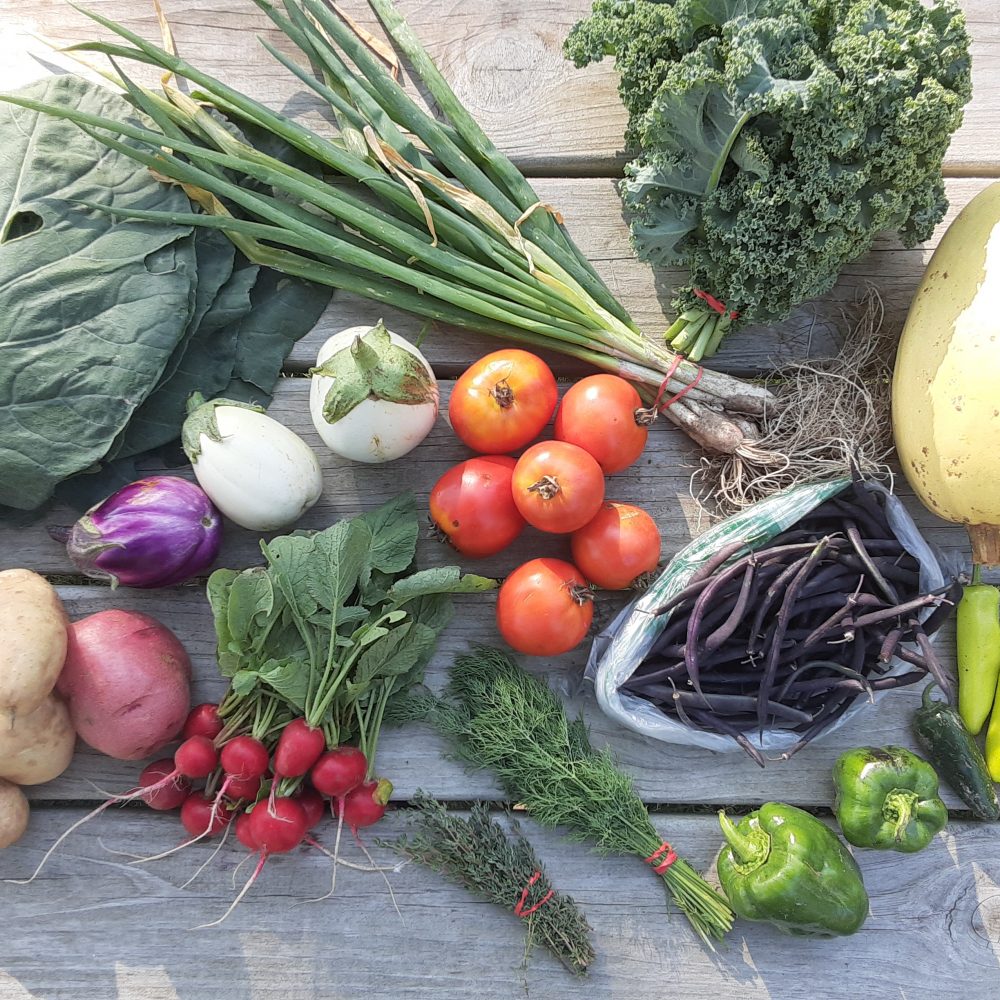 "Fight for the things that you care about. But do it in a way that will lead others to join you."
~Ruth Bader-Ginsberg
Summer Share Box 14 Crop List
Spaghetti Squash – All Shares
Potatoes – All Shares
Beans – All Shares
Collard Greens – All Shares
Green Onions – All Shares
Thyme – All Shares
Dill – All Shares
Tomatoes – Full & Single Shares Only
Hot Peppers – Full & Single Shares Only
Bell Peppers – Single Shares Only
Kale – Full Shares Only
Eggplant – Full Shares Only
Radishes – Half Shares Only
Farmer's Notes
*Winter squash will come in each of the remaining boxes – this week is spaghetti squash.  We had it tonight for supper and it was sweet and delicious. There is a fun recipe down below to try out!
*Finally, the weather has warmed and the green beans have matured – you will also get them next week
*Potatoes go well with the green onions, thyme or dill
*If you are not going to use the herbs soon, you can hang them up to dry and use them in the dead of winter
*We had our first light frost last Thursday night.  It killed many of the top leaves of the plants but did not kill any fruit
*We are getting to the end of our summer tomatoes, peppers and eggplant now as the days are getting shorter
*Like always with the tomatoes, some are ready to eat and some may need to sit on the counter for a couple of days
*Two weeks in a row of collard greens – another creative way to eat them is by using them as a wrap instead of a tortilla.
Here
is an example!
*Keep returning our boxes and ice packs please and thank you
Farm Article
These days I have been spending a lot of my time here at the farm planting cover crop.  Once a section of field is done producing its crop/crops, I mow it down, disc several times to cut it up and incorporate it into the soil, and then sow cover crop seed onto the land. Finally, I drag it to ensure good soil contact and hope for a good rain soon after.  Here is a photo of a few strips: one planted in a pea/oat mix that will winter kill, one in a hairy vetch/winter rye/field radish mix and the final all dirt one has just been planted in only winter rye that will grow strong in the spring for weed suppression, organic matter and green manure.  This is an important part of organic and sustainable farming that often goes unnoticed.  It is very important to always have something growing on your soil to protect it from erosion, but also to actually make soil by increasing the microbial life and adding organic matter to the soil.  I will continue to plant winter rye in areas as they are freed up until the end of October.
Cheers!
~Farmer Norm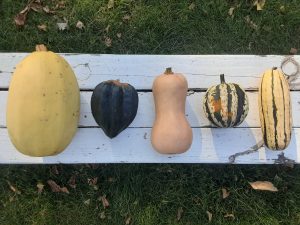 Crop of the Week: Winter Squash; Spaghetti Squash
Here in week 15 of shares, our Winter Squash have finally begun to reach maturity and have started their curing process.
Winter Squash, though they are susceptible to bite marks from pests, usually take a lot of time and effort to break through their rock-like exterior. This week, we've decided to let everyone try our Spaghetti Squash, which have been "cooking" up since around the beginning of Summer.
The Spaghetti Squash has it origins set in China around the 1800's. In 1930, a Japanese seed company was searching for new varieties of plants to promote and stumbled across the Spaghetti Squash. After breeding and improving the genetics, the Sakuta Seed Company released its seeds to the world and in 1936, Burpee picked up and began promoting the Sakuta "Vegetable Spaghetti" seeds.
Weighing in around four to eight pounds, the Spaghetti Squash are typically a vibrant yellow color or even shades of green. What gives this variety of Winter Squash its name are the stringy, nutrient dense innards that separate into strands that are quite similar to Angel Hair pasta. To harvest these noodles full of natural vitamins, minerals, antioxidants and fiber, just cut off the top, bottom and slice it down the middle. Scrape out the seeds and stringy flesh that contains them, then brush them with a bit of olive or cooking oil. Pop your halves into the oven at 400 degrees and allow them to cook for about thirty to forty minutes. Afterwards, let them cool for a bit while grabbing a fork and bowl. Finally, scrape the squash lengthwise to harvest your winnings for all the hard work it took to break through the skin and enjoy!
~Farmer Jordan
Some recipes to try:
Preheat oven to 350 degrees F (175 degrees C). Lightly grease a baking sheet.

Sprinkle some water (about 1 tablespoon) in each side of the squash, and place it with cut sides down on the prepared baking sheet, and bake 30 minutes or until a sharp knife can be inserted with only a little resistance. Remove squash from oven and set aside to cool; then scrape with a fork.

Puree the carrot with water, the ginger, the whites of the scallions, the sesame oil, sugar, soy sauce, and the vinegar.

Toss with the squash and the scallion greens. Season to taste and top with toasted sesame seeds.
Whisk 2½ cups flour and 1 tsp. salt in a large bowl. Mix in sesame oil and 1 cup boiling water with a wooden spoon until a shaggy dough forms.

Turn out dough onto a lightly floured surface and knead, adding flour as needed to prevent sticking, until dough is smooth, about 5 minutes. Cover with plastic wrap; let rest at room temperature 1 hour.

Divide dough into 8 pieces. Working with one at a time, roll out on a lightly floured work surface as thin as possible (each should be approximately 10" in diameter). Brush about 2 tsp. chicken fat on dough and top with about ¼ cup scallions; season with salt. Roll dough away from you (like a jelly roll) into a thin cylinder, then, starting at 1 end, wind roll onto itself to create a coil (like a cinnamon roll). Cover with plastic wrap and repeat with remaining dough. Let rest at room temperature 15 minutes.

Working with 1 coil at a time, roll out on a lightly floured surface to a 5" round (keep other coils covered). Repeat with remaining dough and stack as you go, separating with parchment or lightly greased foil brushed with vegetable oil.

Heat 1 Tbsp. vegetable oil in a medium skillet over medium-low. Working with one at a time, cook pancake, turning frequently to prevent scallions from burning, until golden brown and crisp on both sides and cooked through, 8–10 minutes. Transfer pancakes to a wire rack and let rest about 5 minutes before cutting into wedges.
Whisk vinegar, soy sauce, chili oil, sugar, and red pepper flakes in a small bowl until sugar is dissolved. Serve alongside pancakes for dipping.
Preheat the oven to 400°. In a medium bowl, toss the potatoes with the garlic cloves, olive oil, thyme and paprika and season with salt and pepper. Scrape the potatoes and garlic cloves onto a rimmed baking sheet and arrange the potatoes in a single layer, cut side down. Roast for 30 minutes, until the bottoms are golden brown. Turn the potatoes and roast for about 10 minutes longer, until tender. Transfer the potatoes and garlic cloves to plates and serve.