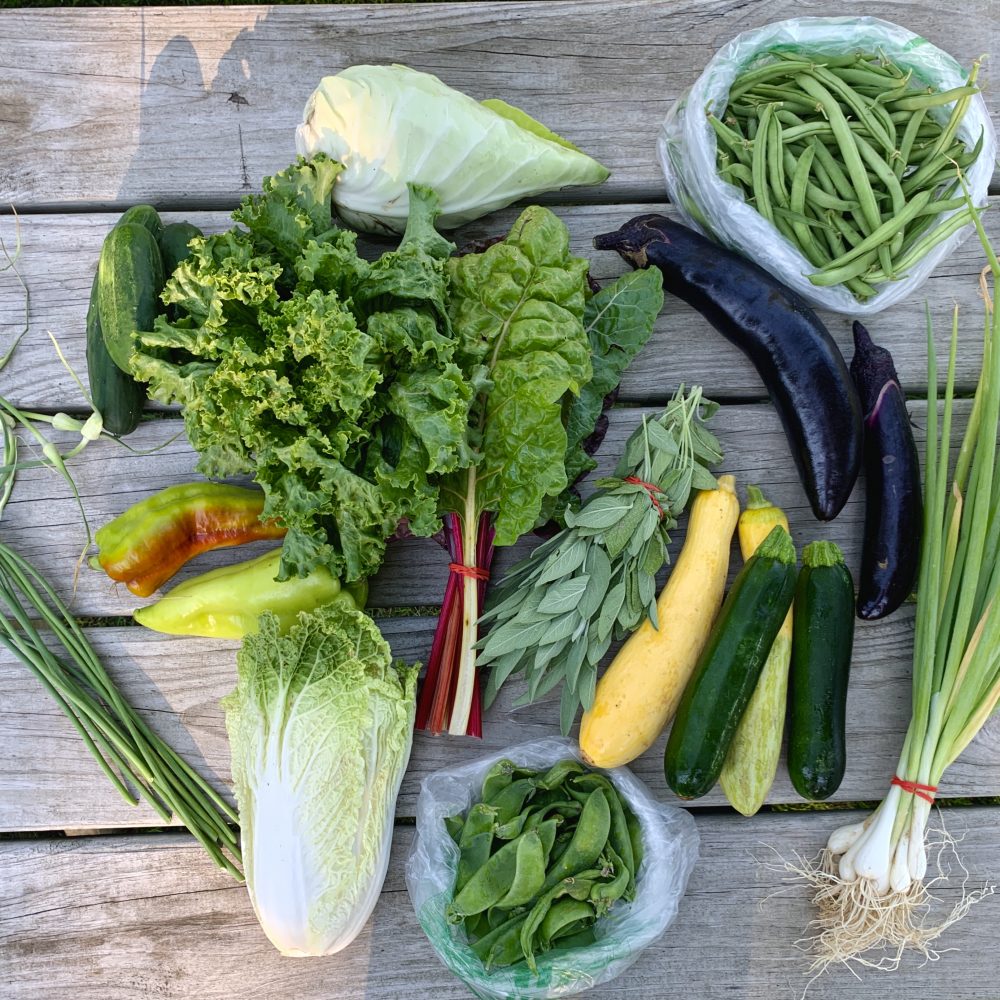 "When you've got 400 quarts of greens and gumbo soup canned for the winter,
nobody can push you around or tell you what to say or do."
Summer Share Box 6 Crop List
Summer Squash (All Shares)
Cucumbers (All Shares)
Cone Cabbage (All Shares)
Buttercrunch Lettuce (All Shares)
Sage (All Shares)
Swiss Chard (All Shares)
Snow Peas (All Shares)
Scallions (Half Shares)
Green Beans (Full and Single Shares)
Napa Cabbage (Full and Single Shares)
Beaver Dam Peppers (Full and Single Shares)
Eggplant (Full and Single Shares)
Garlic Scapes (Half Shares)
Farmer Notes
Peas are snow peas and can be eaten pod and all – great in a stir fry or a salad
Green beans can be grilled, steamed or roasted – put in a soup or a salad
First of the eggplant, round is Italian and long is Asian.  They are great thinly sliced, oiled and grilled or pan-fried until brown
Lots of cucumbers – they are our 'vegetable of the week'.  A great cool snack in salted cold water or into a refreshing dressing or dip
Make a big slaw with the green and napa cabbage
Some of our spring crops are showing a bit of wear and tear from the fields
Sage goes wonderfully with summer squash – it can also be dried for later use, or to flavor a butter
Last of the napa and scallions until late fall
Wash the produce before you eat it
Please return our ice packs and boxes each week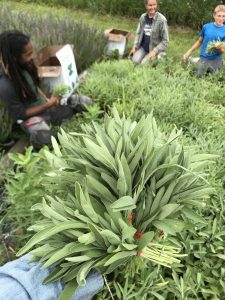 Wow, we are moving into the latter days of July already, and the summer CSA season is now 1/3 delivered.  I know that you as a member can feel overwhelmed with the amount of produce that comes every darn week, or can maybe just get tired of certain crops that are in abundance.  I certainly remember feeling this way when we were CSA members back in the 90's.  It really takes some creativity and planning to take care of that produce every Thursday evening when it comes into your home.  Washing it, putting it into the correct container and into the right place in the fridge – perhaps cutting some of it up and having it as a readied snack.  Or maybe it is your jam to just put 75% of it into a soup or a big stir fry for a weekend feast.  Whatever works for you is great, as long as you are finding out what works for you and are not just becoming frustrated.  There are tons of recipes at your fingertips, but you can't go too wrong with just cutting something up, putting oil/salt/pepper on it and sautéing it in a pan, or on the grill.  It is my hope that you are trying new vegetables, eating them in new ways, with different spices and herbs, and thoroughly enjoying a little more time in your kitchen and with your food.  Bon appétit!
~Norm
Crop of the Week: Cucumbers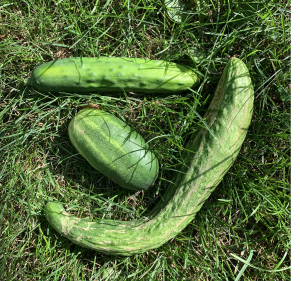 A widely known vegetable in the United States, cucumbers are a member of the gourd family and come in all sorts of varieties and sizes. The main cucumbers that we grow here at Earth Dance Farm are slicing and pickling cukes. The shorter, more stubby cucumbers are generally used for pickling while the longer ones fill the role being in most culinary dishes. It may be noted that there is very little difference in the two types once you disregard the shape. Both can be used for pickling and slicing/cooking. The cucumber originated it south Asia, but this crop now is grown all over the world.  You may be aware that cucumbers are mostly water with a percentage of 95% H2O. The only vitamin that appears In this crop in a significant amount is vitamin K at 16% of your daily recommended dosage and this is located primarily in the skin of the vegetable.
Cucumbers should be fine in your fridge for around a week but should be enjoyed while still crisp. They can be added to water to give it a more refreshing finish or slice them to use like chips with your favorite hummus. While definitely one of the more versatile crops available, cucumbers are favored when it comes to pickling. A quick way to pickle cucumbers calls for you to slice them to the desired size and soak them in the fridge in a mixture of vinegar, salt, and water. Leave in the fridge for as long as you wish. The longer they sit, the more flavorful the resulting pickles.  The ratios can be adjusted to suit your taste buds.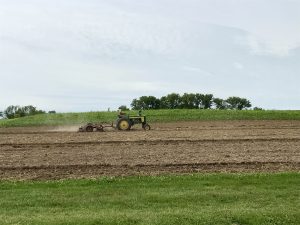 Some recipes to try:
Combine the cooked rice, scallions, raisins, and lemon juice in a large bowl and stir. Season with salt to taste.

Toast the walnuts in a dry, heavy skillet (preferably cast iron)over high heat until they turn brown in spots and smell fragrant. Transfer nuts to a dish and set aside to cool.

Quickly wipe the surface of the skillet with a clean towel; melt the ghee in the skillet over medium heat and stir in curry powder; stir for 30 seconds.

Add the cucumber slices. Cook, stirring constantly, until the cucumber is tender, 3-4 minutes. Remove skillet from heat.

Add the cucumbers to the rice mixture and toss to combine. Refrigerate for at least 1 hour.

Toss the toasted walnuts with the salad, then sprinkle a generous amount of paprika over the top. Serve chilled or at room temperature.
Heat a large cast-iron skillet over high heat. Rub 2 tsp of oil all over the halved squash. When the skillet is smoking hot, put in the squash cut side down. Let them sit, pressing lightly with a spatula, until seared and brown, 1-2 minutes. Flip and brown the curved sides too, another minute. Transfer the squash to a cutting board. Turn off the heat but leave the skillet on the stove.

When the squash is cool enough to handle, cut them into 1/4 inch thick slices. Heat the remaining 2 tbsp oil in the same skillet over medium heat. Add the onion and sage leaves and cook, stirring for 1 minute. Add the squash and a tsp salt. Reduce heat to medium low and cook, stirring occasionally until the squash is tender all the way through, 8-10 minutes. Serve hot.
In a nonstick skillet, saute beans and peppers in oil for 4 minutes or until crisp-tender. Stir in vinegar, basil, salt, and pepper. Serve.